Cautious optimism as Fasig-Tipton yearling sale nears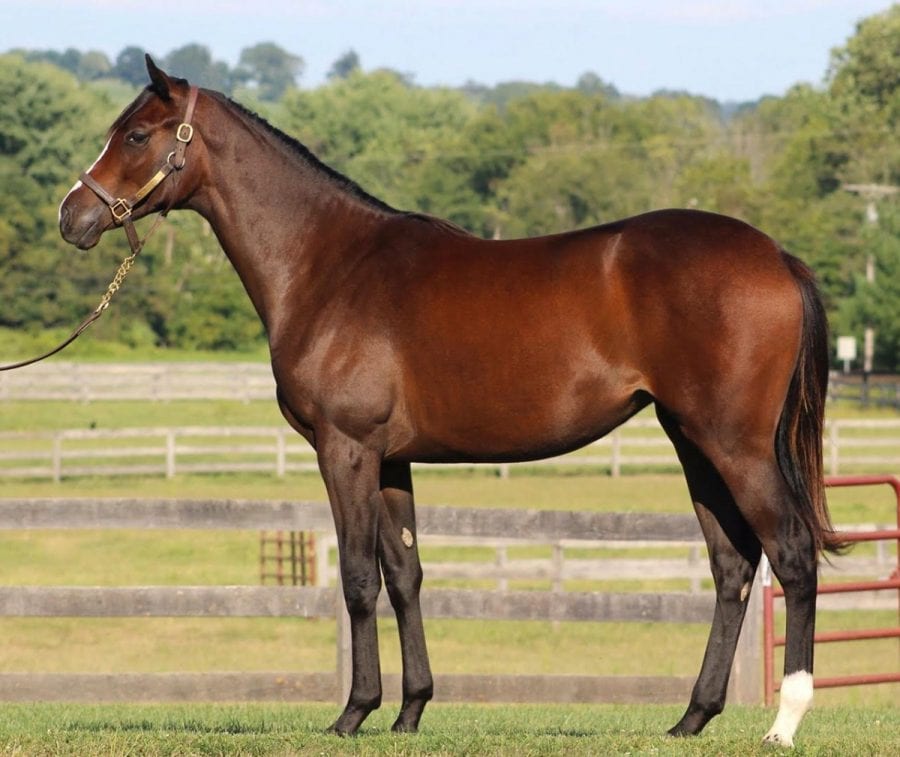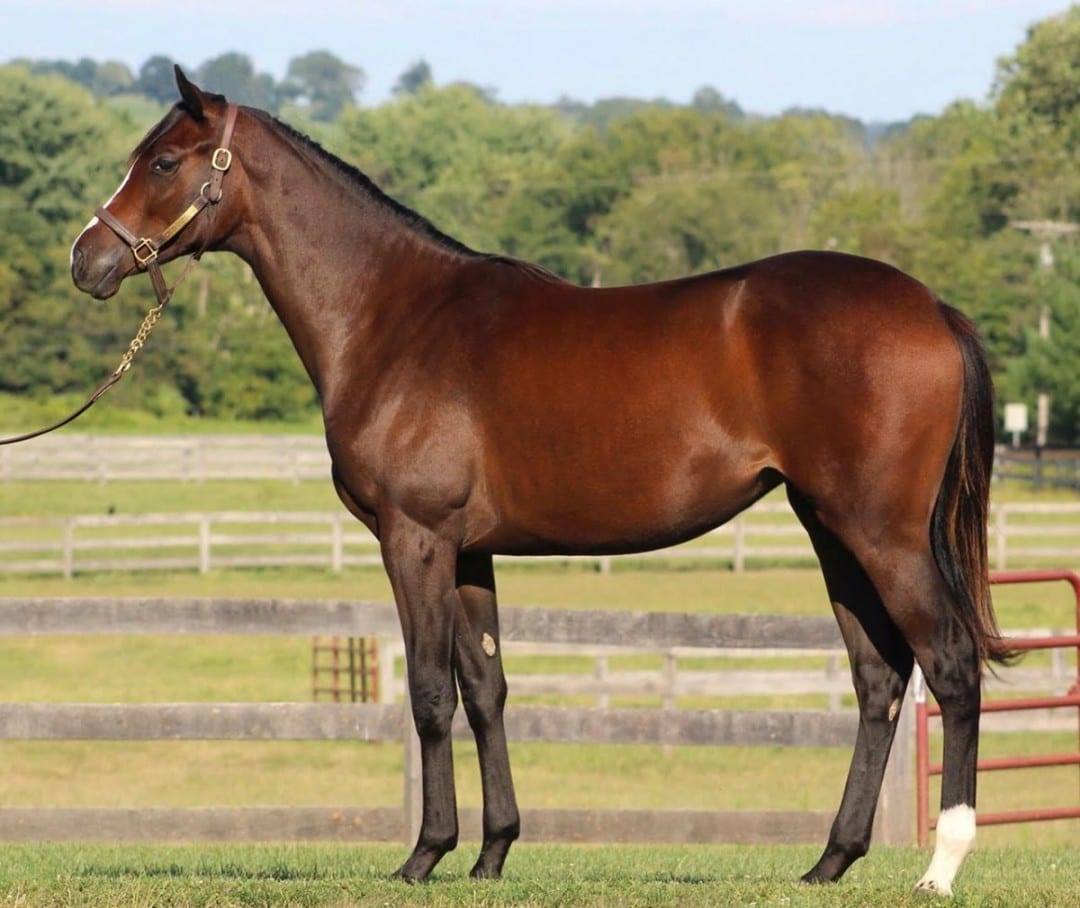 This yearling Bodemeister filly is Hip 199. Photo courtesy of Bill Reightler Bloodstock.
by Frank Vespe
The Keeneland fall yearling sale, with nearly 4,500 number hips, ended just a week ago, on September 25.  And Fasig-Tipton's October Fall Yearlings Sale, with 1250 numbered hips, begins October 24 in Lexington, KY.
All of which puts Fasig-Tipton's Midlantic Fall Yearlings Sale in an awkward spot: a relatively small event in a regional market stuck between the Thoroughbred industry's two biggest yearling sales.
For all that, however, market participants are heading into the Midlantic sale, which takes place Tuesday, October 4 at the Timonium (MD) fairgrounds, with optimism.
"By all accounts, people I talked to (in Kentucky) said they were coming," said Bill Reightler, whose 53-horse consignment is the sale's largest and accounts for about one-seventh of the entire 368-horse sale.  "I think it's going to be well attended."
And a well attended sale, of course, is one with plenty of buyers — and thus, plenty of competition for horses.
Most in the market seem to focus on two reasons for that, often at a reasonable price.
The first reason is the sale's growing reputation as a place to buy a serious racehorse.  In recent years, grade one winners Cathryn Sophia, Bradester, and Stellar Wind all passed through the Timonium sales ring, with the most expensive of those, Stellar Wind, fetching just $86,000.  Bradester brought $20,000, while Cathryn Sophia cost $30,000.
"I think they [out-of-town buyers] recognize that some prominent horses have come out of the sale," said Reightler.
"My feeling is, this sale has its niche," said Andrew Motion, whose Virginia-based Old Chapel Farm consignment includes a half-dozen horses.  "You can have a very nice horse that can get lost in the crowd in Kentucky.  But this sale is legitimate enough that people are starting to pay attention and notice it again."
Mike Pons, who with his brother Josh owns Maryland's Country Life Farm, agrees.  Country Life stands two of the five top sires in the sale by number of hips; there are a dozen Friesan Fire offspring in the sale and eight by newcomer Freedom Child.
"I'd rather be here front and center [than in the back of the Keeneland sale], especially if you have something going on in the pedigree," he said.
While the leading sires here by number are all regional — Pennsylvania stallion El Padrino leads with 16 hips — there are some notable national names to attract pinhookers looking to buy yearlings to resell as two-year-olds.  Those include Awesome Again and his son Ghostzapper, Blame, Uncle Mo, and Pioneerof the Nile.
"[The pinhookers] always show up [in Timonium], and they always complain they couldn't buy what they needed in Keeneland," added Rick Abbott of Charlton Bloodstock Agency, approaching his final sale 40 years after his first.
At the same time, however, the Timonium sale is one in which the buyer segment tilts more towards end users than towards pinhookers, participants said.
"This is a racehorse sale more than a commercial sale," said R. Larry Johnson, who bred eight horses slated to go through the ring and owns two stallions, Street Magician and Despite the Odds, who will be well represented on Tuesday.  There are nine Despite the Odds yearlings in the sale and five by Street Magician.
"Both pinhookers and end users are going to like what they see," predicted Motion.  "You can have some success selling to end users here."
"I think there should be a lot of regional enthusiasm," agreed Abbott.
In large measure, that enthusiasm stems from developments in Maryland, where stability in the racing program and an enhanced breeding bonus program have helped to spur something of a renaissance.  The 156 Maryland-breds in the sale are more than double the number of horses bred in any other state; Kentucky is second, with 71 yearlings here.
"I think that there are so many Maryland-breds is a good thing," Johnson said.  "It demonstrates that things are coming back."
"It's amazing what we're seeing," added Mike Pons.  "It's really getting interesting here."
The state's foal crop, which had fallen to 369 in 2012, increased to 553 in 2015.  After years of declines, handle on the racing product has grown in recent years, and the Maryland Jockey Club, which owns the state's racetracks, has added days to the racing calendar.
That means, said Abbott, that regional buyers can benefit with horses bred in virtually any state in the region.  For example, despite recent wounds, some self-inflicted, which have fostered a sense of uncertainty, Pennsylvania's breeding incentive program remains the largest in the region.
"We went through a period when it was all about Pennsylvania-breds," he pointed out.  "Then it was all about New York-breds.  Now Maryland has caught up."
Which isn't to say that the optimism is unbridled.  The Thoroughbred industry remains in a transitional stage, with the 2016 foal crop estimated to be around 20,600 — the same it's been for the last two years and about half what it was 25 years ago.  That has put pressure on regional sales and breeders whose horses don't, in the parlance, "check all the boxes."
"If you have a horse that has some pedigree, looks the part, and passes the vets, you'll do pretty well," said Johnson.  "It's a tough market for everybody else."
Pons agreed.  "The hardest hit part of the market is the middle," he said, "and the middle is where most of us live."
Yet, while Reightler described this sort of market polarization — in which there's money for better horses but not much for others — as a kind of new normal, Abbott suggested that had really always been the case, citing an old description of Maryland as the "last bastion of the hundred-cent dollar," a place where horsemen knew what horses were worth and were willing to pay it — but not one cent more.
Still, the participants said, they have high hopes for Tuesday.
"I'm optimistic," said Reightler.  "I think there are enough good sires to draw the out-of-town buyers, and a strong local contingent and enough going on to help the Maryland-breds."
[su_box title="
FASIG-TIPTON MIDLANTIC FALL YEARLINGS
" style="glass"]
WHAT: Fasig-Tipton Midlantic Fall Yearlings Sale
WHEN: October 4, 10:00 a.m.
WHERE: Maryland State Fairgrounds, Timonium, MD
NOTES: 368 numbered hips, 156 bred in Maryland, 57 bred in Pennsylvania, 33 bred in New Jersey/Virginia/West Virginia.
LAST YEAR: 274 hips sold for a total of $5,228,800 (average: $19,083).
[/su_box]