Fasig-Tipton yearling sale by the numbers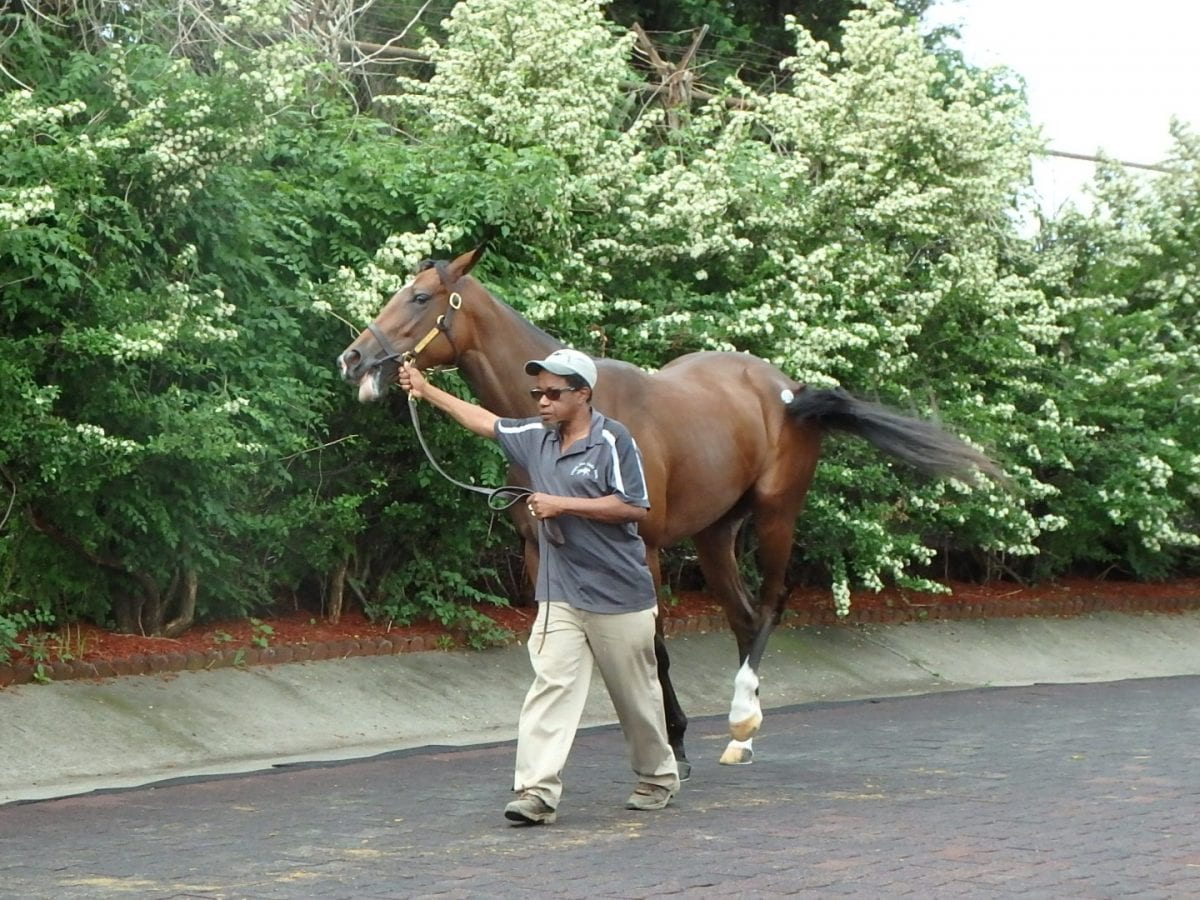 Photo by The Racing Biz.
by Frank Vespe
A week hence, on October 4, Fasig-Tipton Midlantic will host its annual Fall Yearlings Sale at the Timonium Fairgrounds.
While the company's just-after-the-Preakness two-year-old sale is its busiest and perhaps best regarded, the yearling event has carved a similar niche for itself as a good place to buy a runner at perhaps something less than the premium costs of sales like Keeneland's monster, 13-session, 4,000+ hip event which ended Sunday.
Among the top competitors the Midlantic sale has produced are the three poster-horses that adorn the catalog's cover: Bradester, Stellar Wind, and Cathryn Sophia:
Bradester, a son of Lion Heart, cost just $20,000 at this event in 2011 and then was subsequently sold as a two-year-old in training for $195,000.  He owns 10 wins and has earned nearly $1.2 million.
Stellar Wind, a Virginia-bred daughter of Curlin, sold here in 2013 for $86,000.  She has won six of 10 career starts, earned nearly $1.2 million, and was a tough-luck second in last year's Breeders' Cup Distaff.
Cathryn Sophia, bred in Maryland, fetched $30,000 here in 2014.  The winner of this spring's Grade 1 Kentucky Oaks, she has won six of nine starts and earned over $1.2 million.
And it's truly an A-to-Z sale, at least alphabetically speaking.  Sires range from Afleet Alex (two hips on offer) to Zensational (one).  Here are some more facts and figures:
What's in a name? Out of 367 numbered hips, 307 are unnamed.  Of the rest, names range from Appealing Temper (hip 302) to Zesty Zar (hip 336).
Boys and girls together… Of the group, there are 212 fillies and 152 colts.  Oh, and one gelding.  That's hip 258, a Pennsylvania-bred son of Redeemed named Risen.
All the colors of the (brown) rainbow.  A plurality of horses — 153 — are listed as being bay in color.  That's not to be confused with the 95 that are dark bay or brown, or the 85 that are chestnut.  Thirty-one horses are gray or roan, meaning 31 opportunities for someone to say, "What a pretty gray horse!"
One of these things is not like the others.  Hip 20, a Jersey Town colt, is listed as black.  He's the only black horse in the sale.
[su_box title="
HIPS BY STATE
" style="glass"]
Maryland – 156
Kentucky – 71
Pennsylvania – 57
New York – 42
West Virginia – 15
Virginia – 12
New Jersey – 6
Florida – 5
Alabama – 1
[/su_box]
TOP SIRES
El Padrino – 16
Friesan Fire – 12
Despite the Odds – 9
Hunters Bay – 8
Freedom Child – 8
Weigelia – 7
Great Notion – 7
Cal Nation – 6
Outflanker – 6
Warrior's Reward – 6
Paddy O'Prado – 6
[su_box title="
LEADING DAMSIRES
" style="glass"]
Not for Love – 18
Two Punch – 8
Polish Numbers – 6
Tiznow – 6
Medaglia d'Oro – 5
Tale of the Cat – 5
Broken Vow – 5
Victory Gallop – 5
Outflanker – 4
A. P. Indy – 4
Honour and Glory – 4
Holy Bull – 4
Speightstown – 4
[/su_box]