WVBC preps build excitement on Race for the Ribbon night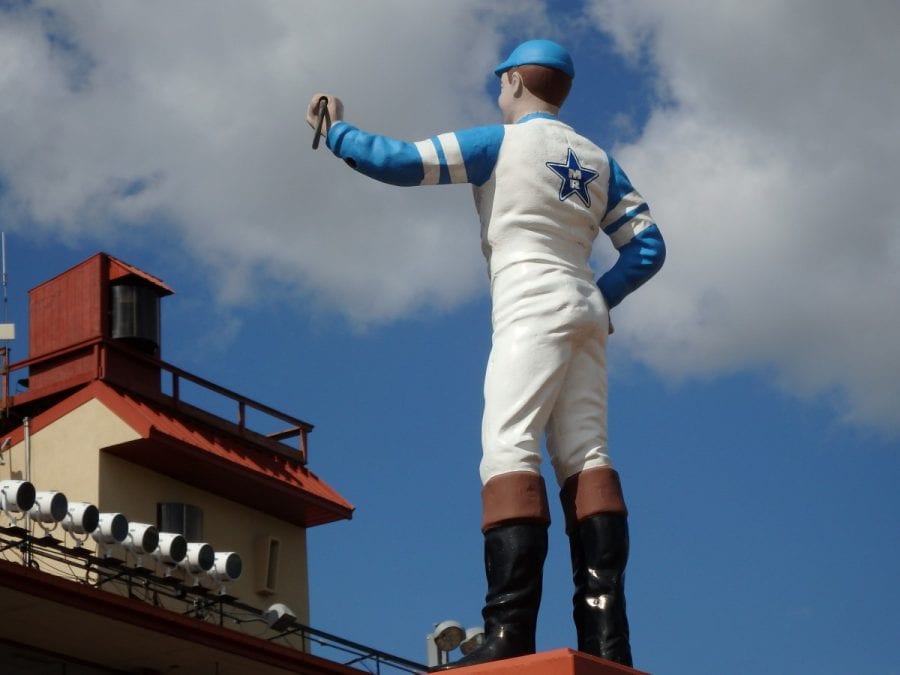 The silks of WVBC Classic winner Charitable Annuity's owner, Mark Russell, stand guard. Photo by The Racing Biz.
by Ted Black
This coming Saturday evening Charles Town will present its annual "Race for the Ribbon" card with a trio of open stakes topped by the Grade 3, $350,000 Charles Town Oaks for three-year-old fillies and a quintet of West Virginia-bred stakes that are designated as "Win & You're In" events for next month's West Virginia Breeders Classics card at the Jefferson County oval.
Although the first two "Win & You're In" races were held in April, and two others in August and two of the five this weekend were originally scheduled for last month before being postponed until this weekend, WVBC President Carol Holden says the interest in the program is very high. Holden noted that her office was inundated with calls over the last month from horsemen wanting to make sure their respective runners were nominated to the stakes this weekend.
"All of the nomination forms and books were sent out several months ago and owners, trainers and breeders have still been calling," Holden said. "They all want to make sure their horses are eligible. Even Lucy N Ethel [recent winner of the Grade II Prioress Stakes at Saratoga and one of the nominees for the Charles Town Oaks], a Pennsylvania-bred, is eligible because her sire, During, stands in West Virginia. I think the Win & You're In program has definitely increased the conversation and excitement of the stakes this weekend."
This Saturday Charles Town will offer five more "Win & You're In" races. The Sadie Hawkins for fillies and mares is the springboard to the West Virginia Distaff. The Frank Gall Memorial is slated for the Classic, while the It's Only Money Stakes for older sprinters is tied in with the West Virginia Dash For Cash. There are also two races for two-year-olds, the Henry Mercer Stakes which gets the winner into the Vincent Moscarelli Memorial, and the Rachel's Turn Stakes for fillies, which gives the winner a lift into the Triple Crown Nutrition BC.
Thus far the track has already hosted four "Win & You're In" preps, with trainers James W. Casey and Jeff Runco each winning two of them. Casey trainee Candy Man's Girl won the Original Gold on Charles Town Classic Day in April, which gave her a free entry into the Cavada Stakes. And his Return To Denis won the Sylvia Bishop Memorial as an outsider last month, and that race launched her into the WV Division of Tourism Stakes. But the longtime owner-breeder-trainer admitted that only one of them in on target for her respective event.
"Candy Man's Girl has had a minor setback since her last start and she's probably not going to make it," Casey said in a phone interview on Saturday. "She was third in an allowance race here in June and just didn't come out of it right. We've backed off of her. She's definitely not going in the Sadie Hawkins this weekend and we may not have her ready for the Cavada. But Return To Denis is doing great. She's training like a million bucks, so she'll be ready for her race on Classics night."
Last fall Casey won the West Virginia Classic with Charitable Annuity, while longtime local favorite Russell Road offered little that night. Charitable Annuity is favored in a $30,000 handicap Saturday evening and thus passing on the Frank Gall Memorial this weekend, a "Win & You're In" race for the Classic, though Casey said the Classic is his next objective. But he mentioned that Russell Road is doubtful for either the Gall or the Classic and could be retired beforehand.
"Charitable Annuity is doing well, but there are no longer races for him here until the Classic," Casey said. "He went into the Classic last year off a couple of seven furlong races and the Classic was the first time he'd ever been long."
As for Russell Road, Casey intimated that the end of the racing road may be drawing near for the 10-year-old, who has earned over $2 million.
"Russell Road has not come back as well as we had hoped [following a second-place finish in the $100,000 Northern Panhandle Stakes at Mountaineer Park],and if we don't like the looks of his latest x-rays, we might just finally retire him," said Casey.  "He's been really good to both me and Mr. Russell."
Trainer Jeff Runco won one "Win & You're In" event on Charles Town Classic day with In The Fairway, who captured the Confucius Say landing him a spot in the Onion Juice here next month. After a pair of second-place finishes against allowance foes here he traveled to Mountaineer Park and won the $100,000 Northern Panhandle Stakes by six lengths over Russell Road and is on target for the Gall. He's the 9-5 second choice in the morning line there, just behind 8-5 Hidden Canyon.
Runco's unbeaten Bullets Fever won the Robert Leavitt Memorial in August, which punched his ticket to the West Virginia Lottery BC here next month.
"In The Fairway is doing really well and he'll go in the Gall and then I'll have Navy Ribbon and Spa Creek in the Sadie Hawkins this weekend," Runco said. "They're all doing really well. Both In The Fairway and Spa Creek won at Mountaineer last month, so that was nice. Bullets Fever is doing okay, but I'm still waiting to decide what to do with him. He's not going to run this weekend, but he'll be there on Classics night. I'm just not sure which race he'll be in."
Both Casey and Runco are generally fixtures in the West Virginia-bred stakes for two-year-olds, but this weekend Casey will have two in the Rachel's Turn for two-year-old fillies, the "Win & You're In" race for the Triple Crown Nutrition BC, while neither he nor Runco looks to have something for the Henry Mercer Memorial Stakes, the "Win & You're In" prep for the Vincent Moscarelli Memorial BC here next month. Scottish Denis, a daughter of Denis of Cork who won at first asking by seven lengths for Casey, should be tough to tackle in the Rachel's Turn and is 8-5 on the morning line.
"That filly ran a big race first time out," Casey said. "She should be right on target for the Rachel's Turn and then I'll run her right back on Classics night. She won pretty easily first time out and she's trained really well since then. I'm looking forward to seeing how good she is."
Runco trainee Inner Strength finished eighth behind Scottish Denis in their respective career debuts on August 11, and she came right back to win against maiden special weight foes at the two-turn distance of 6 1/2-furlongs last out. But Runco insists that he does not want to shorten her back up to a one-turn dash for the Rachel's Turn or the Triple Crown Nutrition.
"She ran really well that second start and I don't think she would be as good back at one turn," Runco said. "I think she's going to be much better going longer. My two-year-olds were a little behind this year. I had some with some promise, but they weren't as far along physically as I would have liked them to be. Wizards Fever, a full-sister to Bullets Fever, is back in training now and I've got a decent colt [John Barlyecorn] making his first start on Thursday. He might be good enough to run back on Classics night."
With the five prep races on tap for this weekend and then the West Virginia Breeders Classics card only three weeks later, both Casey and Runco can sense that there is considerably more atmosphere at the track and in the barn area as the big days approach.
"This is definitely an exciting time for everyone up here," Casey said. "We have those five preps on Saturday night and then it's only three weeks until the Classics. Everybody wants to have their horses in peak form right now. It's a lot different around the track now. Everyone is getting excited about the big nights coming up."
"We had a couple of state-bred stakes at Mountaineer this year and I was fortunate enough to win them both," Runco said. "Now we have the five stakes this weekend and then the Breeders Classics next month. It's an exciting time to be a local owner or trainer or breeder. These are the types of nights that you live for."