Shore Bets: Monmouth Park September 3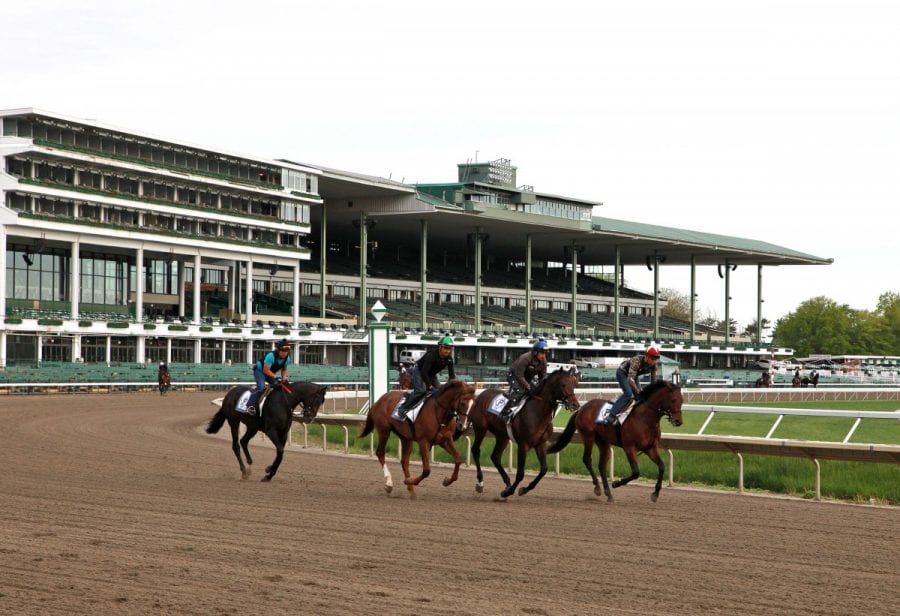 Photo by Bill Denver/Equiphoto.
We are pleased to welcome Shore Bets back for another season of Monmouth Park racing.
by John Piassek
We're nearing the end of the 2016 Monmouth meet. Today's card is an 11-race show, with a very respectable 92 entries. The headliners are a pair of Jersey-bred allowances, plus a very good allowance race on the grass.
Race 1: Claiming $12,500 (n/w3L), 3yo and up, 1 1/16 Miles (Grass)
We'll begin the day with a bunch of grass claimers, and one of them towers over the rest. The 9, Captain Stan, recently made his first grass start in more than a year and a half. He ran a very solid third, earning a brisnet figure of 77. That's tied for the best last-out figure among these runners. In the winter of 2015 at Gulfstream, he earned figures of 85 and 79, with are figure almost no one in the field can touch. He's making his third start off the layoff, always an angle that signals a big jump in form  If that jump means that he'll return to last year's form, he'll win this one easily.
The 7, Spanish Armada, has been first or second in three out of his four races at this meet. He's earned at least a 77 in each of his last three races, and finished ahead of Captain Stan by a head last out. He does not have much early speed to speak of, however, while Captain Stan figures to be on or near the pace. That's not good for Spanish Armada's chances. Nevertheless, he's one to respect and use in multi-race wagers. The 3, Calico Kitten, drops from two n/w1x allowances at Penn National, and figures to show plenty of early speed. Kendrick Carmouche, who has been spending most of the summer at Saratoga, comes down for the ride.
9- Captain Stan
7- Spanish Armada
3- Calico Kitten
Dirt:
9- Captain Stan
8- Ghostcatcher
2- King J
Race 2: Maiden Claiming $12,500, 3yo and up, Fillies and Mares, 6 Furlongs
The 4, Sammi's Valentine, will be the play here. She's finished second at this level twice at this meet, with a disappointing effort against Jersey-bred maidens sandwiched in between. Her figures have improved in every dirt race she's run this year, running a career-best 69 in her last race. In her last start, she didn't possess a big figure advantage; going in, she had a 59 and a 56 in her last two, while victorious Way to the Bank earned a 59 and a 63 coming in to the race. Now, she's the fastest in the field, and should find the going today easier.
Should she not win a race at the meet, the 1, O'Lucey, should be given a participation medal just for trying so much. She's a so-bad-it's-almost-impressive 0-for-38 in her career, and has not won in eight tries at this Monmouth meet. Her figures are pretty solid compared with these; she earned a 65 and a 67 in her last two races. She also gets a major jockey upgrade to Nik Juarez, who always gets the most out of his mounts. I'm not counting on a win from her, but it could happen. The 3, High Heeled Hooves, earned up to a 62 last fall at Delaware Park, and has the best early pace figures in the race. She hasn't raced since finishing fourth against $6,250 horses last September, but has been working well over the last few weeks.
4- Sammi's Valentine
1- O'Lucey
3- High Heeled Hooves
Race 3: Claiming $12,500 (n/w3L), 3yo and up, Fillies and Mares, 1 1/16 Miles (Grass)
The 7, Quarla, has a similar profile as Captain Stan. She recently made her first start off a layoff of more than nine months last out, finishing fifth after an awkward break. Her figure of 78 was astounding compared to her rivals; it's the best last-out figure in the race by seven points. In her last two races of 2015, she ran a 75 and a 77, both figures that would win this race. It's true that her 1-for-20 lifetime mark leaves something to be desired, but her figure advantage appears to be too much to overcome.
The 4, Hopefaithjoy, fell down in her 2016 Monmouth debut, and ran in off-the-grass events in her last two. When she actually got a shot to run on grass, however, her form was promising. She earned a 70 when defeating n/w2L claiming company at Gulfstream Park back in April, and ran a 79 in the start before that. Hopefully, she has not forgotten how to run on grass. The 2, Garden Games, is the very definition of a horse with seconditis, with two wins and nine seconds from 27 starts. She makes her return to the grass after a string of unimpressive dirt efforts, and ran a strong 78 on the grass when finishing fourth against open claimers back in June.
7- Quarla
4- Hopefaithjoy
2- Garden Games
Dirt:
8- Bay Dawn
7- Quarla
4- Hopefaithjoy
Race 4: Maiden Claiming $25,000, 3yo and up, 5 ½ Furlongs
The 6, Interest Rate Swap, looks to be much the best. He's coming off a second and a third in his last two starts at Parx for a $25,000 tag. His figures were far superior to anyone else's, running an 83 and a 79 in his last two. No one else in the race has done better than a 77 in their last two. It's true that he's been coming frustratingly close at this level, with two seconds and a third from his last three starts for $25,000. However, the edge he possesses over the rest of this rivals is too big to ignore.
The 2, Sahara Goal, just missed in his last race, losing by a half-length against Jersey-bred maiden claimers while earning a robust 77. That's almost the same as the 76 he ran two races ago while getting caught up in a hot pace. His primary flaw is the choice of jockey, Francisco Maysonett. However, Maysonsett does have eight seconds and eight thirds at the meet, so him riding this horse to an exotics position is a strong possibility. The 3, Guinness Spice, ran a 71 and a 74 in his last two, and figures to press the pace from the inside. If the pace falls apart, he's got the power to pick up the pieces.
6- Interest Rate Swap
2- Sahara Goal
3- Guinness Spice
Race 5: Maiden Special Weight, 2yo, 5 Furlongs (Grass)
Last Saturday at Saratoga, the 9, Brahms Secret, looked like a very interesting maiden. He was coming off a second-place finish in the Strike Your Colors Stakes at Delaware Park, where he had earned a very strong figure of 87 in his dirt debut. In his first ever race, on the grass at Parx, he was in contention for most of the race, before abruptly ducking in the stretch and losing the jockey. Unfortunately, he was buried on the also-eligible list for his race at Saratoga, and was scratched. Now, he returns to a surface where he's shown some subtle form. As long as there's no more shenanigans from him, he should break his maiden in style.
The 4, Mo Tramp, broke slowly in his debut, going five furlongs on the grass at Parx, but ultimately finished fifth. He'll hope to have a cleaner break today. The 3, Noble Dave, improved sharply in his second career race, finshing second against $40,000 horses after racing wide. Trainer Eddie Plesa is 15% with horses making their first start on the grass, with a positive ROI.
9- Brahms Secret
4- Mo Tramp
3- Noble Dave
Dirt:
9- Brahms Secret
1- True to His Word
10- Storming My Way
Race 6: Claiming $5,000, 3yo and up, 5 ½ Furlongs
This difficult claiming field begins the Jersey Shore 6, with a carryover of greater than $30,000. Even though his last race was a bad one, I'll take a shot with the 3, All Up. Last time out, he made his first start in sixteen months. After battling for the lead with a 1/5 favorite, he was trounced by nineteen lengths. His form from 2015, however, would probably win this race. Before going on the bench, he earned a 74 against n/w3L claimers at Parx. Four races ago, he earned a sparkling 88. Granted, it was back in February of 2015, but it's nonetheless a promising sign that he has some ability. He's had a good three-furlong workout since that last race, and with a start under his belt, he should be a much stronger contender.
The 4, Synchronous, ran a big race in his first start of 2016, losing by a half-length at Parx while earning a strong 77. He ran as high as a 97 last year, and has a career peak of 95. It's unrealistic to expect such a high figure from him here, but even his declining form can still win this race. As a bonus, he has some of the best early and late pace figures. The 2, Flying Zealous, is another one who's been struggling to find his old form. He steadily ran in the 80s last year, but has only topped that mark once in 2016. His chief asset is his inside post and early speed. If he wins this one, it will probably be in gate-to-wire style.
3- All Up
4- Synchronous
2- Flying Zealous
Race 7: Claiming $12,500 (n/w3L), 3yo and up, 6 Furlongs
The selection will be the 6, Greed is Good. He was overmatched against Jersey-bred allowance horses in his last dirt race, finishing seventh and last. Still, he lost by only four lengths, and his figure of 78 is only one point off the best last-out number in the race. In the race before that, he was third against n/w3L claimers, and ran a strong 86. He's getting a big jockey upgrade from Shannon Uske to Jose Ferrer here. If he can duplicate one of his last two races, he's got a great shot.
The 1, Who is the Giant, defeated n/w2L claimers easily last out, earning a figure of 79, a slight drop-off from his two-back number of 80. Trainer Collin Maragh doesn't send out many runners at Monmouth, but when he does, they click, to the tune of a 5-for-14 rate on the meet. The 2, Moonlight Raid, was second twice earlier in the meet, but was last in his most recent race at Parx after stumbling at the start. He makes his first start in six weeks here, and figures to come from the back of the pack.
6- Greed is Good
1- Who is the Giant
2- Moonlight Raid
Race 8: Allowance Optional Claiming (n/w1x), 3yo and up, 1 Mile (Grass)
An excellent betting race greets us, to begin the late pick 4. In his last start, the 1, Mark My Style, was badly pace compromised. The pace was very slow, including a half-mile in 49.3 seconds, but Mark My Style was kept towards the back of the back, which severely depressed his pace figures and left him with too much to do late. He ran a fantastic late pace figure of 103, but still lost by ¾ of a length and ran a rather low, by his standards, figure of 83. When he raced behind more honest fractions in New York, he ran very good figures of 87, 90, and 92. Any one of those three would probably win this race. It's true that he's proven as pace-dependent, but as long as the pace is faster than last time—and based on the PPs, it should be—he's got a great chance to improve.
The 4, Iamahandsome Man, lost by a neck at this level three races ago after setting the early pace. After rating off the lead, he lost two times at this level at Suffolk Downs most recently, although he earned a strong 87 in his last start. When he was put on the lead earlier in the meet against $12,500 claimers, he won and earned another 87. Hopefully, jockey Jonathan Gonzales will do the right thing and put his mount on the lead. The 8, Golden Rivet, defeated a $20,000 field at Parx in his most recent grass effort. In three out of his last four races, he's either been off the grass, or unseated the jockey at the start. When he gets a shot to actually race on grass, he has not run lower than an 81 in his last five races.
1- Mark My Style
4- Iamahandsome Man
8- Golden Rivet
Dirt:
8- Golden Rivet
4- Iamahandsome Man
13- Believe in Luck
Race 9: Allowance (n/w1x), 3yo and up, NJ-bred, 6 Furlongs
Will I pick the 7, Will? Yes! Two races ago, he soundly defeated a field of Jersey-bred maidens, earning a sparkling 81. Last time out, he was second at this level, running a very strong 79. He has the look of a young horse who's continuing to improve, and is ready to take a leap forward. He should also sit a great trip, too. The only two horses with better average early pace figures also happen to have the lowest late pace figures in the race. Will should sit a great trip and roll right on by.
The 2, Strike 'n Spare, ships up from Maryland. In his last two dirt races, he ran figures of 83 and 86 while going routes. Getting a distance cutback and facing Jersey-breds may be a key to improvement. The 5, Bank Fraud, was beaten by Will by 1 ¼ lengths last time out. All three of his wins have come at Monmouth, including a win at the n/w3L level where he earned an 84. He will be challenging for the early lead.
7- Will
2- Strike 'n Spare
5- Bank Fraud
Race 10: Allowance Optional Claiming (n/w2x), 3yo and up, NJ-bred, 1 Mile 70 Yards
This Jersey-bred allowance features a filly taking on the males. The 2, Diamond Play, annihilated a field of Jersey-bred n/w1x foes last out, winning by nine lengths and earning a very strong figure of 86. It was her first win of the meet, but she has not been worse than third in five races of the season. She's been improving all meet long, running in the 80s in each of her last three starts. It's definitely a tall task for a three-year-old filly to defeat older males, as we've seen before. Still, her figures fit the profile of a winner at this level, she likes the distance, and she may go off at a bettable price, with bettors disregarding her due to her sex.
The 4, Definitely Tonight, would have been a contender in the Charles Hesse last Sunday, but he was scratched in favor of this spot. He's another one who's been improving; he won his last two starts before finishing fourth at this level last time out. His figure has improved in each of his last three races, peaking at an 86 in his most recent race. The 3, Unruly Heir, earned an 84 while breaking his n/w1x condition last out. That was at six furlongs; now he hopes to stretch his speed out to two turns.
2- Diamond Play
4- Definitely Tonight
3- Unruly Heir
Race 11: Maiden Claiming $40,000, 3yo and up, 1 1/16 Miles (Grass)
The 3, Built for Profit, is my play to close out the show. He's stepping down from maiden special weight company, where he was most recently fifth while earning a very good figure of 77. He's only lost one race at the maiden claiming level, so this class may prove to be his preferred level. Furthermore, he's the only horse in the race to earn at least a 70 in each of his last three races. He's fast and consistent, which works for me.
The 1, Animal Trick, was third against these last out after being on a slow pace. He ran a 73 in that spot, a sharp improvement from previous races, and will hope to slow the pace down again and pick up some of the pieces. The 7, My Bucky's Boy, ran in the high-70s and low-80s earlier in the season, but has lost as the favorite three times in a row. Tread lightly with him.
3- Built for Profit
1- Animal Trick
7- My Bucky's Boy
Dirt:
5- Lookin Up
2- Steve Says No
8- Anthony Scores