Shore Bets: Monmouth Park August 27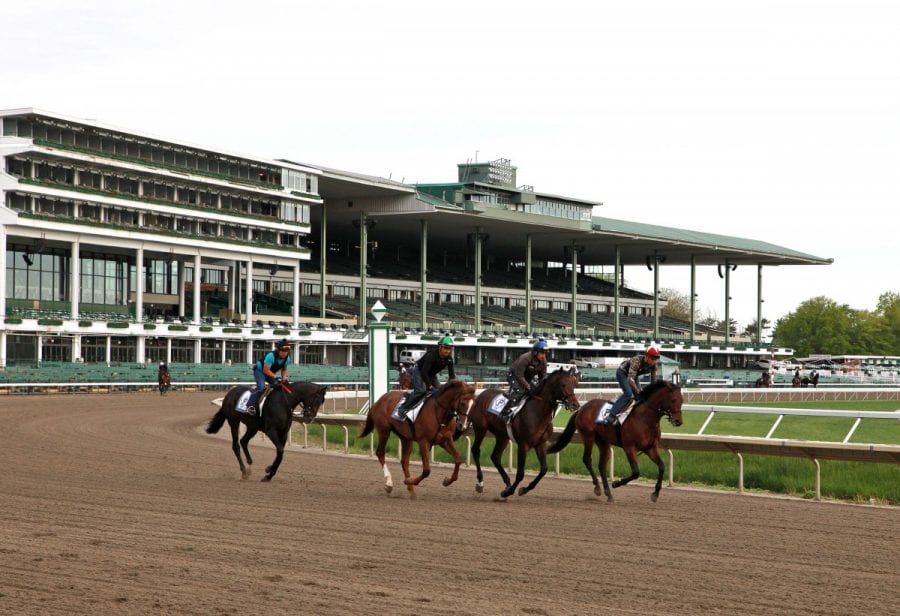 Photo by Bill Denver/Equiphoto.
We are pleased to welcome Shore Bets back for another season of Monmouth Park racing.
by John Piassek
It may be Travers day up at Saratoga, but the card at Monmouth this Saturday is excellent, too: 12 races, with 124 horses (the most entries for any card this meet), make up the card. Today's headliner in the historic Iselin Stakes, which will go as the eleventh race.
Race 1: Maiden Claiming $20,000, 3yo and up, Fillies and Mares, 1 1/16 Miles (Grass)
A full field may have signed up for this race, but all of them are at the mercy of the 5, Celtic Embrace. She finished second at this level last time out, after checking on the far turn and finishing second behind an odds-on favorite. Her brisnet figure in that race, 69, is better than anyone in the field has ever run—and that's her lowest figure among her last three races. Two starts back, she lost by a nose against $16,000 company, running a sparkling figure of 77. She's found a field that she can whip, and I would expect nothing short of a thorough beating against these.
The 1, Howyalion, dropped way, way out of it in her grass debut last out at Pimlico, eventually making up ground to lose by eleven lengths. Sheldon Russell comes up from Maryland for the mount, and will hopefully keep this charge closer to the pace. Her grass debut figure of a 66 puts her in the mix. The 6, Snow, has improved in her last three starts, peaking at a 68 versus $35,000 company last time out. She gets a jockey upgrade from Shannon Uske to Antonio Gallardo.
5- Celtic Embrace
1- Howyalion
6- Snow
Race 2: Maiden Claiming $10,000, 3yo and up, 6 Furlongs
It's a field that has quantity, but not so much quality. Even though I'm wary of his 0-for-19 record, I'll take a shot with the 3, El Genio. He's dropping from the $16,000 level, where he was third behind heavily favored Moneyman. He ran an excellent 76, ten points better than the second-best last-out figure in the race. He can back that number up with numerous figures in the low-to-mid 70s in the past. It's no safe bet to bet a six-year-old maiden who can't seem to win, but he stays in pretty good form, relatively speaking, and looks to have finally caught a bunch that he can beat.
In the fall of 2013, the 2, Godiva's Limousine, was purchased for $475,000 at auction. Now, he's dropping out of a $20,000 race and can be bought for 2.1% of his purchase price here. He's improved his figure in every one of his career races, peaking at a rather respectable 66 when finishing ninth at Saratoga last out. After breaking from post eleven last out, he will now go from the rail, and should be able to keep good early position. The 10, Chubby Who Who, finished ahead of El Genio two races ago, running a sparkling 77. Unfortunately for him, he was up the track last out while heavily favored against Jersey-bred maidens. Trainer Stuart Shea is 26% with a +2.65 ROI when dropping horses down two or more class levels, which fits Chubby Who Who. Last out, you could have bought him for $25,000.
3- El Genio
2- Godiva's Limousine
10- Chubby Who Who
Race 3: Allowance Optional Claiming (n/w3x), 3yo and up, Fillies and Mares, 6 Furlongs
A small but select bunch assembles here. In fact, two out of the six runners are exiting the Regret Stakes from earlier in the meet. The 3, Fusaichi Red, ships down from Saratoga, where she was last seen finishing second in the Caress Stakes. It was an off-the-grass affair run over a sloppy track, and she was far off the rail throughout. In spite of the less-than-ideal conditions, she earned a field-best figure of 89. When she caught a fast track at Belmont Park two races ago, she beat a n/w2x field by 1 ½ lengths, and ran a sparkling 99. If the forecast holds, she'll get back to a fast track here. She picks up the riding of Paco Lopez, a step up from Junior Alvarado's rides at Saratoga. She's 1-for-1 over this track, having won the Miss Woodford Stakes last year. Her workouts have been tremendous since the Caress, going four furlongs in a smoking 48 seconds at Belmont back on August 19. She's sitting on a big one.
The 2, Sky Gold, was third in the Regret Stakes last out, behind Stonetastic and Bustin Out. There's no one of that quality in here. Two races ago, she earned a 95 while soundly beating a n/w3x field at the same track and distance. She has great early pace figures and the inside post. The 1, Burn Control, looks the stronger half of the Kathleen Demasi coupled entry. She finished third in the My Juliet Stakes at Parx in her last dirt outing back in May, and that was her first race off a six-month layoff. This will be her first race in ten weeks.
3- Fusaichi Red
2- Sky Gold
1- Burn Control
Race 4: Claiming $16,000, 3yo and up, Fillies and Mares, 1 1/16 Miles (Grass)
A very contentious bunch of nine lines up here. The 4, Red Letter, has struggled to cross the line first this year, with two seconds and two thirds from eight races without a win. She ships down from Saratoga, where she was third while racing wide against $25,000 company. She ran a strong 83 there, takes a drop in class, and figures to save more ground with her draw closer to the inside. Almost no one else here has run an 83 within their last three races, so if she can keep up her form, she's got a big edge.
The 1, Jade With Envy, was a disappointing sixth in her most recent effort against similar horses at Laurel Park. Prior to that, she had run figures of 83 and 82 two and three back, and soared up to an 87 in her Maryland debut back in April. She'll seek to brush off that bad race and return to good form. The 9, Holy Scat, won a stretch battle to defeat n/w3L claimers at Delaware Park most recently, running a 77. She almost always runs in the high-70s, which would be good for an exotics spot at the least.
4- Red Letter
1- Jade With Envy
9- Holy Scat
Race 5: Claiming $5,000, 3yo and up, Fillies and Mares, 1 Mile
Both halves of the Joseph Pierce coupled entry have strong cases for winning. The 2, Supah Jalene, won by seventeen lengths against $5,000 horses at Parx earlier this year, and since then has been second or third in each of her last three starts. She's earned at least a 70 in all five of her recent starts, with her last-race 71 equaling the best last-out mark of anyone else in the bunch. Last out, she stalked the pace, and outfinished the leader, but was outkicked by a 4/5 shot. Here, she'll have that edge over the rest, rather than the other way around. The 2X, Almost Grecian, earned a 76 when winning after rallying from far back two races ago. Both horses have route experience, and are proven to have run well going a distance. Together, they'll be a pretty safe bet.
The 8, Just Sisters, disappointed at 4/5 last out going six furlongs. She'll seek to return to her low-80s form from earlier in the year while going a route for the first time. The 7, March Back to Me, led for most of the race last out at Suffolk Downs, before tiring to second. She earned a 74 while winning at seven furlongs in the spring at Tampa Bay Downs, and ran a 72 in her one career outing at a mile.
2- Supah Jalene/2X- Almost Grecian
8- Just Sisters
7- March Back to Me
Race 6: Claiming $7,500 (n/w2L), 3yo and up, 6 Furlongs
The 2, Big Talkin, will get my nod here. He made his first start off the claim for Patricia Farro last out, which turned out to be the best race of his career by far. Despite a rough trip, he lost by a close nose, running a sky-high 87. That's a nineteen-point improvement from his race two back, much better than anyone else has ever done, and there's no reason to think he'll decline sharply making his second start under Farro's care. All he has to do is run somewhere close to his last race, and it'll be all his.
The 6, Wildman Hart, broke his maiden at 1/20 odds last out, running a 71. In his second career race, at Los Alamitos in December, he earned a 91 while finishing third against maiden special weight horses. I'm skeptical of Jorge Navarro's intentions, as he dropped his horse in for $10,000 off a sale, and after he got away with that, he puts the horse in for $7,500. Obviously, any horse sent out by Navarro deserves respect, but I won't be jumping on his bandwagon too much at low odds. The 3, Speed Running Wild, was second against these two races ago, and has run in the 70s in his last two races. He's not a super-strong win contender, but don't be surprised if he sneaks in to the trifecta or the superfecta at a big price.
2- Big Talkin
6- Wildman Hart
3- Speed Running Wild
Race 7: Claiming $20,000 (n/w2L), 3yo and up, Fillies and Mares, 1 1/16 Miles (Grass)
The ever-building jackpot of the Jersey Shore 6 continues here with a field of grass claimers. The 7, Rain on Fire, will be my pick in this wide-open bunch. In her last race, she improved position, rallying from an early last-place spot to finish seventh. Her figures put her in the mix with the best: she ran a 78 last out, only three points off the best last-out mark in the field. She was second at this level twice earlier in the year, both times at big odds. At a 10/1 morning line, she's worth a long look in this contentious race.
The 6, Shea D Girl, will likely go off as the favorite. She ran an 80 last out when going gate-to-wire against similar. The Jason Servis-Nik Juarez combo is always a dangerous one, with Servis hitting at 31% with claiming repeaters. The 1, Shades of Grey, has never run worse than a 74 in four career American starts, running a respectable 76 when losing at the $35,000 level last out. She drops to weaker company here, and should find things easier.
7- Rain on Fire
6- Shea D Girl
1- Shades of Grey
Race 8: Claiming $5,000, 3yo and up, 6 Furlongs
A lot of the horses in here are coming out of a race under the same conditions on August 6. The winner of that race, the 5, Red Rocket Express, is one of them. He won by rating off the leaders and drawing away, earning an excellent figure of 86. In the race prior, he was second, running an 83. That makes him one of only two in the bunch to earn at least an 80 in his two prior races. Only two in here have run better than an 83 in any of their last three races. Considering he's already beaten a lot of these, and he has excellent figures, he's clearly the one to beat.
The 7, Aleander, ships in from Parx, where he earned an 81 in each of his last two. He drops from the $16,000 level, and won for $10,000 at Aqueduct over the winter. He disappointed against horses running for higher tags, so the drop in class will do him good. The 8, Fly By Pomeroy, defeated $5,000 horses last out at Parx, running an excellent figure of 89. He makes his third start off the layoff here, and outside of a very poor effort in his first start off that layoff, he consistently runs in the 80s, and occasionally goes into the 90s. As long as he runs his race, he'll be a major contender.
5- Red Rocket Express
7- Aleander
8- Fly Bye Pomeroy
Race 9: Handicap, 3yo and up, 1 3/8 Miles (Grass)
From a fan's perspective, there's nothing better than long handicap races. That's what we encounter here, in the final leg of Monmouth's grass starter series. The 6, Diana's Vendetta, exits the second leg of that series, and was sixth at 54/1. Not an impressive effort on the surface. However, he ran an excellent 92 in there, his best figure of 2016 so far. In fact, outside of a dull effort when he was in over his head in the Cape Henlopen Stakes at Delaware, he's been running in the mid-80s steadily. Last fall, he ran a 93 when going 1 ½ miles in the Laurel Turf Cup, a promising sign for this long distance. He's also getting a jockey upgrade to Jonathan Gonzales.
The 1A, Sunset District, was third in the same race that Diana's Vendetta exits. He's raced since then, finishing a disappointing sixth at the n/w1x level after breaking slowly and losing position. If he can bounce back off that effort, he's a strong contender. The 2, George Cross, defeated Jersey-breds on the grass last out while going a mile, and has run in the mid-80s in each of his last three races. His best distance may be a mile; his lowest figures have been earned when going 1 1/16 miles. We'll see how he responds to a big stretchout.
6- Diana's Vendetta
1A- Sunset District
2- George Cross
Race 10: Allowance Optional Claiming (n/w1x), 3yo and up, 6 Furlongs
A lot of the horses in here have run one really good race recently, but have sprinkled a bunch of complete non-efforts in between. Both halves of the Mario Serey entry fit that bill, but both of them ran their best race most recently. The 1, Fifth Business, improved to a career-best 98 when finishing second against starter allowance company. The winner of that race, Defer Heaven, is one of the fastest horses stabled on the grounds, and miles better than anyone in this race. The 1A, El Kracken, closed from last to lose by a neck last out at Delaware, running a 95. He had not run in the 90s this year prior to that race, but had twice earned an 89. Both look to be coming in here in good form, and merit my endorsement as such.
The 6, Island Cat, led most of the way at this level last out, before tiring to finishing seventh. Two races ago, he went gate-to-wire against n/w3L claimers to earn a figure of 93. He's a certainty to be on the early lead. The 4, Bat Cave, has been running strong races against Jersey-breds all meet long, and while he hasn't run in the 90s, he's the only one in the race to consistently go in the 80s. He's worked well since his second against Jersey-bred n/w2x company last out, and is a strong exotics contender.
1- Fifth Business/1A- El Kracken
6- Island Cat
4- Bat Cave
Race 11: Philip Iselin Stakes, 3yo and up, 1 1/8 Miles
The Iselin is one of the most historic races run at Monmouth Park. Its roster of past winners is a great one: Spectacular Bid, Alysheba, Nashua, Bold Ruler, Black Tie Affair, Skip Away. Even last year's bunch was very good, highlighted by Valid and Bradester. This year's running does not have that star power, but it is nonetheless a wide-open bunch of six. The 2, Baccelo, will be my pick. He made his first start on the east coast last out, against n/w3x allowance horses at Saratoga. He won that race by a length, with a solid figure of 98. Two races ago, he defeated a n/w2x bunch at Santa Anita Park, and ran a very impressive 102. He's been progressing up the class ladder, he's running big figures, and he gets the very talented Nik Juarez for his first start in Jersey. With Watershed a pretty solid morning line favorite at 8/5, Baccelo may be overlooked in the wagering. If that happens, go to the bank.
The 5, Transparent, is the other Jacobson entrant. He was last seen eight days ago at Saratoga finishing fourth against allowance company. I'd be a bit surprised if he ships down to the Iselin off such a short layoff. If he does, however, he's been running in the high-90s pretty steadily. That would make him a strong contender. The 4, Mr. Jordan, has been third in each of his last three starts, and improved by five points while making his second start off the layoff in the Monmouth Cup. Now that he's more in-form, he can improve even further.
2- Baccelo
5- Transparent
4- Mr. Jordan
Race 12: Maiden Claiming $20,000, 3yo and up, Fillies and Mares, 5 ½ Furlongs (Grass)
The long and winding road comes to an end here. The 1, Southern Thang, will be my pick to defeat this lackluster bunch. In her only grass start, which was also her career debut, she was fourth against straight maidens while running wide throughout, earning a 64. Now, she drops in class, gets an inside post, and faces a field where the only horse to run above a 65 on the grass sports an 0-for-19 record. Southern Thang has only raced three times, so there's hope for her to not be a chronic loser. Her form on dirt wasn't great, so getting back to the grass should be just thing that she needs to regain her old punch.
1- Southern Thang
6- Variety of Colors
8- O'Lucey