Timonium meet set for Friday kickoff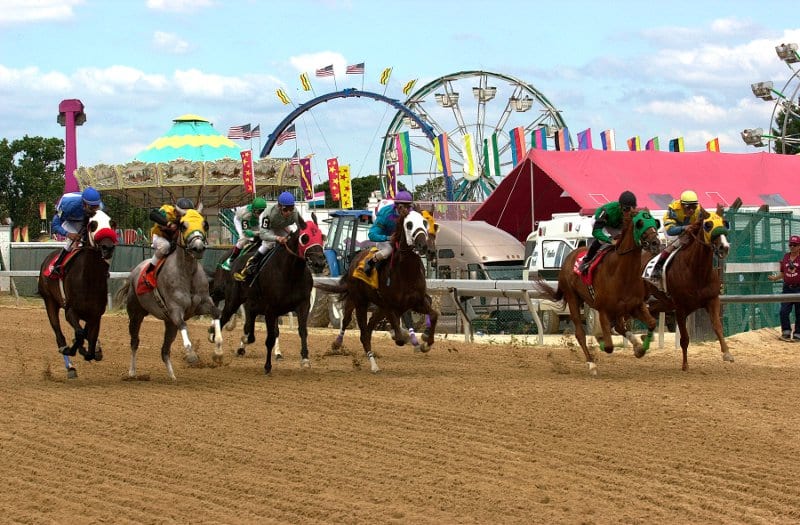 Heading for home at the Big T. Photo by Jim McCue.
From a Maryland Jockey Club release
Bolstered by increased purses and a new trainer bonus program, live racing shifts to Timonium Race Course for the annual Maryland State Fair meet which opens Friday, Aug. 26.
The Maryland Jockey Club will simulcast all of Timonium's races as well as races throughout North America at its OTB facilities at Timonium Race Course, the Horseshoe Casino in Baltimore, Boonsboro, the Riverboat on the Potomac, and Laurel Park and Pimlico Race Course.
The only fair racing left on the East Coast, the meet will have seven live race days: Friday, Aug. 26; Saturday, Aug. 27; Sunday, Aug. 28; Friday, Sept. 2; Saturday, Sept. 3; Sunday, Sept. 4; and Labor Day, Monday, Sept. 5.
First race post time each day is 1 p.m. Timonium's year-round OTB facility, located on the second-floor grandstand, will remain open seven days a week.
Purses are up approximately 10 percent from last year's meet, when Travis Dunkelberger and Gerald Almodovar shared the jockey title with seven wins apiece and Wayne Potts led the trainer standings with five victories.
This year, the state fair trainer's challenge will offer $20,000 in bonus money. Of that, $15,000 will be given to trainers with the most wins and points; $5,000 for first place, $4,000 for second, $3,000 for third, and $2,000 for fourth and fifth.
In each race, trainers will be awarded 10 points for a win, five points for second and three points for third, while each starter will earn one point.
Another $5,000 will be awarded to the trainer with the most earnings during the meet. The same trainer cannot also earn money from the point standings bonus and would retain the highest earnings bonus of $5,000.
The 11-day Maryland State Fair runs from Thursday, Aug. 25 through Labor Day, Monday, Sept. 5 at the fairgrounds on 2200 York Rd. in Lutherville-Timonium, and opens at 9 a.m. each day. Admission to the races is included in the price of fair tickets, which cost $8 for adults, $6 for seniors age 62 and up and $3 for children ages 6-11.