Spa Diary: Ray Handal's roundabout journey to first Spa win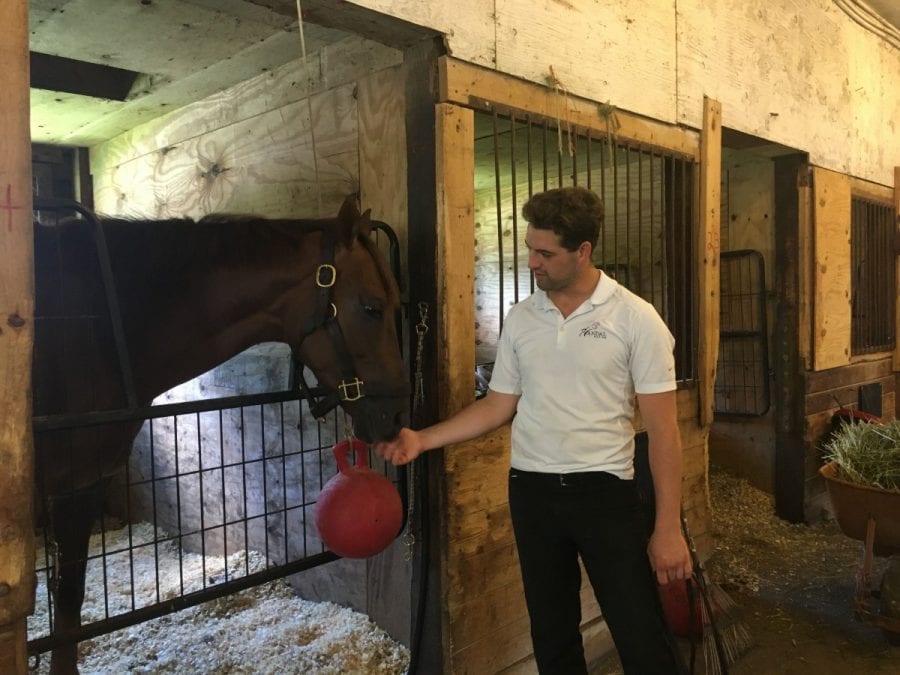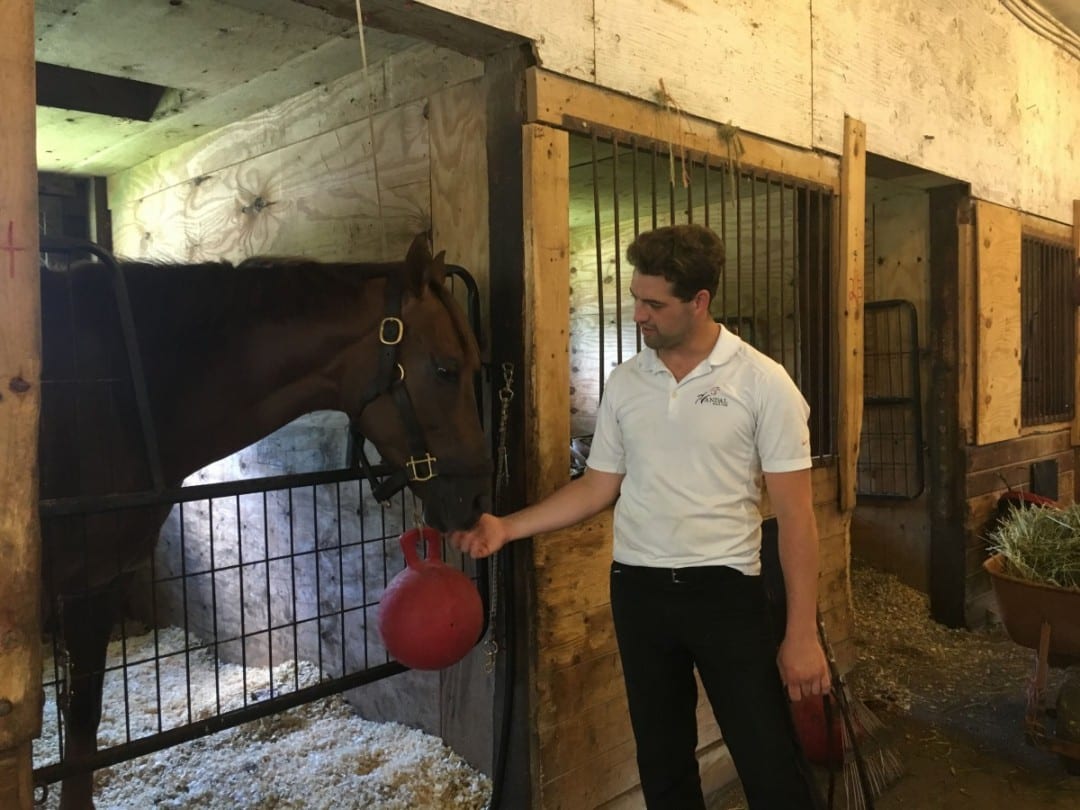 Ray Handal. Photo by Teresa Genaro.
Once again this year, Teresa Genaro will share with us stories of some of the mid-Atlantic people and horses who make their way up to Saratoga in her Spa Diary.
by Teresa Genaro
Before August 18, trainer Ray Handal was putting together an impressive string of accomplishments from the claim box…impressive, unfortunately, in all the wrong ways.
"I've lost 13 shakes in a row," he said, standing outside his barn on the grounds of Saratoga Raceway, the harness track across Nelson Avenue from Saratoga Race Course. "I haven't won a shake since February."
He was the only claimant on a number of horses that he'd added to his stable, but of those eight, six had finished second first off the claim.
"Four of them by a neck or less," he said. "I was pulling my hair out."
On this sunny morning, though, Handal was laughing about his bad luck and celebrating, because finally, one of those claimed horses hadn't finished second, and he gave Handal his first Saratoga winner.
Handal claimed Winter Springs, a French-bred four-year-old gelding, off a fourth-place finish on opening week at the Spa.
"He's a neat little horse with a lot of personality," said the trainer. "He's really beautiful, and he gets over the ground really well, over both the grass and the dirt. I felt like I didn't have to do a whole lot to get him [to the winner's circle]."
Winter Springs is owned by Zilla Racing Stables, a client that Handal met through a former employer, Tom Morley, for whom he worked for about 10 months.
"Mike had a bunch of horses with Tom, and we built a relationship," said Handal, referring to Zilla's founder Michael Piazza. "We kept in touch and he wanted to help me out when I first started training, so we claimed one."
Growing up in Jamaica, Handal was introduced to horse racing by his father, who was visually impaired and who relied on his son to help him handicap.
"He taught me how to read the Form when I was really young," he said. "It was a bonding thing for us. We'd handicap the races together and go to the races every weekend."
Habitués of Jamaica's Caymanas Park, the duo switched to the south Florida tracks when the family moved to the United States. Before long, still a teenager, Handal took off for the racetrack, with his parents' blessing.
He got his first job as a hotwalker at Colonial Downs in Virginia, where he met Jonathan Sheppard. The Hall of Fame trainer brought Handal to his Pennsylvania farm, and Handal learned to ride there under Sheppard's tutelage. From there he worked with Michael Matz at Fair Hill, then headed west to Kentucky to the barn of Ken McPeek, where he stayed for four years before employment stints with Christophe Clement and Anthony Dutrow.
Based in New York while working for Dutrow, he elected to stay there to open his own stable in 2014. He has half a dozen horses now and employs three people, a ratio that he admits isn't ideal but that he maintains so that he can support sending horses early when they run out of town.
"When I ship, I'll send Jordan [Colflesh], my foreman," he explained, "and he'll go with the horse after the last workout. I like them to paddock school and to get over the track once or twice."
He rides his own horses every day; though he doesn't always breeze them, he did breeze Winter Springs the week before that win, leading him to quip, "I might start breezing everybody now."
He looks for consistency, he said, when he claims horses, and he liked that Winter Springs was regularly running speed figures in the mid-80s. He put the horse in draw reins because he observed him carrying his head a little high, an adjustment that resulted, he said, in a horse that seemed happy and a little perkier.
"He put on a little more muscle mass, somewhere between 50 and 75 pounds," he said. "And he dappled out well. I also thought maybe blinkers might help him.
"But I really didn't have to do a whole lot with him. He seemed like he had the potential to be a nice, talented horse."
Handal still talks to his father every day, getting advice from someone outside the world of the backstretch, from the man without whom Handal might not have made his way into his current career.
"We talk about the races," he said. "He kind of helps me and pushes me in the right direction. When I'm stuck, it's good to have an outside-the-box perspective."
And, maybe, to remind himself of the little boy who used to go to the track with his father, looking awestruck as people like Mike Smith and Jerry Bailey.
"Horse racing people," he said, remembering those days, "are my rock stars."