Birthday boy Toledo has six pack — of wins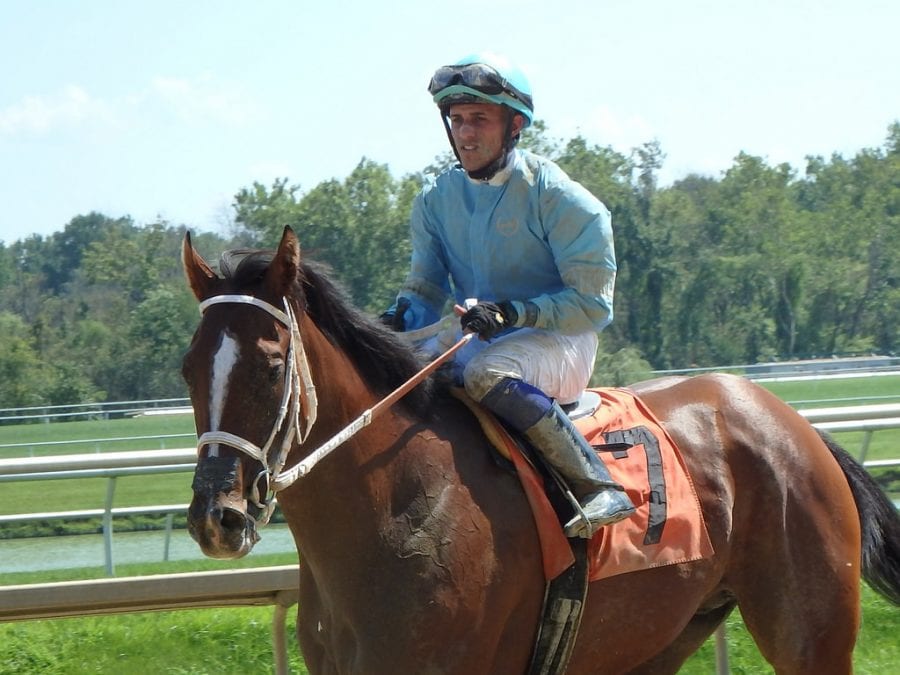 Jevian Toledo and O Dionysus. Photo by The Racing Biz.
by Ted Black
When jockey Jevian Toledo arrived at Laurel Park for Saturday afternoon's "Maryland Pride Day" card, the youthful rider had some added incentive. Toledo celebrated his 22nd birthday on Saturday, and the track's leading rider maintained his hold atop the standings by steering home three winners for three different trainers in a trio of sprint races on the main track.
"It's good to win three races any day," Toledo said in the Laurel Park jocks room on Saturday. "Winning three races on my birthday is great. I had won one race on my birthday two years ago, but nothing like this. I was lucky to have some really live mounts today."
In a sense, Toledo was doubly fortunate to garner his first win on the card. He inherited the mount aboard O Dionysus for trainer Gary Capuano not long after regular pilot Victor Carrasco was sidelined after being tossed and then stepped on by the Bodemeister colt when he was scheduled to make his career debut two weeks ago.
Toledo climbed aboard O Dionysus in the paddock and then held on as the colt again got squirrelly stepping onto the track after leaving the outrider pony. But unlike Carrasco, who got tossed when O Dionysus got unruly, Toledo stayed aboard as the Capuano trainee went into a full gallop passing by the Laurel Park grandstands in a clockwise direction.
When the gate opened for the five-furlong maiden special weight event for Maryland-bred/sired two-year-olds, O Dionysus did not break alertly and had only two colts beaten after the opening quarter-mile. But the Capuano trainee found his best stride leaving the three-eighths pole and began passing foes widest of all on the far turn. At the top of the lane, O Dionysus had plenty of momentum. Inside the eighth pole O Dionysus had only one horse to pass and the Capuano trainee overhauled Popizar (J.D. Acosta) with little difficulty in the lane to score by nearly three lengths in 58.88 to garner his diploma in his official career debut.
"He got a little anxious leaving the paddock," Toledo said. "I knew Victor got hurt when he got thrown by him. He took off on me but I held on and let him gallop out. He was a little restless at the gate and he didn't really break sharp. But he really started to pick it up going into the far turn and I just kept him clear and he finished up strong."
Trainer Gary Capuano has always had high hopes for O Dionysus, a $190,000 yearling purchase by Marathon Farms. Capuano was hoping the colt, bred by Dark Hollow Farm, would have a clean trip the first time he brought him over, but watched him get squirrelly leaving the paddock and dump Carrasco, step on him and then sprint through the stretch in the wrong direction.
"He's just a handful," Capuano said of O Dionysus. "He's a big, strong horse. He's got a lot of talent, but he's not real quick. He broke a lot better than I thought he usually does. When he broke with the pack, I thought if he could get him to the outside we could have a good trip. He's a nice horse. The first time, a couple of weeks ago, he got loose in the post parade. He's been with the pony a million times. So today when he run off, I'm like, 'Here we go again.'"
Two races later on the card Toledo made his second appearance in the winner's circle after guiding Brassy Lassie to an 11-1 upset in a five-furlong maiden special weight event for two-year-old fillies. A homebred daughter of City Zip rained by Phil Schoenthal for owner-breeder Everest Stables, Inc., Brassy Lassie broke alertly to sit just off the leader down the backside, surged to command entering the far turn then held safe Sunshine Included (Trevor McCarthy) under left-handed urging from Toledo to score by two lengths in 59.27 for the five panels.
"She broke really well for me and she seemed eager to run," Toledo said. "I didn't know she had that much speed. Sometimes the young horses really improve off of one start. She didn't show much in her first start, but she was really good today. I stayed after her a little bit late, but she was pretty good late."
After finishing ninth in her career debut in a five-furlong open maiden special weight dash for two-year-old fillies on July 1, Brassy Lassie was able to garner her diploma in her second start for Schoenthal and Everest Stables when able to compete in Maryland-bred/sired company on Saturday.
Then three races later on the card, Toledo completed his riding hat trick by steering Corvus to a gritty victory in a seven-furlong allowance event for three-year-olds and up. Trained by Katy Voss for owner-breeder Robert Manfuso, Corvus had won the Maryland Million Nursery last fall in his career debut, but the Dance With Ravens gelding had failed to hit the board in three subsequent starts until being vehemently urged home by Toledo on Saturday and getting the distance in 1:24.40.
"He broke really good and I was in good position the whole time," Toledo said. "He made the lead turning for home and he felt pretty good. I had to start getting after him inside the eighth pole. He was getting a little tired and when we hit the wire I thought the outside horse Nicaradalic Rocks (Julian Pimentel) beat me. I knew it was close, but he just hung on."
Fittingly enough, Toledo capped the Laurel Park summer meet one day later by recording another hat trick to secure the riding title with 29 victories. He prevailed with Race and Shine in the second, came right back to score with Sweet Curls in the third, and then scored two races later with Boosting. Toledo won 12 races over the last five days of the Laurel summer meet to finish nine wins clear of runner-up Feargal Lynch.
"I have to thank God and all the owners and trainers for giving me the opportunity," Toledo said on Sunday. "My agent [Marty Leonard] did a really good job with me. All the grooms, they do all the work. I just ride the horses. These are hard races. My agent picked up the right horses and I got lucky to cross the wire in front."