Back home, Ben's Cat looks to tie a record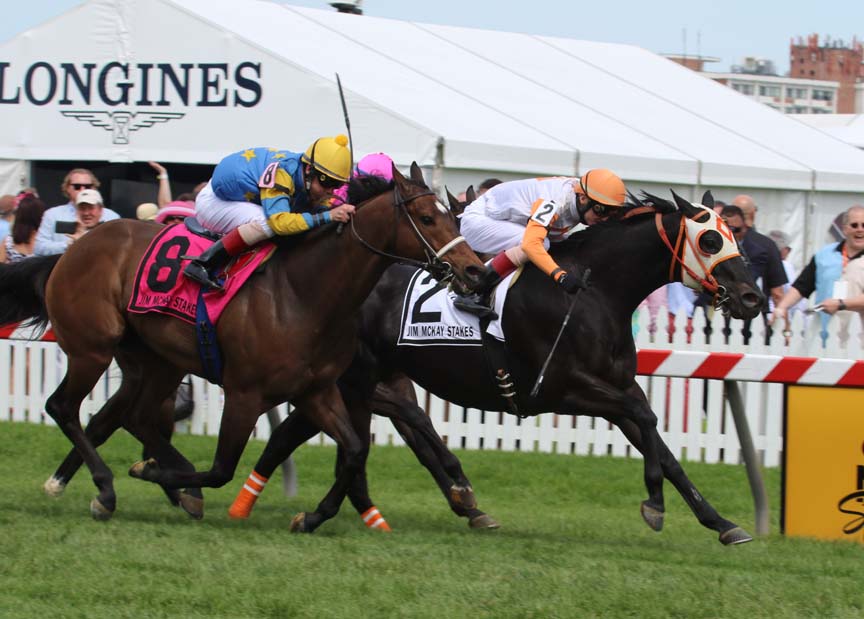 Ben's Cat was up late to win the Jim McKay Turf Sprint on Black-Eyed Susan day. Photo by Laurie Asseo.
by Ted Black
It's only fitting that this Saturday's "Maryland Pride Day" at Laurel Park will feature the equine and human pride of Maryland racing in the venerable Ben's Cat, owned, bred and trained by Hall of Fame conditioner King T. Leatherbury.
Ben's Cat is headlining the 33rd edition of the $75,000 Mister Diz Stakes for Maryland-bred/sired older runners on the turf, a race that he has won an unthinkable and nearly unprecedented six straight years. Ben's Cat has already been selected as the Maryland-bred horse of the year four times and already has a stakes race named in his honor on the main track at Laurel, although the 10-year-old son of Parker's Storm Cat does not appear to be on the verge of immediately retiring.
"We'll see how things pan out on Saturday," Leatherbury said after the draw on Wednesday, noting Ben's Cat was one of 11 entered for the Mister Diz. "He's trained really good since his last start [at Parx] and I think we'll be okay. But we won't know until they run. His figures have not been as good this year as they have in the past."
When it was contested in the spring, the Mister Diz served as a prep for the remainder of Ben's Cat's season, but this will mark the second straight year in which the race will be contested in the summer. Ben's Cat will also head into the latest renewal of the Mister Diz with a different rider than he has had for his previous six victories in the stakes event named for a previous Maryland-bred star of the 1960s and 1970s.
Twenty-two year-old Trevor McCarthy has been aboard for all four of Ben's Cat's 2016 starts, winning two, including the Jim McKay Turf Sprint over Preakness weekend, and finishing third twice.
"It's an honor to ride a horse like him," McCarthy said. "People think there's a lot of pressure riding a horse like him, but really there's not any pressure on me. He's done a lot in his career and he's really like Maryland's horse. He worked really well the other day so I'm looking for another big race from him."
Ben's Cat has won 32 of 57 lifetime starts and banked roughly $2.63 million already in a career that will likely land him a spot in the Maryland Thoroughbred Hall of Fame and contributed mightily to Leatherbury's induction, last year, to the national Hall.
Ben's Cat has already captured 26 stakes, including four Grade 3 events, and the ageless wonder owns an 8-3-1 slate from 12 starts over the Laurel turf course.
"Anyone that understands racing knows even the best horses get beat," Leatherbury said. "He doesn't get the figures that he once did, but he still tries hard every time out. I really thought we had a good chance to win that race at Parx last out. He got beat that day but he ran against a couple of horses that like that course."
McCarthy, who also has the mount aboard Monster Sleeping, the defending champ and 9-5 favorite in the Jameela Stakes for Maryland-bred fillies and mares on Saturday, thought the Parx turf course played a factor in the result last month. But back on his home course, McCarthy expects a different, more popular outcome for Ben's Cat this weekend.
"He's been facing much tougher horses in his last two starts," McCarthy said, referring to the Grade 3 Parx Dash and the $150,000 Pennsylvania Governor's Cup at Penn National. "He just didn't handle the turf course at Parx. He never really felt comfortable until the last furlong. But this weekend he will be in against much easier, and he loves the Laurel turf course."
Neither Leatherbury nor McCarthy could recall hearing of a horse that won the same stake six times. But Ben's Cat would have to win the Mister Diz to join Leaping Plum, who won the four-furlong Grasmick Handicap at Fonner Park in Nebraska seven straight years (1995-2001) and captured an eighth one two years later, so another victory by Ben's Cat in the Mister Diz would truly put him in elite company.
Ben's Cat will not only be the sentimental favorite to prevail in the Mister Diz, but he will also likely be the betting favorite to secure his seventh straight title in that event. His 10 rivals have combined for only slightly more wins (41) but considerably less earnings ($1.8 million) than the Cat, despite having roughly four times as many starts collectively.
"It's tough for any horse to win six stakes total, let alone the same stakes six times," McCarthy said. "It's a pleasure to ride him. He gives me 100 percent every start. He's just a classy old horse. He's probably one of the smartest horses that I've ever been aboard. I'm really looking forward to riding him this weekend. King always seems to have just right for the Mister Diz and the Jim McKay."