Fear of flying at the Hall of Fame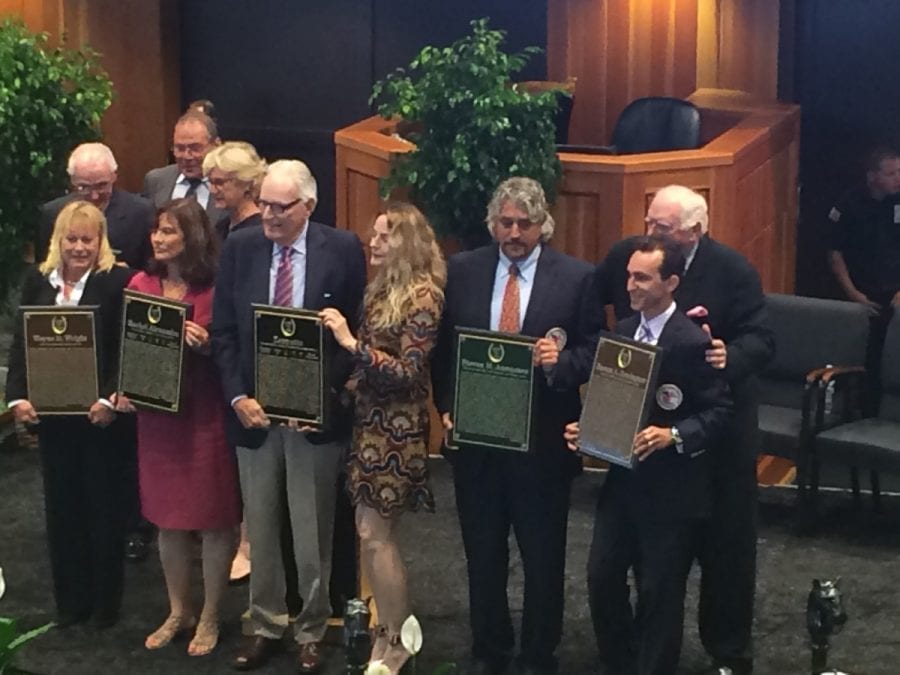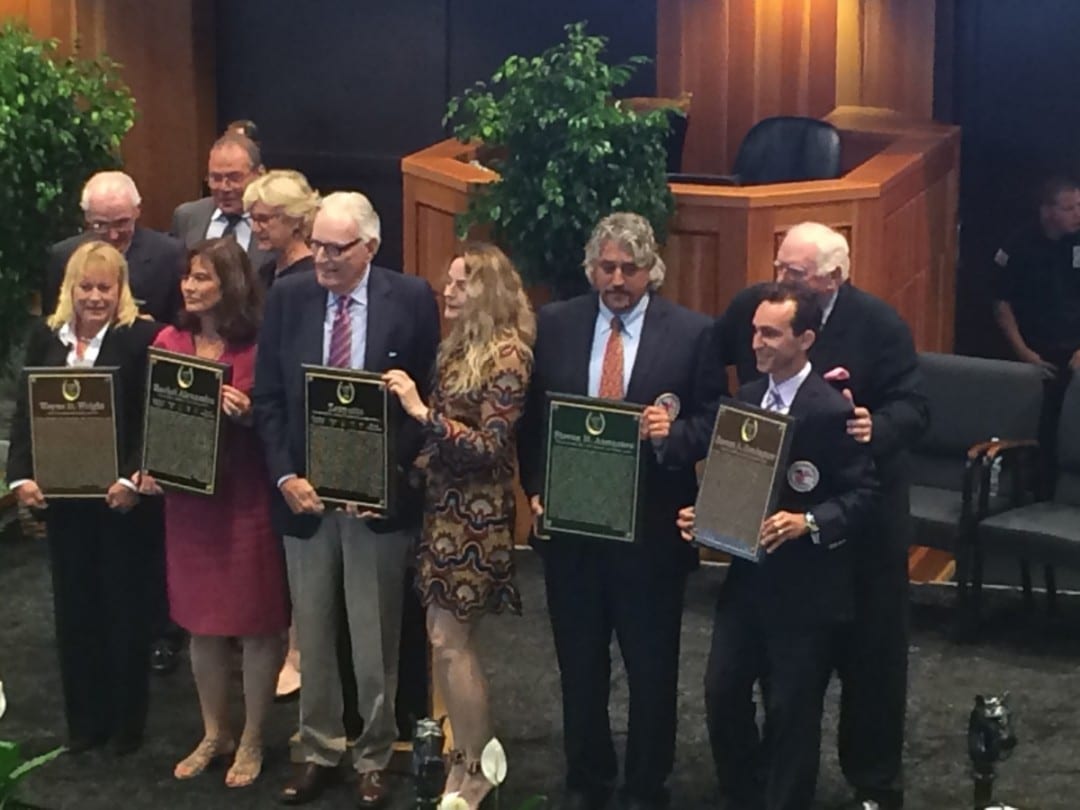 Hall of Famers, including Barbara Banke (second from left), of Stonestreet Stables, which owns Rachel Alexandra; Jerry and Ann Moss, who owned Zenyatta; Steve Asmussen, and Ramon Dominguez. Tom Durkin is behind the latter two, arranging them. Photo by The Racing Biz.
by Frank Vespe
Jockey Ramon Dominguez told an amusing story about his fear of flying. Trainer Steve Asmussen kept having to stop to fight back the tears that threatened to engulf him.
Rachel Alexandra's perfectly fine four-year-old season clarified just how extraordinary her three-year-old campaign had been. And it was Zenyatta's lone loss, by a diminishing head to Blame in the Breeders' Cup Classic, that finally dismissed all her doubters and answered all her questioners.
If the 2015 Hall of Fame induction ceremony was about the delayed recognition of greatness, in the form of octogenarian trainer King Leatherbury and filly sprinter Xtra Heat, the 2016 edition was about the ways in which flaws and fallibility help to define greatness – even on the fast track to the Hall.
In fact, while Leatherbury and Xtra Heat had both failed in several prior runs at induction, the quartet that entered Friday, August 12 all were – with one hiccup – entering in their first year of eligbility.
That hiccup – Asmussen's delayed consideration after heavily edited video released in 2014 by People for the Ethical Treatment of Animals (PETA) implicated him and his staff in all manner of cruelty towards and mistreatment of horses – has led many in and outside of racing to wonder whether, you know, that sort of person should be in the Hall.
But the astonishing success he's enjoyed – including training Hall of Famers Curlin and Rachel Alexandra, winners of three straight Horse of the Year titles – argued in his favor, as did the findings of regulatory bodies which investigated the PETA allegations.  He was largely exonerated, though forced to pay a $10,000 fine by New York's Gaming Commission for having had thyroxine administered to his horses too close to post time.
And the reaction of the crowd Friday – an insider's type of crowd, limited to members of the Hall of Fame – seemed to suggest that all was forgiven.
As Asmussen struggled against tears while trying (and eventually succeeding) to thank his parents, the crowd cheered him on.  And when he concluded, the crowd rose to its feet.
The Hall-bound paths followed by Dominguez and the two distaff racers were straighter than Asmussen's, though perhaps the destination no less satisfying.  Indeed, Dominguez, a man who has won virtually unanimous respect from those in the industry (along with 4,985 races), entered on the fast track when the Hall's executive committee waived the normal eligibility rule, which requires jockeys to have ridden for 20 years or to have been retired for five; Dominguez saw his 17-year career ended by injury in 2013.
And while Zenyatta and Rachel Alexandra were, in 2009, a racing version of "Less filling, tastes great," with partisans of each squaring off, by 2016 it seemed altogether appropriate that the pair should dead-heat in Saratoga Springs.
Longtime NYRA track announcer Tom Durkin, the event's master of ceremonies, brought that home nicely, telling the audience about the shaking of the grandstand he experienced amidst the deafening roars that accompanied Rachel Alexandra's 2009 win, as a three-year-old, against older males in the Grade 1 Woodward Stakes at the Spa.
Later, when Zenyatta was inducted, he added, "If I were to have a single regret, it would be that I never got to call [a race run by] Zenyatta."
In the end, the lesson seemed clear.  We like our heroes just flawed enough that they seem, for lack of a better word, more human – even when they're horses.