Ken Wilson follows dad's footsteps — in a tractor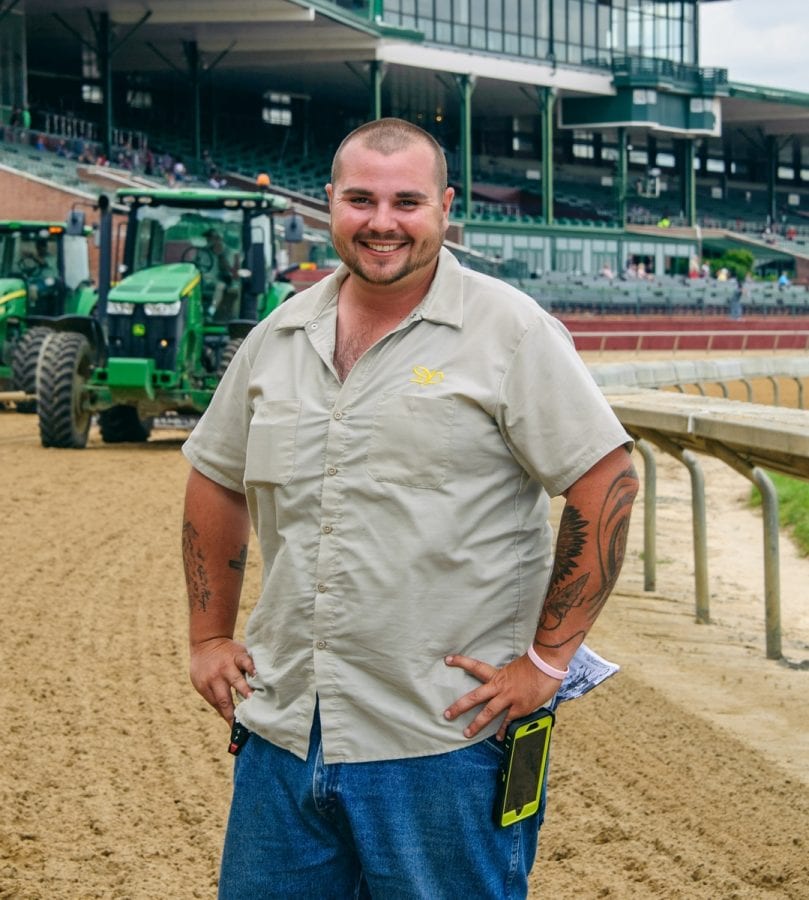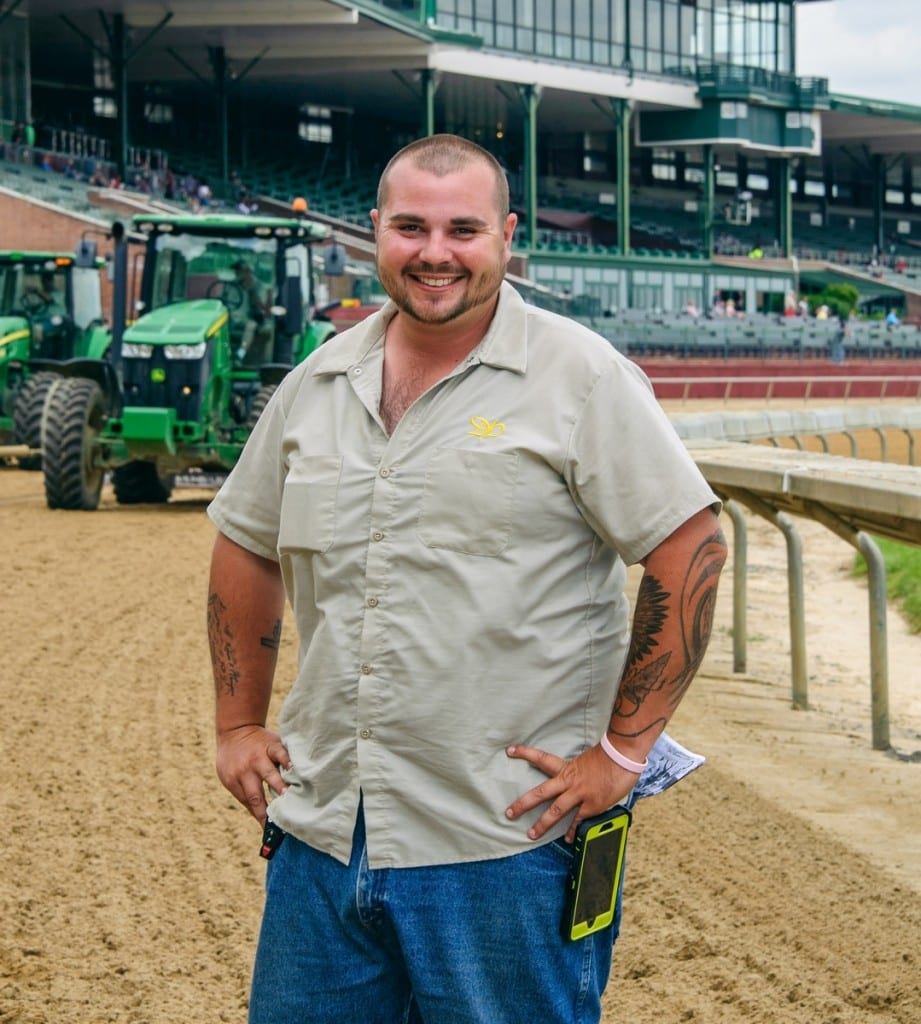 Kenny Wilson, track superintendent at Delaware Park. Photo by HoofprintsInc.com
by Doug McCoy
When you grow up as the son of a well-known and highly successful jockey, racing is a daily part of life. Delaware Park's new track superintendent Ken Wilson's father, Rick Wilson, rode for more than 30 years, winning 4,939 races during that span, a figure that ranks him 34th all time for races won by a thoroughbred jockey.
By the time Ken was born, his father had been riding for more than 15 years, and he grew up watching his father ride and also being a part of the ups and downs that are part of a jockey's life. Ken Wilson was 17 when his father's career ended in 2004 due to severe injuries to his head and eye after a spill at Pimlico in May of that year.
It was a devastating period for the Wilson family, but with his mother Jean, who is a nurse, guiding the way, Ken's father emerged from a long and arduous rehabilitation process that included several surgeries to repair damage to his right eye. While his dad's career was over, Ken was trying to decide what career path his life would take.
While he liked the track and the excitement of being a part of some of his father successes, the younger Wilson had became interested at an early age not in the four legged animals but in the machinery that came out after the horses left the track when training hours were over.
After he graduated from high school his sister, Christy, a pony girl on the Maryland circuit, suggested he talk to Dave Whitman, director of track maintenance at Laurel and Pimlico.
"That was the best advice I ever got," Wilson said recently during a short morning break at Delaware Park. "I met with Dave, he hired me and I began to learn from the ground up, working with the different pieces of equipment, keeping them maintained and running then trying to learn all I could from Dave about what being a track super was all about.
"I worked for him for 10 years, learning as I went along and Dave took me under his wing, teaching me, letting me do things and giving me more responsibility. Eventually he put me in charge of the track at Pimlico, [and] then the folks from Delaware Park offered me the position of track superintendent here. It was what I had hoped for in the back of my mind but there aren't many spots like this that are available. I'm just glad the folks here had enough confidence in me to give me a chance."
Of course maintaining and keeping a track surface safe and uniform on a daily basis is no easy task. Neither is keeping the surface consistent for horsemen to train and race over.
The Delaware main track has changed in complexion several times since the meeting began back in May, and Wilson is the first to admit learning the nuances of the surface has been a slow, and sometimes frustrating process.
"Delaware Park's track is different from a lot of tracks in that it doesn't have a crown half way out," he explained. "Here the track slopes down from the outside to the inner rail so there is a lot more material that pushes down to the inside than at other tracks. And when it rains even more material runs to the inside. We are working daily to try and keep the inside from getting too deep while keeping the surface even from inside to out."
Speaking to some concerns voiced by some horsemen regarding the effect the track surface is having on their horses, Wilson said he was working to find a workable mix.
"Right now, the track's a little looser than I would want it to be, but I've spoken with Mr. Mooney (John Mooney, Delaware Park director of racing) and we plan on adding some more clay to the surface which should tighten things up." he revealed.  "It's like trying to tune a guitar you've never touched or played before. I'm getting the feel of the track more and more as time goes by and I think in time we'll have a track most horsemen can be o.k. to train and race over without serious concerns. That's my goal."
Wilson has eight men on his crew and while he spends the bulk of his time on the main track he points out that long-time track veteran Keith "Patch" Ferguson does a great job overseeing the maintenance of the training track, an important surface for horsemen to use during training hours.
"My guys are a great asset," he said. "They free me to inspect the surface, run the road grader, and all the other little things that have to be done. In this job you never know what challenge you'll face from one day to the next."