Hall of Famer Steve Asmussen's WVBC connection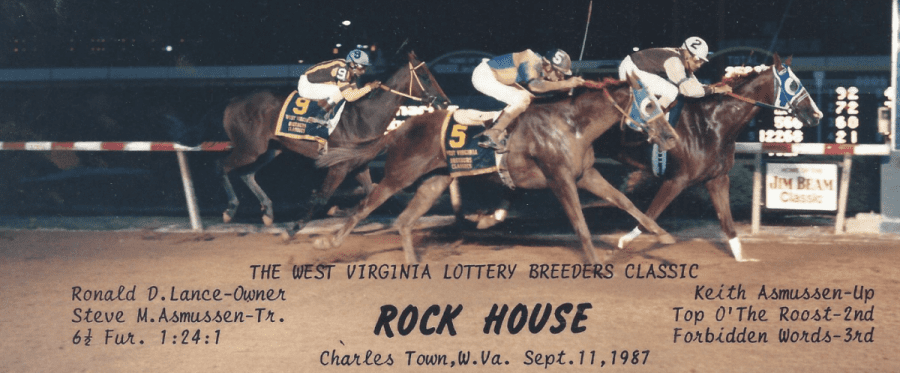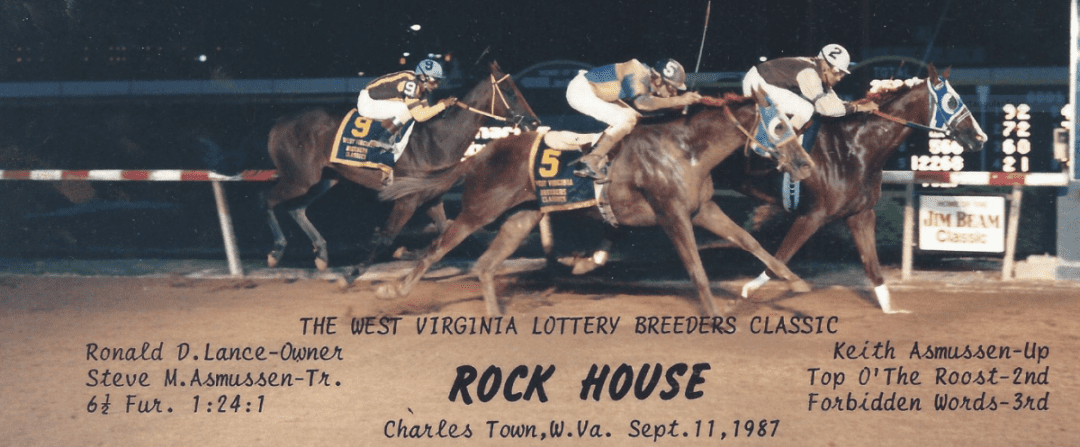 Rock House and jockey Keith Asmussen take the two-year-old race on the inaugural West Virginia Breeders Classics night. Photo courtesy of West Virginia Breeders Classics.
by Ted Black
As trainer Steve Asmussen takes his place in the National Racing Hall of Fame at Saratoga this weekend, onlookers will link the conditioner with his gaudy win total and two of his trainees that he'll be joining there, Curlin and Rachel Alexandra.
But very few of them will recall that one of Asmussen's first stakes winners came with Rock House on the very first West Virginia Breeders Classics night at Charles Town Races. Rock House, a son of Belted Earl, won the two-year-old race that was then known as the West Virginia Lottery Breeders Classic and is now called the Vincent Moscarelli Memorial.
The West Virginia Breeders Classics will take place for the 30th time on Saturday, October 8 at Charles Town.
While Curlin, the Preakness Stakes and Breeders Cup Classic hero who was twice selected horse of the year [2007 and 2008] preceded Asmussen into the Hall of Fame, the longtime trainer will get inducted along with Rachel Alexandra, the standout filly who defeated the boys in a trio of Grade 1 events in 2009: the Preakness Stakes and the Haskell Invitational and then older males in the Woodward at Saratoga en route to being named 2009 horse of the year. Curlin won 11 of 16 starts and earned over $10.5 million in his career, establishing a since-broken North American earnings record, while Rachel Alexandra prevailed on 13 of 19 occasions and banked over $3.5 million.
"To be able to go in with Rachel is special and then some," Asmussen told reporters Wednesday morning. "In horse racing, it's unique that you go in [to the Hall of Fame] while you're still doing it and being honored. I feel like we're just in the middle of the career, in the middle of what we're going to get done. Just very blessed with the opportunities we have and continue to be given and will try to make the best of them."
Asmussen has had immense success with numerous other runners and his career statistics are among the most impressive in the history of the sport. Through Monday's cards, Asmussen starters had already earned nearly $10 million this season. He has saddled nearly 7400 winners from more than 35,000 starters who have banked over $245 million in his career. Since 2000 Asmussen has recorded at least 200 winners each year, topped 300 wins 10 times, 400 winners eight times, 500 wins four times, and twice won at least 600 races, with a career high of 650 in 2009.
In fact, from 2007-2009, when Curlin and Rachel Alexandra were enjoying their horse of the year campaigns, Asmussen saddled 1,759 winners, and his runners earned nearly $70 million during that span.
But 30 years ago, Asmussen was a former jockey who'd grown too large. As a trainer, he notched only one win from 15 starters in his inaugural campaign of 1986.
One year later he saddled 30 winners from 167 starters. Three of those wins came from Rock House, who won the inaugural edition of what is now known as the Vincent Moscarelli Memorial on West Virginia Breeders Classics night at Charles Town.
With jockey Keith Asmussen — Steve's father — aboard, Rock House, a son of Better Earl out of the Noholme II mare Booholme, won a three-way battle with Top o' The Roost second and Forbidden Words in third to take the $25,000, 6 ½ furlong event.
Rock House garnered his diploma against maiden special weight foes at Birmingham, finished second in the Pine Ridge Stakes there, won on WVBC night, and then returned home to capture the Tuscaloosa Stakes at Birmingham. That gave him three wins, and $30,460 in earnings, for his juvenile season, which wasn't a bad return on owner Ron Lance's $7,000 purchase.
But Rock House won't be joining Curlin and Rachel Alexandra in Saratoga Springs anytime soon. In fact, he needed more than a year to win another race and his last 10 victories came against claimers and starter allowance rivals at various tracks. He concluded his career with a 13-7-1 slate from 56 starts and modest earnings of roughly $58,000.
Rock House probably isn't remembered by many in racing. But on September 11, 1987, he became one of the first chapters in Steve Asmussen's Hall of Fame career.