Spa Diary: For Lacey Gaudet, "dreams come true" in Spa debut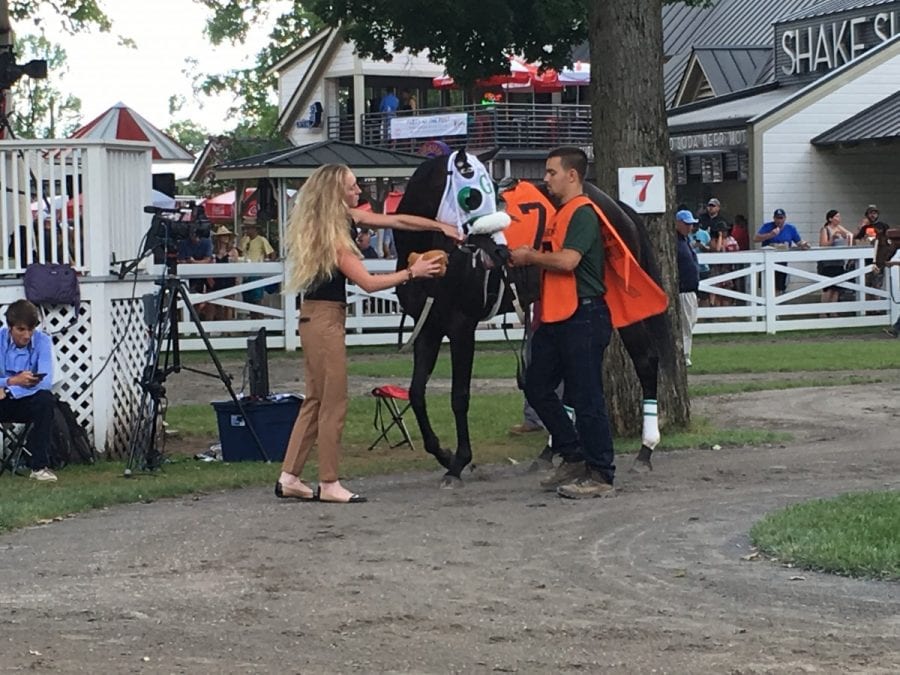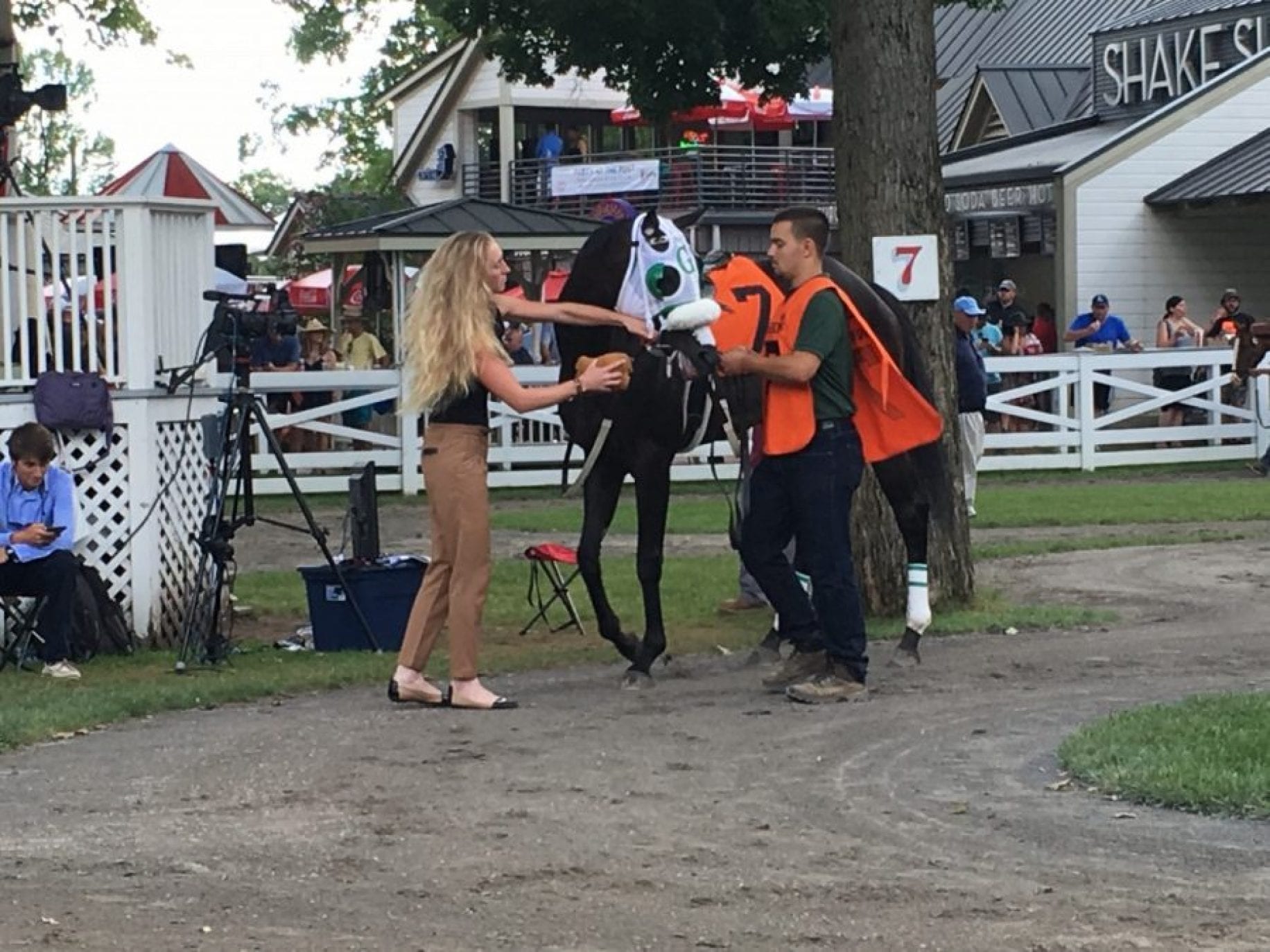 Trainer Lacey Gaudet had a successful debut trip to Saratoga thanks to Pret Say Eye.
Once again this year, Teresa Genaro will share with us stories of some of the mid-Atlantic people and horses who make their way up to Saratoga in her Spa Diary.
by Teresa Genaro

A few hours after the third race on Sunday, Aug. 7, Lacey Gaudet stood on the second floor of the clubhouse at Saratoga Race Course. It's a place she's been many times before, but despite her familiarity with it, on that afternoon, she viewed the place with a new perspective, that of a trainer with a Saratoga starter.

Gaudet had shipped up from Maryland on Saturday morning with one horse, a four-year-old filly named Pret Say Eye. Gaudet claimed her last December out of a race at Laurel in which the filly had gone off the favorite and won by 3 1/4.
"The owner had contacted me looking for a broodmare prospect," said Gaudet Sunday morning, standing outside the Mark Casse barn at Saratoga, in which Pret Say Eye had taken up temporary residence. "It was the end of turf season in Maryland, and the owner said if she's happy and sound, go ahead and run her until we want to make her a broodmare."
A Maryland-bred, the dark bay/brown filly is by Ready's Image and out of the Carson City mare Carleaville, second in the 1999 Cicada Stakes (grade II) at Aqueduct and was bred by Mr. and Mrs. Charles McGinnes. She's owned by Kip Knelman, who bred 2002 Wood Memorial winner Buddha in the name of Farfellow Farm.
Gaudet had been looking at races at Laurel for the filly, but when a two-other-than didn't go for last Sunday, Gaudet saw a similar race in Saratoga and decided to ship in.
"It's the spot she belongs in," said Gaudet. "Whether it's in Maryland or New York, it's where we want to run her."
Unable to find a commercial van with a spot on the same weekend as the West Virginia Derby and with the equine traffic heavy between the Mid-Atlantic and upstate New York, Gaudet loaded Pret Say Eye onto a trailer and drove her up herself, bringing not even a groom with her.  Jordan Coleflesh, who works for trainer Ray Handal, stepped in to help tack the horse up in the paddock.
Home-schooled by parents who need no introduction to fans of Maryland racing — Eddie and Linda Gaudet — Gaudet knew pretty much her whole life that she wanted to a life at the track. As a teenager, she traveled with her father to Delaware and Monmouth, and after her height ruled out a career as a jockey, which was her first intention, she turned to training.
"I went to a semester of college and I was still trying to ride races," she said. "I don't really remember this, but apparently I was going to school and I got named on my first horse, and I just stopped going to college. Apparently I didn't tell my mother I wasn't going anymore. She found out a month later."
Now 27, Gaudet has been training in her own name for seven years. This year, she's got 14 winners from 98 starts, with 13 seconds and 13 third-place finishes. On Sunday, Pret Say Eye contributed to that total.
The morning of the race, Gaudet was confident about her filly's chances. Unwrapping a peppermint for a filly obviously looking for one, Gaudet said, "I like her. She's 8-1 on the morning line, and she likes to be a come-from-behind sprinter. I think we've got the perfect rider for her in Florent [Geroux]. Hopefully they can run away from her a little bit and then come back to her in the last part of it."
The race played out pretty much as Gaudet had expected, except for a winner that didn't come back as much as she had hoped. Uncle Southern won by four, but Pret Say Eye made a nice run up the rail in the last sixteenth of a mile, missing second by just half a length.
"I thought she ran great," said Gaudet, standing in the clubhouse a few hours after the race. "I was really pleased. I wish she could have gotten second, but she gave a good effort and we got to cheer a little bit. I couldn't have asked for a horse to ship, run, and come out of a race better, coming up here for the first time."
Thanks big mare for making my dreams come true of running at Saratoga and not disappointing! pic.twitter.com/0tWRwpRNbS

— Lacey Gaudet (@GaudetRacing) August 8, 2016
Gaudet headed back to Maryland on Tuesday, back to a barn of about 25 horses, some owned by her family, some by clients.
"We try to keep five to seven horses of our own," she said. "I think it helps if clients know that we're putting our own money into horses, too. We've been lucky to pick up a couple of new clients, and we've done well for them with the opportunities they've handed us."
Gaudet's running two horses at Laurel this week, one each on Friday and Saturday, and she has no immediate plans to return to Saratoga. But the woman who worked here in 2008 with trainer Allen Iwinski and has come here as a visitor many times went back to Maryland with another memory to add to her collection of Saratoga experiences.
"If all trips could go this well," she said, "I'd be here all the time."