Xpressbet Dominguez poster raffle to benefit PDJF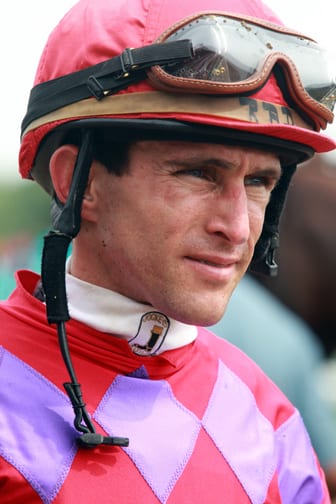 Ramon Dominguez.  Photo Teresa Genaro.
From an Xpressbet release
In celebration of Ramon Dominguez's induction into the National Museum of Racing and Hall of Fame, leading online wagering provider, Xpressbet, will raffle off 100 Ramon Dominguez autographed posters, as well as pledge a donation to the Permanently Disabled Jockeys Fund (PDJF).
The raffle is free to enter and open to all horse racing fans. No purchase or Xpressbet account is required to enter. For every registration, Xpressbet will donate $10 to the PDJF, up to a maximum donation of $10,000. The raffle continues through Sunday, August 21. Winners will be notified on or around August 23.
For more information and to register, please visit http://www.xpressbet.com/racing-hall-of-fame-ramon-dominguez.
Dominguez enters the Hall of Fame following a distinguished career that included 4,985 victories and more than $191 million in earnings. He was recognized as the Champion US Jockey three times at the Eclipse Awards (2010, 2011 and 2012) and received the George Woolf Memorial Jockey Award in 2012. He won three Breeders' Cup races before his career was cut short in 2013 due to head injuries sustained during an in-race accident.
"Ramon's perseverance, work-ethic and competitiveness made him an extraordinary rider, and his compassion, determination and kindness have made him an incredible ambassador for the industry and its jockeys," said Xpressbet Senior Vice President of Marketing, Kerry Carlson. "We're proud to work with Ramon, the Hall of Fame and the Permanently Disabled Jockeys Fund to bring increased awareness to their efforts supporting horse racing."
The 2016 Hall of Fame Class will be inducted in a ceremony in Saratoga Springs, NY on Friday, August 12 at 10:30AM ET. The full 2016 Hall of Fame Class includes racehorses Rachel Alexandra, Zenyatta and Tom Ochiltree, jockeys Ramon Dominguez and Wayne Wright, trainer Steve Asmussen and 'Pillars of the Turf,' Arthur Hancock Jr. and William Woodward Sr. For more information about the Hall of Fame, please visit https://www.racingmuseum.org/.
Established in 2006, the Permanently Disabled Jockeys Fund has distributed more than $7 million to jockeys who suffered catastrophic, on-track injuries. To learn more about the PDJF, and to make a donation, please visit https://pdjf.org/.