California Chrome tops new NTRA Top Thoroughbred Poll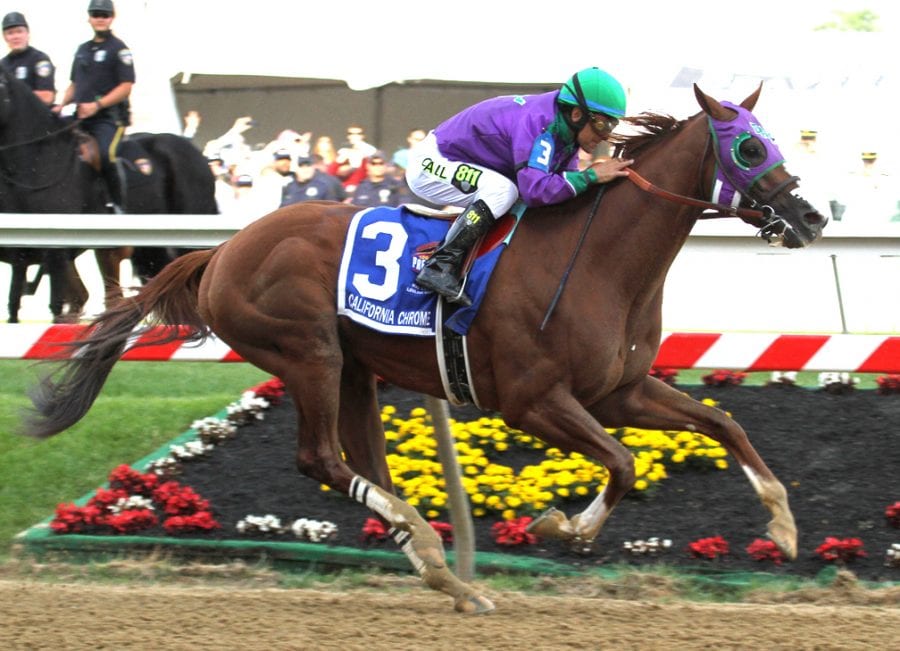 California Chrome. Photo by Laurie Asseo.
From a National Thoroughbred Racing Association release
California Chrome the leading Thoroughbred in North America remains in first-place in this week's NTRA Top Thoroughbred Poll. The all-time leading money earner in the U.S., California Chrome has led the poll for all 23 weeks of 2016 voting, clinching this week's tally with 28 first-place votes and 378 points overall.
The NTRA Top Thoroughbred Poll is the sport's most comprehensive survey of experts ranking active North American-based Thoroughbreds. Every week journalists and broadcasters cast votes for their top 10 horses, with points awarded on a 10-9-8-7-6-5-4-3-2-1 basis. The NTRA Top Thoroughbred Poll concludes Monday, November 7, following the Breeders' Cup World Championships, which will be held at Santa Anita Park in Arcadia, California.
The four-year-old Grade I Metropolitan Handicap winner and most recently the Whitney Stakes winner Frosted (6 first-place votes; 328 points) moves up the poll to second after his two length margin of victory in the Grade I, 1 1/8 miles "Win and You're In" qualifier for the Grade I Breeders' Cup Classic this past Saturday at Saratoga. Frosted has already earned entrance into the Grade I Breeders' Cup Dirt Mile having won the Met Mile for Godolphin Racing and trainer Kiaran McLaughlin. Options under consideration for the son of Tapit's next start could be the Woodward, the Jockey Gold Cup with the Breeders' Cup his main goal, according to McLaughlin.
Tepin (5 first-place votes; 320) drops down a notch to third while the undefeated 3-year-old filly Songbird, (225) remains in fourth. It is anticipated that the Eclipse Award champion will make her next start in the Grade 1 Alabama Stakes on August 20.
The Bowling Green Stakes (Grade 2) winner Flintshire (203) remains in fifth for Juddmonte Farms and trainer Chad Brown. Haskell winner Exaggerator (165) holds onto sixth while three-time Eclipse Award champion Beholder (158) moves down a notch in seventh.
The remaining top 10 is rounded out by: Melatonin (96); Catch A Glimpse (76) and Nyquist (56).
NTRA TOP THOROUGHBRED POLL
California Chrome
Frosted
Tepin
Songbird
Flintshire
Exaggerator
Beholder
Melatonin
Catch a Glimpse
Nyquist