Shore Bets: Monmouth Park July 31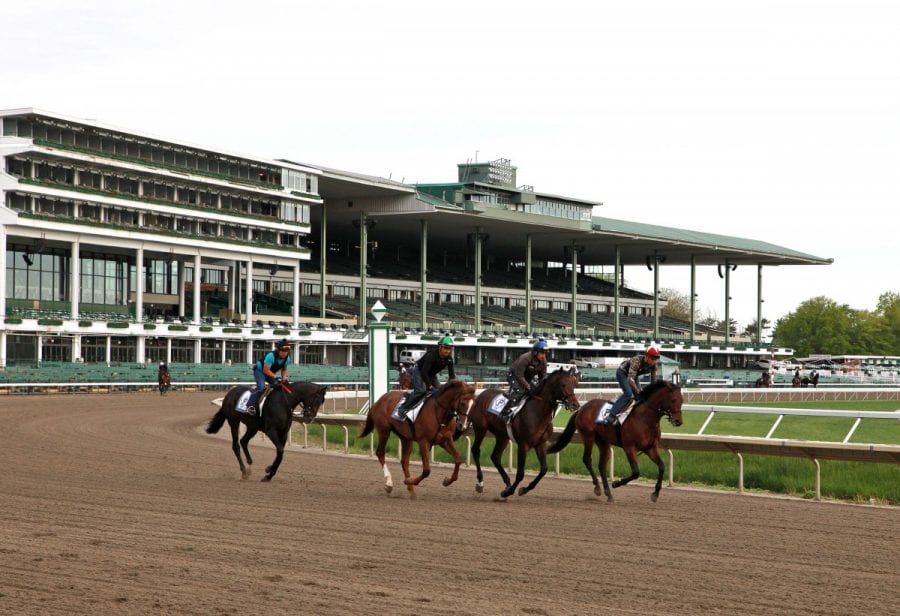 Photo by Bill Denver/Equiphoto.
We are pleased to welcome Shore Bets back for another season of Monmouth Park racing.
by John Piassek
It's finally here, the biggest day of the Monmouth season: Haskell day! And what a Haskell it is! For the first time since 2010, the Kentucky Derby and the Preakness Stakes winners will square off, as Nyquist and Exaggerator will both battle it out to claim their spot as the best three-year-old in the country. Beyond the Haskell, there will be thirteen other races, including four graded stakes races.
Note that the first race of the day will go off at 12:00 PM EDT, fifty minutes earlier than usual. In addition, there will be three pick 4 sequences: on races 2 through 5, races 6 through 9, and races 9 through 12. The latter sequence is guaranteed at $400,000; last year it handled more than $662,000.
Race 1: Maiden Special Weight, 2yo, NJ-bred, 5 ½ Furlongs
The local horse in this year's Haskell, Sunny Ridge, will be the first Jersey-bred to run in the Haskell since the venerable Joey P. finished seventh in 2005. Whether this Jersey-bred maiden field will produce a runner for next year's Haskell remains to be seen.
Among the seven, the 5, Been Waiting, looks like a standout. He finished second in his debut against open company last out, behind eventual Sanford Stakes winner Bay Numbers. That race was over an off-track, and with the weather forecast for Sunday, it could be the same conditions in this race. His brisnet figure in his debut was a 68—not fantastic, but a lot better than anyone here has done. Among the other three horses in the race with at least one start, no one else has run faster than a 61. If Been Waiting can improve even a few points from his first race, he's going to be tough to beat.
The 4, Valentino's Day, is easily the most promising of the first-timers. He's been working fantastically, most recently going three furlongs in a blazing 34.3 seconds. The leading jockey at Monmouth, the incredible Paco Lopez, also picks up the mount. If Paco's getting on this horse, he must be something good. The 3, Gone Astray Kiss, has run a 61 and a 60 in each of his two career races. He gets a big jockey upgrade from Navin Mangalee to Trevor McCarthy.
5- Been Waiting
4- Valentino's Day
3- Gone Astray Kiss
Race 2: Maiden Special Weight, 3yo and up, Fillies and Mares, 1 1/16 Miles (Grass)
A difficult maiden field greets us for what is (hopefully) our first grass race of the day. The 3, Withhold, is coming off a rather disappointing debut at Belmont Park. She stalked the pace in that race, only to flatten out late and finish thirteen lengths behind the winner. Now, she takes a class drop into maiden special weight company at Monmouth, a notch below horses at the same level in New York. One of Monmouth's best, Nik Juarez, picks up the mount, and she's got early speed in a race mostly devoid of it. If she can get a clear lead here, she can improve second time out, and that will lead to victory.
The 7, Miss Mojo, finished second in her only grass start, earning a strong 79 at this level at Delaware Park. What would've been her second career grass race was washed away to the dirt; she ran anyway and was obliterated by twenty-seven lengths. Clearly, she has more ability on the lawn, and will be factor if this race stays on. Both halves of the St. Elias Stable coupled entry are intriguing. The 1, Monique's Candy, has been second in each of her two grass races, running in the low-70s in each of those races. Trainer Tony Margotta is a ridiculous 27% with horses making their third start off the layoff. The 1A, Dontwasteurpretty, showed nothing in her only grass race, but she gets Lasix for the first time, plus the riding services of the excellent grass jockey Florent Geroux.
3- Withhold
7- Miss Mojo
1- Monique's Candy/1A- Dontwasteurpretty
DIRT
11- Say Cin Cin
1- Monique's Candy/1A- Dontwasteurpretty
9- All Even
Race 3: Maiden Special Weight, 2yo, 5 ½ Furlongs
Usually, you wouldn't confuse the maiden races at Monmouth with those at Saratoga. However, this is a ridiculously deep field of two-year-olds here, with a field of eleven filling up the entry box. The 8, Third Day, is a $575,000 purchase making his debut for Todd Pletcher. While Pletcher usually sends his best youngsters up to Saratoga, he's been known to send a few good ones to Monmouth, too (see Stanford, who broke his maiden in Jersey two years ago). This one's been working at Monmouth all summer long, and gets Paco Lopez first time out. Watch the board on this one—if he gets heavily bet, he's going to run a big one.
The 10, Our War Eagle, is a Plesa two-year-old, another dangerous commodity at Monmouth. He doesn't get Paco, which makes any Plesa horse unbeatable, but he gets the next best thing: Rafael Bejarano. He's also working well, and was a $300,000 purchase earlier this year. The 6, Cohen's Kat, is one of three in the field to have run before, and it was an impressive debut. He led almost the whole way around, before being caught in the last eighth of a mile to finish second. He earned a strong 85 in that race, which is a very impressive figure for a two-year-old firster at Monmouth. Nyquist's rider, Mario Gutierrez, picks up the mount here. The issue I have with Cohen's Kat is that he hasn't had a workout since his July 15 debut (Third Day, by contrast, has worked twice since then). Cohen's Kat is a must-use is any multi-race bets, but I cannot endorse him to win at a low price.
8- Third Day
10- Our War Eagle
6- Cohen's Kat
Race 4: Allowance (n/w1x), 3yo and up, Fillies and Mares, 1 Mile (Grass)
We're back to the grass here (God willing) and back to an obvious winner. The 8, Belle Postiere, began her career in her native France, where she won one race, and was never beaten by more than a neck in three tries. She ran fifth in her American debut at Belmont back in June, running a very solid 85. Like her stablemate Withhold, she's taking a class drop from the same level in New York, and has some of the best figures in the field. A duplication of her first American race may be good enough to win this race; a string of workouts at Monmouth indicates that she's been pointed to a race like this for a while. If this race stays on the lawn, she's going to be tough.
The 10, Miss Meteor, also ran an 85 last out at this level at Monmouth. It was a career-high figure, and a sharp fourteen-point improvement from her dull race two back. Florent Geroux picks up the mount for the Pletcher charge, who will hope to make another big leap forward. The 2, La Peregrina, broke her maiden last out at Monmouth, rating off a very slow early pace and rolling by late. Because of the fractions, her early and late pace figures are depressed and inflated, respectively. With a more honest pace, this Indiana-bred may be able to show more of her true colors, and improve off her maiden-winning figure of 76.
8- Belle Postiere
10- Miss Meteor
2- La Peregrina
Dirt:
10- Miss Meteor
9- Liana Star
7- Drop Dead Red
Race 5: Allowance Optional Claiming (n/w1x), 3yo and up, 6 Furlongs
The 3, Blue Y Gold, has been the epitome of the phrase "close, but no cigar" at the Monmouth meet so far. In three tries at this level, he's been second, second, and third, respectively. Despite the lack of success, there are some reasons for optimism. He's run at least a 90 in each of his last four races, something no one else in the field has done. His early and late pace figures are pretty well-balanced, unlike most of his rivals, who have either a lot of early speed or a lot of late kick, but not both. Paco retains the mount. He's got a good post position; the three spot will enable him to sit directly off the pace on the inside, then get the jump on the closers. Blue Y Gold is no lock, but he looks the best of the lot.
The 2, Keep Me Grounded, ran an excellent 100 last out, finishing second at this level back in June. He hasn't raced since then, but has a string of three solid workouts getting ready for this one. The trainer-jockey team of Jason Servis and Nik Juarez is always dangerous, and they'll team up with Sunny Ridge later in the day in the Haskell. The 5, Pomeroy's Package, has run in the range between 88 and 91 in each of his last four starts. He has a tendency to rate off the leaders, then tire out in the stretch. I don't know if I would categorize him as a serious win threat, but he's a safe bet to round out some trifectas or superfectas.
3- Blue Y Gold
2- Keep Me Grounded
5- Pomeroy's Package
Race 6: Allowance Optional Claiming (n/w2x), 3yo and up, NJ-bred, 6 Furlongs
Jersey-breds once again take the spotlight. The 5, Visionary Ruler, is taking the biggest step down in class in the field, going from the Mr. Prospector Stakes to here. Facing much better than these, he finished a distant third behind the excellent Jersey-bred Chubilicious. Visionary Ruler earned a 97 in that race, superior to the figures of anybody in here. He hasn't run quite that fast in his other races this year, but they're still mostly in the upper-80s, which would still defeat these. He figures to go right to the early lead, and take them gate-to-wire.
The 2, Mello Groove, has been first or second in each of his three races this meet, running in the mid-80s in each of them. He was second last out at this level, defeating several of his opponents today. The 4, Bat Cave, was a length behind Mello Groove last out, and won at the Jersey-bred n/w1x level last out. He'll be chasing the pace and hope to get some of the exotics.
5- Visionary Ruler
2- Mello Groove
4- Bat Cave
Race 7: Allowance Optional Claiming (n/w2x), 3yo and up, NJ-bred, 1 Mile 70 Yards
I won't just take a shot against the rather heavy morning-line favorite, I will enthusiastically pick against him. While the 3, Don's Marsh, is not too exotic of a selection, being the second choice in the program, he's one of my top picks on the day. He's been having a fantastic meet, winning three out of his four races at the Jersey-bred level. Those have been fantastic races, too, relatively speaking. Last time out, he won at the n/w2x level by two lengths, running an 89. In the race before that, he defeated a n/w1x field by 6 ½ lengths, earning a 90. Those are the best figures earned by anyone in here this year. Don's Marsh has proven himself time and time again against Jersey-breds at a route, and hopefully will go off at a better price than he has in his last few races. At a 5/2 morning line, I'm hoping for the best.
The 5, Fuzzy Muzzle, is the aforementioned 8/5 early favorite. He won the Charles Hesse Handicap last year, and was victorious in the Dan Horn Handicap on the grass last out against Jersey-breds. His one dirt race so far this year was a non-threatening third in the John Reilly Handicap, going six furlongs. He ran a strong 93 when making his lone route start last year (that being the Hesse), and trainer Jason Servis is a strong 26% with horses making their third start off the layoff. While he certainly deserves some respect, I would not bet him to win as the favorite. The 2, Acini Di Pepe, has run in the 80s in each of his two starts at a route this year. He is a certainty to be on the early pace, and with his good early pace figures, there's a good chance of him being on the lead.
3- Don's Marsh
5- Fuzzy Muzzle
2- Acini Di Pepe
Race 8: Monmouth Cup, 3yo and up, 1 1/16 Miles
Originally known as the Meadowlands Cup, when it was run at the track of the same name, this year's running attracted the Monmouth-based Bradester. Last year, Bradester dominated the older male races, winning the Salvator Mile and Monmouth Cup, while running second behind Valid in the Iselin. In fact, in six career races at Monmouth, Bradester's accumulated three victories and three second-place finishes. He's coming off a gate-to-wire victory in the Stephen Foster Handicap at Churchill Downs, so he definitely has a big class edge over these. Put his early speed, his back-class, and his love of the track together, and you're looking at a deserving heavy favorite, and an easy winner.
The 6, Blofeld, won the Gulfstream Handicap going a mile earlier this year, running an astounding 108. He was a disappointing fourth in the Oaklawn Handicap next out, but still ran a very solid 101. Off a non-effort in the Met Mile, he may thrive on the class drop, and you may get a pretty good price on him. The 4, Mr. Jordan, was third in the Salvator Mile in his first start in more than five months. He runs as a gelding for the first time, and scored an impressive win in the Pegasus Stakes over the Monmouth track last year.
2- Bradester
6- Blofeld
4- Mr. Jordan
Race 9: Oceanport Stakes, 3yo and up, 1 1/16 Miles (Grass)
Named after the town that Monmouth Park is located in, this Haskell day staple drew a field of eight. The 3, Almasty, comes of a very good race against n/w3x foes at Belmont last out. Making his second start of the year, and stretching out to a mile, he led for almost the entire race, before being caught and losing by 1 ¼ lengths. He still ran an excellent 99. He makes his third start off the layoff, and will also run at 1 1/16 miles for the first time this year. He should be cranked at full-blast for this race, and we saw what he could do at 100% last fall. He won the Commonwealth Turf at Churchill, running a 98 while winning by more than four lengths. That figure was earned as a three-year-old, and he should be capable of performing even better as a four-year-old.
The 2, Kharafa, was my pick in this race last year. My enthusiasm for him was roughly on par with the excitement I had about American Pharoah in the Haskell. Unfortunately, he checked on the first turn, and flattened out to finish last. This year, his best showing has been a third-place finish in the Kingston Stakes at Belmont, and was most recently six lengths behind Almasty. He won the Elkwood Stakes over this track last year, and earned a strong 96 in the aforementioned Kingston Stakes. The 7, War Dancer, ran up to a 102 last year, and won against allowance foes easily in his most recent grass start, earning a 96. He figures to be sent to the early lead, and has the potential to pack a powerful late punch, too.
3- Almasty
2- Kharafa
7- War Dancer
Dirt:
8- Nonna's Boy
7- War Dancer
4- Winning Cause
Race 10: Molly Pitcher Stakes, 3yo and up, Fillies and Mares, 1 1/16 Miles
This one is named after a folk hero from the Revolutionary War, and begins a $100,000 guaranteed late pick 5 sequence. The 6, Birdatthewire, is taking a big class drop here. She was most recently seen finishing third in the Princess Rooney Stakes at Gulfstream, closing from last to finish third, beaten almost three lengths. She ran a 98 in that seven-furlong contest, and earned another 98 three races ago when finishing fourth in the Madison Stakes at Keeneland. She's shown ability at routes, too; she earned a 97 when winning the Gulfstream Oaks as a three-year-old. While she may not have the experience at routes that the others in the field have, she's shown plenty of ability in sprints, and enough late punch in those races to suggest that stretching back out will not be a problem.
The 2, Genre, finished second in the Lady's Secret Stakes here at Monmouth last out, running a career-best figure of 97. She'll get a jockey upgrade from Victor Lebron to Paco Lopez, and figures to control the early pace. The 3, Super Majesty, ran a 98 and a 97 when finishing in the top-4 in both the Allaire DuPont Distaff at Pimlico and the Iowa Distaff at Pimlico at Prairie Meadows. She finished second in the latter race, after setting the pace and tiring at 1-to-2 odds.
6- Birdatthewire
2- Genre
3- Super Majesty
Race 11: Matchmaker Stakes, 3yo and up, Fillies and Mares, 1 1/8 Miles (Grass)
This race is named such because each of the top three finishers will receive a free mating to one of three WinStar stallions (in this case, Haskell winner Paynter, Fed Biz, and Take Charge Indy), depending on where they finish. The prospect of a mating with one of these studs drew a field of twelve, and it's the best betting race of the day by far. The 10, Itsonlyactingdad, lost by a neck against n/w3x horses last out at Belmont, earning a very strong figure of 94. Her past four races have included figures of 95 and 97, putting her in the top echelon of this field. Joe Bravo picks up the mount on her, and he's always dangerous with grass runners. Trainer Todd Pletcher is dangerous with any horse he sends out at Monmouth—he's winning at 32% this season.
The 3, Pink Poppy, won the Spook Express Stakes last out at Gulfstream, going gate-to-wire and earning a 99. When not allowed a clear lead, she's run up to a 95; that was earned when finishing third in the Sunshine Millions Filly & Mare Turf back in January. The 8, Invading Humor, flattened out to fifth in the Eatontown Stakes last out. She ran some good races last year, including two victories against New York-breds. She'll hope to regain that form here.
10- Itsonlyactingdad
3- Pink Poppy
8- Invading Humor
Dirt:
7- Cali Thirty Seven
12- Bureau de Change
4- Industrial Policy
Race 12: Haskell Invitational, 3yo, 1 1/8 Miles
We've finally arrived. It's the biggest race of the Monmouth season, and one of the biggest races for three-year-olds in the country: the Haskell Invitational! It drew a rather small field of six this year, but it's an excellent bunch, with some of the top three-year-olds in the country.
My pick among them is going to be the 5, American Freedom. Yes, you may be astounded that I am not picking the 1, Nyquist, who won the Kentucky Derby, or the 6, Exaggerator, who won the Preakness Stakes. However, I think both horses are flawed. Exaggerator, coming off an eleventh-place finish in the Belmont Stakes, was originally pointed towards the Jim Dandy Stakes at Saratoga. After a string of lackluster workouts, trainer Keith Desormeaux announced that he wouldn't run in the Jim Dandy, and that he'd go straight to the Travers Stakes. Earlier this week, however, the sudden announcement was made that Exaggerator would go to the Haskell. Now, I don't know if this horse's physical condition suddenly improved over the last few days, or if Desormeaux liked the wet weather forecast, or what, but I can't trust this one at low odds.
Nyquist, meanwhile, has not been seen since finishing third behind Exaggerator in the Preakness, which snapped the Derby winner's eight-race winning streak. Looking at his brisnet pace figures, Nyquist tends to be on the pace, make a huge middle move, and then flatten out in the stretch. Obviously, he ran well enough late to win the Derby, but his late pace figure there was a 92. In the Preakness, it declined to an 89. Of course, that middle move may be enough to hold off the closers, but, like Exaggerator, his odds will be too low for my liking.
American Freedom, meanwhile, has a lot of things to like about him. His figure has improved in each of his last three races, going from a drab 90 in the Pat Day Stakes, to a solid 100 in the Sir Barton Stakes, to an excellent 103 in the Iowa Derby. This shows that American Freedom is peaking at the right time, and may run a career-best race in the Haskell. He's been working fantastically at Del Mar, most recently going four furlongs in an impressive 47 seconds. His late pace figures have also been improving sharply, earning a 115 late pace while winning the Iowa Derby. Unlike some of the others, American Freedom hasn't peaked yet, he's been prepared specifically for this race, and he's going to go off at a great price.
5- American Freedom
4- Gun Runner
1- Nyquist
Race 13: Allowance Optional Claiming (n/w1x), 3yo and up, 1 Mile 70 Yards
After all the pageantry and hoopla of the Haskell, there's still two more races to go. The 6, Jersey Blues, will be my play here in the thirteenth race. He's coming off an easy win against Jersey-breds, where he would had to have fallen down several times in order to lose. In the start before that, he was third at this level, behind the very good allowance horse Percussion (who came back to win next time out) and I'm Steppin' it Up, who isn't in as good form coming in here as this rival. Trainer John Mazza is also very good with horses making their third start off the layoff: he's 4-for-7 with such horses in recent times. While he loses the riding services of Paco, he picks up the very good Trevor McCarthy, who is certainly no hindrance.
The 7, I'm Steppin' It Up, was a well-beaten fourth at this level last time out, after finishing first and second against similar horses in his first two races of the season. He makes his first start of the season for Jane Cibelli, who's been having a 28% meet, and picks up Paco for the first time. He's got the ability to control the early pace. The 2, Gourmet Delight, dominated an off-the-grass field last time out, winning by nine lengths and earning a field-best figure of 97. It's easily his career-best figure. He figures to once again stalk the pace, and he's got great late pace figures.
6- Jersey Blues
7- I'm Steppin' It Up
2- Gourmet Delight
Race 14: Claiming $20,000, 3yo and up, 1 1/16 Miles (Grass)
We've reached the end of the long and winding road with a grass field of claimers. The 6, Hot to Seek Her, finished third at the $25,000 level last out, running a strong figure of 86. He ran in the mid-80s consistently last year, and that last race was his third start of the meet. As such, it's likely that represents his peak figure, and that peak would be good enough to win. After all, it's the best last-out figure.
The 2, Sinatra, ran a big race in his first start of 2016 two races back, losing by a head at Belmont while earning a 92. However, he was dull last time out, finishing eighth at the $25,000 level after having a rough trip. With clearer sailing, he should run a better race. The 11, Seuss, made a mild rally from last place last time out to get fourth, but won two races in a row on the grass at Gulfstream over the winter. He showed some early speed in those two efforts, and has the best early pace figures in the race. Hopefully new jockey Paco Lopez will utilize his mount's early speed to his advantage.
6- Hot to Seek Her
2- Sinatra
11- Seuss

Dirt:
1- Foxhall Drive
5- Music Critik
10- Mini Cosmo