Jock Sheldon Russell set to make return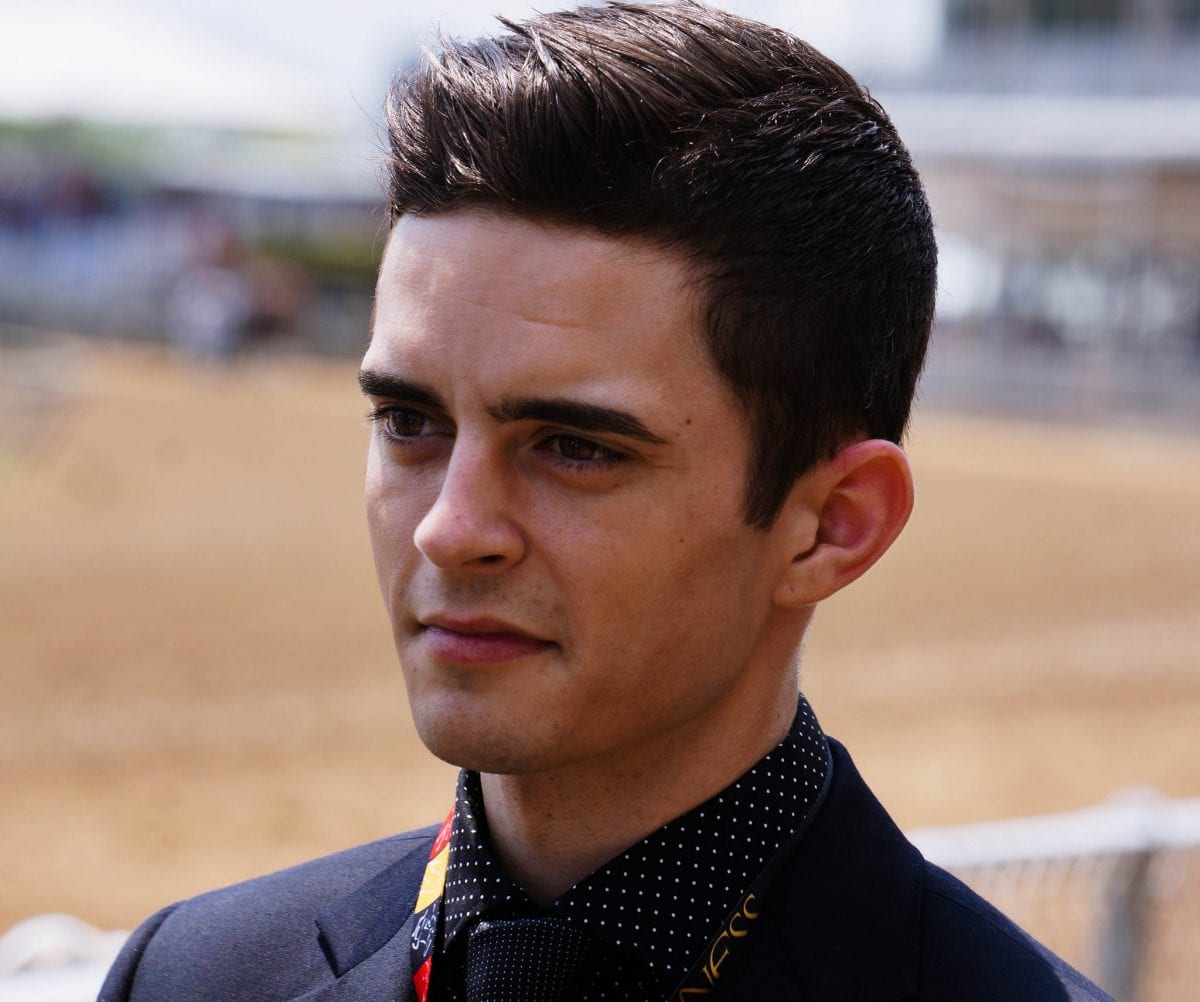 Sheldon Russell. Photo by Vas.
From a Maryland Jockey Club release
More than seven months after tearing his labrum and fracturing his shoulder in two places in a training accident, jockey Sheldon Russell will make his long-awaited comeback Saturday at Laurel Park.
Maryland's leading rider in 2011 and a six-time meet champion at Laurel and historic Pimlico Race Course, the 28-year-old Russell is named to ride Praise the Moon in the third of nine races on Saturday's program that begins at 1:25 p.m.
A 3-year-old Malibu Moon gelding trained by Niall Saville for Richard Harris, Praise the Moon is winless in six starts, all this year. They drew post 5 in a seven-horse field for the seven-furlong $40,000 maiden special weight on the main track.
"The trainers in the morning have been very supportive, allowing me to work their horses and that's always nice. They've welcomed me straight back. To be off for such a long time and then to get back out to Laurel and have them be so supportive to help me out and get me fit has been very welcoming," Russell said. "It's a good feeling to know that people still want you to ride their horses after being off for so long. I'm very excited. Hopefully with a little bit of luck on Saturday, we can be right there."
Winner of Laurel's 2015 winter meet, Russell missed time last spring with broken ribs and punctured lungs from an April spill, returning in July. Following his accident in November, he underwent surgery in December and began therapy in early January.
Russell resumed exercising horses in late April this year, primarily for trainers Tim Keefe and Cal Lynch, while awaiting medical clearance to return to race riding. Agent Marty Leonard said they got approval from doctors during a visit this week.
"He was cleared by the doctors [Tuesday] around 4 o'clock. They gave him the green light, so we're both very excited about that," Leonard said. "Sheldon has been working his butt off in the mornings. He's happy being back there. It's something he's gone through many times before but this time it was a little longer than we thought. He's just happy to be back."
Leonard said he plans to ease Russell back into a regular riding routine to gear up for Laurel's fall meet that runs Sept. 12 to Dec. 31. The current 24-day summer stand, which began July 1, wraps up Aug. 21.
"I'm taking three calls for Sunday. We're just going to keep it light at the beginning and hopefully go full tilt once we return in September," Leonard said. "We'll give it a couple weeks and get on a couple here and there, some hand-picked horses, and basically just take it easy. We're just happy to be back right now."
Born in Louisiana and raised in England, Russell has been among Maryland's leading riders since his arrival in 2007. During that time he has also suffered a multitude of injuries including a broken foot in 2013, broken ribs in 2010, a broken wrist in 2008 and fractured vertebrae in 2007 and 2008.
"The doctor told me it was 253 days since the fall, so it's the longest I've ever been off, injury-wise. I can't really explain it. I'm just so excited to get out there Saturday and get that first one under my belt. Hopefully, we can finish out the rest of the year," he said. "I think it's the eighth time I've come back from an injury. It's nothing new; it's just one of those things that we have to do, unfortunately. It helps that I've been through it before, but to get the first one out of the way will be great."
Russell earned his 1,000th career win last March aboard Shayjolie in the Cat Cay Stakes at Aqueduct Racetrack.