Maryland Jockey Club unveils fall stakes program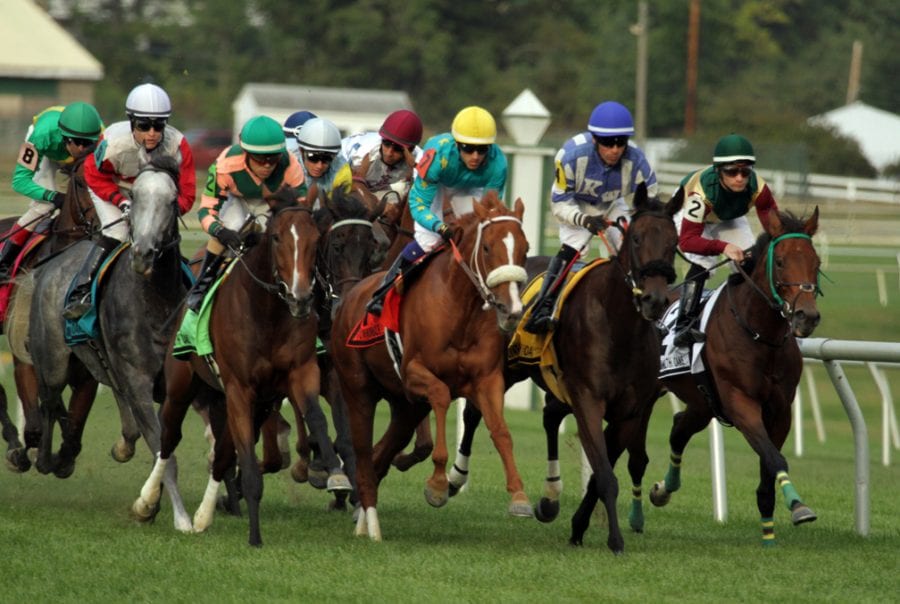 Photo by Laurie Asseo.
by Frank Vespe
The Maryland Jockey Club announced today a $3.25 million fall stakes schedule featuring 32 stakes races (four graded) and five Super Saturdays with four or more stakes races.
Included in that slate is a bolstered program of Maryland-bred stakes.  The Maryland Bred Fund has added three new stakes to its summer and fall programs, as well as bumping up the purses of five other added-money events, the Maryland Horse Breeders Association announced.
Three of Laurel's four graded events will take place on Commonwealth Day, September 24.  Those races are the $200,000 Commonwealth Derby (G2), $200,000 Commonwealth Turf Cup (G2) and $150,000 Commonwealth Oaks (G3).  They are supported that afternoon by five additional $60,000 stakes restricted to horses bred or sired in Virginia.
All eight of those events will be on the turf.  The Derby and Oaks will be contested at 1 1/8 miles, while the Turf Cup will be run at one mile.  The Derby, run at Colonial Downs prior to last year along with the Oaks and Turf Cup, has been won in the past by Kitten's Joy, English Channel and Gio Ponti. Winners of the Oaks have included Onus, My Typhoon and Dreaming of Anna.
Laurel Park's final graded event of 2016 will be run November 19.  The Grade 3 Frank J. De Francis Memorial Dash will be contested for the 26th time at six furlongs.  Its $250,000 purse for 2016 is a decline from $350,000 last year.  It will be supported by six other added-money events.
"We're looking forward to the fall racing season at Laurel and we're anticipating some great racing," said Maryland Jockey Club President and General Manager Sal Sinatra. "The fall season has always attracted full fields and top horses and horsemen from across the country. We're extremely grateful to the horsemen and fans who continue to support our program. We believe our fall program will include full competitive fields, great racing on our main track and turf course, and our Super Saturday programs and Jim McKay Maryland Million will bring out the best of Maryland racing as we continue to renovate and refurbish Laurel Park."
Laurel Park will next host added-money events on the second Maryland Pride Day, scheduled for August 20, which will feature a pair of Maryland-bred stakes, the Mr. Diz and the Jameela.  Both have seen their purses increase from $50,000 to $75,000.
Three other Maryland-bred events have also seen purse increases for the year.  The Jennings , for three-year-olds and up at one mile, will receive a similar boost for its renewal December 31.  And a pair of juvenile races, the Maryland Juvenile Futurity for two-year-olds and the Maryland Juvenile Filly Championship for two-year-old fillies, will have their purses doubled, to $100,000.  Both are contested at seven furlongs and will be run December 10.
Also on the docket are three new or rejuvenated stakes for Maryland-breds, all running for $75,000: the Politely for fillies and mares three and up at six furlongs on October 1; the Geisha for fillies and mares three and up at one mile on November 19; and the Howard M. Bender Memorial for three-year-olds and up at one mile on December 10.
"The industry is looking up, and we're happy to add more lucrative opportunities for Maryland-breds," said Maryland Horse Breeders Association executive director Cricket Goodall.
Highlights of the fall program at renovated Laurel Park, which will offer five additional stakes and $150,000 more in purses than 2015, include:
· Commonwealth Day on Saturday, Sept. 24 featuring three graded stakes – the $200,000 Commonwealth Derby (G2), $200,000 Commonwealth Turf Cup (G2) and $150,000 Commonwealth Oaks (G3). Commonwealth Day will feature a total of eight turf stakes with total purses of $850,000.
· Fall Festival Day on Saturday, Nov. 19 featuring the $250,000 Frank De Francis Dash (G3) and six other stakes with the day's total purses $825,000.
· Laurel Turf Festival Saturday, Sept. 10 featuring three listed stakes – $150,000 Lady Baltimore, $100,000 Laurel Dash and $100,000 Laurel Turf Cup – as well as the $75,000 Laurel Futurity and $75,000 Selima.
· The $100,000 Maryland Juvenile Futurity and Maryland Juvenile Filly Championship will be two of three stakes for Maryland-bred/Maryland-sired horses run Saturday, Dec. 10
· Five stakes totaling $475,000, including the Dave's Friend, Thirty Eight Go Go and The Marylander, will be run Saturday, Dec. 31.
Also on Laurel's fall schedule will be Jim McKay Maryland Million Day on Saturday, Oct. 22.
The fall season kicks off with a bang on Saturday, Sept. 10 with six stakes on Laurel Turf Festival, five of them on the turf. The Laurel Futurity and Selima will be for 2-year-olds at 5 1/2 furlongs on the turf while the Lady Baltimore, for fillies and mares, will be contested on a 1 1/16 mile course, the Laurel Dash at six furlongs and the Laurel Turf Cup at 1 1/2 miles. The $75,000 Shine Again will be run on the main track at seven furlongs.