Maryland Commission receives reports on Preakness day horse deaths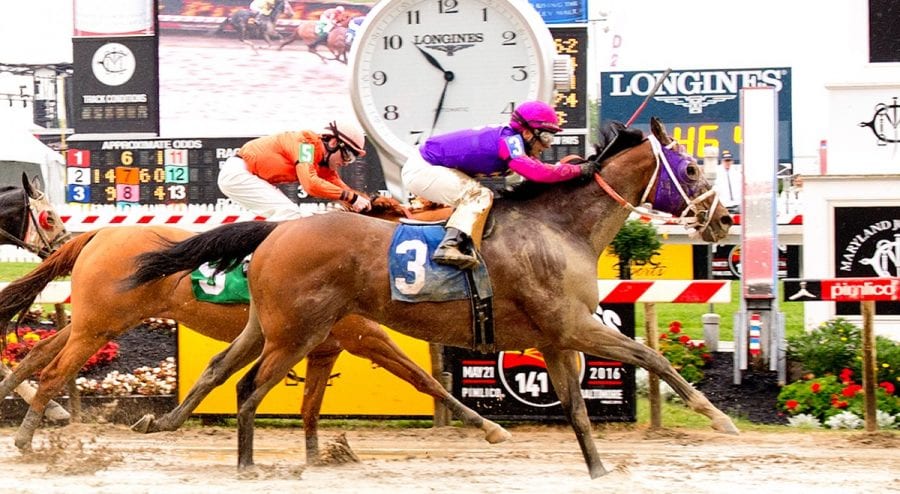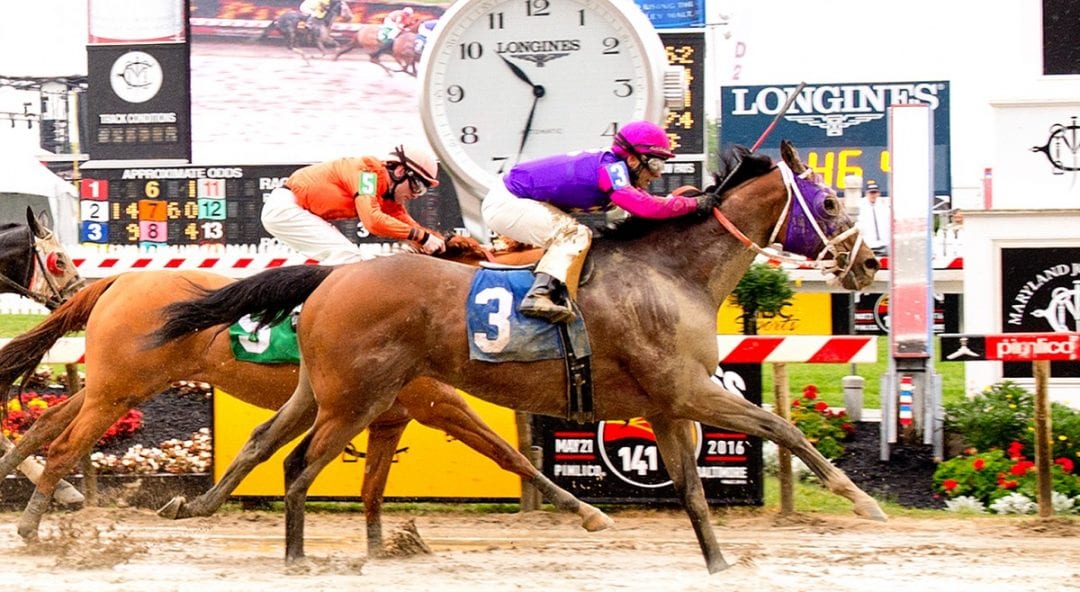 Photo of Homeboykris by Jim McCue, Maryland Jockey Club.
NOTE: This is a developing story. We will have additional coverage later in the week.
by Frank Vespe
The Maryland Racing Commission received from executive director Mike Hopkins the results of investigations into the deaths of two horses on Preakness day today at its monthly meeting at Laurel Park.  Those deaths caused a firestorm on social and mainstream media.
Nine-year-old Homeboykris, who won the first race on the card and died en route to the retention barn following the race, died of an "acute myocardial infarction," the investigation, conducted by the Maryland Department of Agriculture, found.  That condition is more commonly known as a heart attack.
Pramedya, a four-year-old filly, broke down during the running of the fourth race on Preakness day and was euthanized on the track on the recommendation of State Veterinarian Dr. Tom Jett.  She suffered a severe open fracture of the left front above her ankle.
Both horses had passed a routine pre-race examination.
Additionally, the investigations found that Homeboykris, trained by Fran Campitelli for owner Jan Klein, who races as Stirrup Trouble LLC, had an overage of the permitted anti-inflammatory medication dexamethasone.  While Maryland rules, mirroring those recommended by the Association of Racing Commissioners International, permit dexamethasone to be present in the horse's system up to a threshold of five picograms per milliliter of blood plasma, Homeboykris was found to have a concentration of 30 picograms per milliliter.
That overage, the investigation found, occurred when Homeboykris was administered azium powder — a form of dexamethasone — two days prior to the race.  But it is not thought to be connected to the horse's death.
According to the Commission report, "Dr. David Zipf, Chief State Veterinarian for the Maryland Racing Commission… stated that in his opinion the medication violation would not have contributed to the death of Homeboykris."
Dr. Thomas Bowman, also a veterinarian and a member of the state Racing Commission, concurred.  "I can't imagine drawing a straight line between dexamethasone and a heart attack in a nine-year-old horse," he told the Commission today.
According to the ThoroughbredRulings.com database maintained by The Jockey Club, the overage is Campitelli's first medication violation since 2007.
Although for a violation such as this one ARCI guidelines recommend a $1,000 fine  and one multiple medication violation point to the trainer, along with disqualification and consequent loss of purse to the owner, Maryland's stewards chose not to disqualify the horse.  They instead slapped Campitelli with a $500 fine and one point.
Pramedya's death was notable in part because of its eerie similarities to the death, a decade earlier, of Kentucky Derby hero Barbaro; both runners were owned by Roy and Gretchen Jackson's Lael Stables.  Barbaro broke through the gate prior to the Preakness, was caught and returned to the gate, but broke down in the very early stages of that race.
Like Barbaro, Pramedya also broke through the gate prior to her race, an allowance test.  Resettled, she broke with her field but broke down leaving the far turn.
"Jockey [Daniel] Centeno [said] the horse was running fine," the report noted, "changed to its left lead, continued to run well and went down when he started to make his move."
Unlike Homeboykris, an old warhorse with 63 starts to his credit, the lightly raced Pramedya, trained by Arnaud Delacour, was making just the fifth start of her career.  After making two starts as a three-year-old, in 2015, she had missed some nine months as a result of a fractured right front fetlock.  She had also missed three months after her first 2016 start, in January, because she had bled following that start, Delacour told investigators.