Eighth Wonder looks to overcome nerves in Delaware Oaks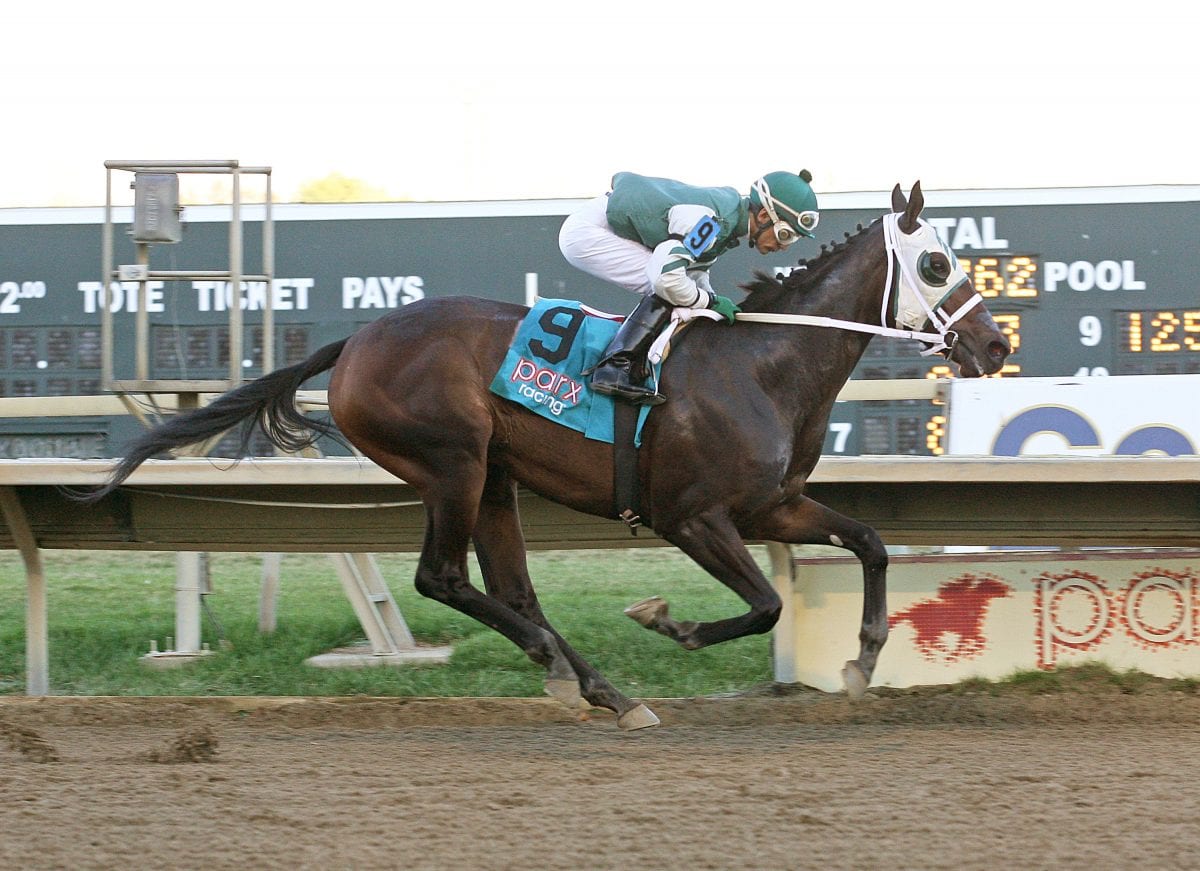 Eighth Wonder won the 2015 Donna Freyer Stakes for two year old fillies from South Carolina at Parx Racing.  Photo By Barbara Weidl/EQUI-PHOTO
by Doug McCoy
Speed is the byword of American racing. Even though some of the most famous and popular stars of the sport – Forego, John Henry, and Zenyatta come to mind — were dynamic stretch runners, the fact of the matter is that day in and day out speed and the pursuit of speed dominate the sport. Horses are bred for speed, they're trained for speed and at least on the dirt surfaces of this country, the majority of races are won by horses with enough speed to be in front or close to the pace from the start.

Saturday nine 3-year-old fillies are slated to go to the post Saturday for the 65th running of the Grade 3 Delaware Oaks, a race rich in history with greats like Gallant Bloom, Dark Mirage, Desert Vixen and Gallorette counted among its past winners.
Not surprisingly, speed and how it's used by several of the Oaks starters will have a strong bearing on the outcome of the mile and a sixteenth fixture.
While the field includes a number of horses who have demonstrated strong tactical speed, it would be a shock if the field isn't chasing Eighth Wonder when the horses head into the first turn on Saturday.
In five career races no one has come close to heading Eighth Wonder in the early going of any of her starts.  In fact, the only point of call where she wasn't in front was at the finish of this year's $100,000 Parx Oaks when she was caught in the shadow of the wire by Miss Inclusive to wind up second, beaten a half-length.
That was the first start in six months for Eighth Wonder and her first race around two turns. She was beaten by a rival who was making her fourth start of 2016. Eighth Wonder wound up being awarded the win in that race when Miss Inclusive tested positive for Clenbuterol. (Miss Inclusive's trainer, John Servis, has strongly denied his filly was ever treated with Clenbuterol).
Yet according to Eighth Wonder's trainer, Dee Curry, her filly's race in the Parx Oaks showed her charge is not just another speed ball.
"We had turned her out last fall with the specific plans to let her mature and grow up then begin teaching her on how to carry her speed around two turns," the trainer said.  "But this winter and early spring, between the race track being unavailable to train over on a regular schedule and the quarantine [for equine herpesvirus], truthfully it was a tough place to train and race. In Eighth Wonder's case there's no way we would have normally run her around two turns for the first time off a six month break, especially against that type company, but we had no choice. As it turned, out she showed us she's got grit and even though she was tiring late in that race, which was no shock, she dug in and tried to hang in. She showed us a lot that day."
Eighth Wonder is the seventh foal from Cheeksnpeanuts, who was one of the first horses Curry ran for owner Jeff Bowen, who races under Gryphon Investments. Cheeksnpeanuts was retired after winning three of four races with two of those wins coming in minor stakes at Parx. She has proven to be a productive broodmare with three of her previous offspring having won over $100,000.  But according to Curry, all of Cheeksnpeanuts' foals have inherited one of their mother's less than ideal personality traits.
"All her foals have been nervous types and Eighth Wonder's no different," Curry explained.  "She gets antsy and a little worked up in the paddock, but we're hoping Delaware's big, horse-friendly walking ring will help keep her calmed down."
Curry's charge, 5-1 on the morning line, will face the stiffest test of her career Saturday. Todd Pletcher starts Kinsley Kisses (5-2), third place finisher in the Grade 2 Black Eyed Susan, while three-for-four Dark Nile (4-1) leads a quartet who prepped for the Oaks in the mile and 70 yard Our Mims over the local surface four weeks back.  Dark Nile is undefeated around two turns.  The aforementioned Miss Inclusive (8-1) was fourth in the Our Mims and will hook up with Eighth Wonder again in the Oaks.  But Curry thinks now is the right time to fish in the deeper waters.
"She's really grown up and matured over the winter and is a lot more cool and collected," she pointed out.  "In the mornings when we take her to the track and we turn her around she starts off in a nice, slow gallop and settles nicely, whereas last year she would want to take off right off the bat. We've had loose horses go ripping by her and she doesn't blink an eye. All her brothers and sisters lost a lot of their nervousness as they grew older, and she looks like that's happening with her too."
With the race track having been very speed favoring for much of the current meeting, it would be unwise not to give Eighth Wonder a long look.
"She's plenty fast but she's not a speed freak," Curry said, "She'll rate if you ask her, and I really think unless there's a crazy speed duel early that she can carry her speed the distance"
Bettors don't have to look far back in the archives to find an example of a speedster winning this race on the front end. This time last year a speed filly named Calamity Kate went to the front in the 2015 Delaware Oaks and never looked back at 54-to-1, paying $110.80!