Graded stars head Top Midlantic-bred polls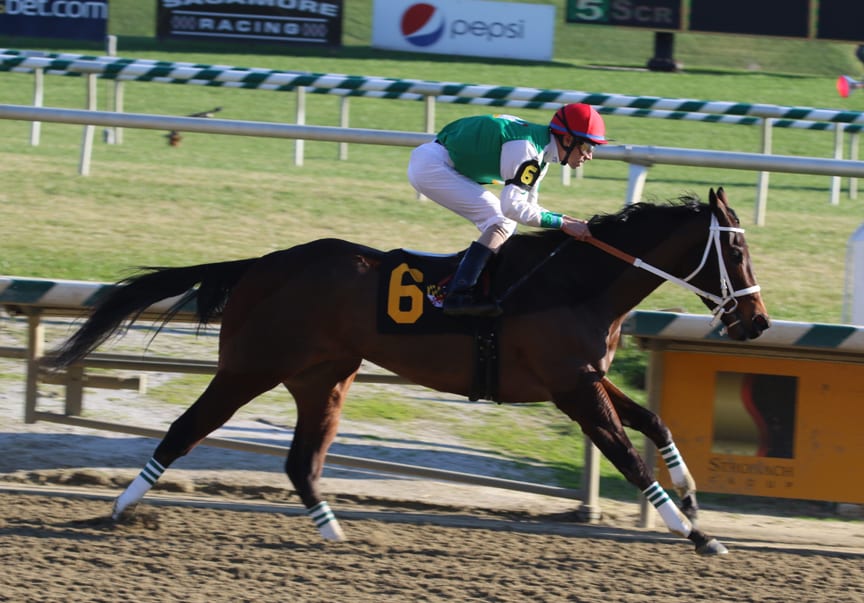 (Photo of Cathryn Sophia by Laurie Asseo.)
Staff report
Cathryn Sophia may have lost her only June start, finishing third in the Grade 1 Acorn Stakes as the 4-5 favorite.
But the three-year-old daughter of Street Boss hasn't lost any of her luster in the eyes of the voters of the Mid-Atlantic Thoroughbred/The Racing Biz Top Midlantic-bred Poll.  They made the Maryland-bred the unanimous selection as the top three-year-old horses bred in the region.
Among older horses, Pennsylvania-bred Page McKenney maintained a narrow lead over Illuminant and Valid.
Cathryn Sophia, out of the Mineshaft mare Sheave, was bred in Maryland by Robert Manfuso and is trained by John Servis for owner Cash Is King LLC.  She has won five of seven starts overall, topped by her score in the Grade 1 Kentucky Oaks in May.  The show share of the Acorn pushed her past the $1 million in earnings.
The lone newcomer to the list of sophomores is Sweet Victory.  The Virginia-bred daughter of Blame earned the second stakes win of her career when she took the Penn Oaks early in June.  She is now four-for-six overall, with three consecutive wins and earnings of $208,000.  She is trained by Todd Pletcher for owners George Bolton and Peter Leidel.  She was bred by the late William Backer and replaces West Virginia-bred Concord Fast on the list.
Among older horses, the list is far more jumbled.  Though idle in June, Illuminant moved past Valid and into second place but still trails Page McKenney, who is recovering from injury.
The only newcomer to the latest list of older horses is Pennsylvania-bred Spelling Again, who displaces Maryland-bred Ben's Cat.  Spelling Again, bred by George Strawbridge, won for the first time in four 2016 starts when she scored in the Grade 2 Princess Rooney Stakes at Gulfstream Park. She previously had placed in Grade 2 and Grade 3 company this year.
Spelling Again is out of Spelling, by Alphabet Soup.  She has won six of 20 starts in her career, with earnings north of $500,000, and owns two graded victories.  She is trained by Brad Cox for Seajay Racing LLC.
Six of the top 10 horses were bred in Pennsylvania.  Two each were bred in Maryland and Virginia.  The list includes five males and five females.
The monthly Mid-Atlantic Thoroughbred is the only publication devoted to Thoroughbred breeding and racing in the Mid-Atlantic region. The Racing Biz, an online publication, is the independent voice for mid-Atlantic racing and breeding.
The poll is restricted to horses that have run in 2016 and were bred in Pennsylvania, Maryland, Virginia, West Virginia, New Jersey, Delaware, and the Carolinas.
THREE YEAR-OLDS
Cathryn Sophia (MD) — 55 points

Tom's Ready (PA) — 38
Mor Spirit (PA) — 26
Giant Run (MD) — 12
Sweet Victory (VA) — 13
Others receiving votes: Concord Fast, Sunny Ridge, Tizzarunner, Morning Fire
OLDER HORSES
Page McKenney (PA) — 43
Illuminant (PA) — 39
Valid (VA) — 30
Spelling Again (PA) — 16
Finest City (PA) — 10
Others receiving votes: Ben's Cat, Stellar Wind, Disco Chick, Res Judicata, Sonny Inspired, Roxbury N Overton
Participating Voters: Ted Black (freelance writer), Michael Campbell (Thoroughbred Breeders' Association of New Jersey), Joe Clancy (Mid-Atlantic Thoroughbred), Cindy Deubler (Mid-Atlantic Thoroughbred), Linda Dougherty (freelance), Debbie Easter (Virginia Thoroughbred Association), Anne Frederick (Maryland Horse Breeders Association), Rich Glazier (Delaware Park), Cricket Goodall (Maryland Horse Breeders Association), Jim Hague (freelance), Nick Hahn (freelance), Carol Holden (West Virginia Breeders Classics), Tom LaMarra (The Blood-Horse), Jeff Nations (freelance), Kate Painter (West Virginia Thoroughbred Breeders Association), Vinnie Perrone (freelance), Frank Petramalo (Virginia Horsemen's Benevolent and Protective Association), Gary Quill (The Racing Biz), David Richardson (Maryland Thoroughbred Horsemen's Association), Brian Sanfratello (Pennsylvania Horse Breeders Association), John Scheinman (freelance), Sal Sinatra (Maryland Jockey Club), Dan Tordjman (freelance), Frank Vespe (The Racing Biz), Bill Watson (freelance), Lydia Williams (freelance), Bobby Zen (freelance).
Note — Not all participating voters will vote in every poll.