Past, present, future of Virginia racing on display — in Maryland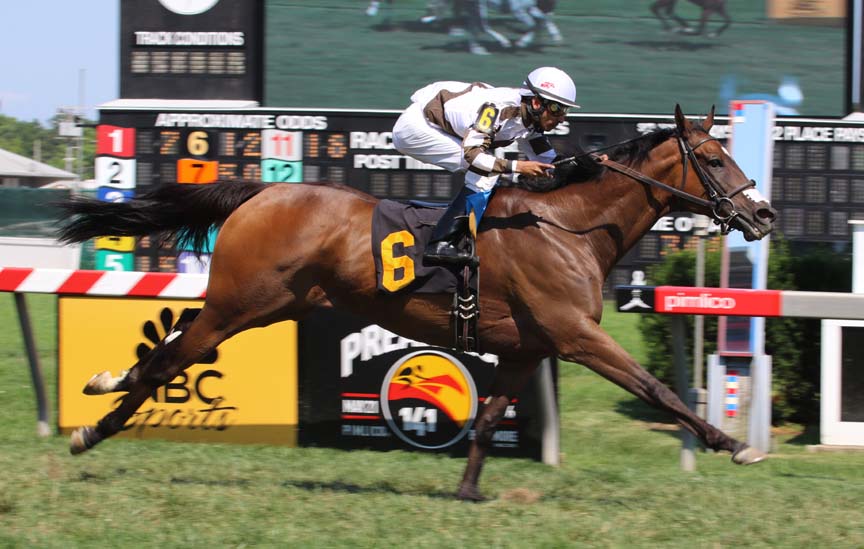 Two Notch Road. Photo by Laurie Asseo.
by Nick Hahn
The Virginia Racing Commission has approved a small, four-window OTB on Richmond's west end at Breakers Sports Bar.  It's "OTB-lite," as a similar previous edition of it at Finn McCools not far down West Broad Street was known.  However, this time the horsemen, not a track operator, will run it.
There may be agreement between Morven Park and the horsemen on the site plan to bring true, or at least truer, flat racing to Leesburg near the heart of Virginia's racing heartland pending Loudoun County review and approval.  A really good, obvious decision may have been made on a new executive director for the Virginia Racing Commission.
All in all, it's been a good week for Virginia racing, especially when you add in some actual Virginia-bred races…in Maryland.  If you think Maryland only extends its hospitality on the third weekend in May, it's simply not true.  Virginia's northern neighbor has done a great job extending southern hospitality across the Potomac at a time many Virginia horsemen really needed it.
MIDLANTIC DAY GALLERY
Last Saturday's racing at Pimlico generated a number of good story lines, a sampling of Virginia's racing past and future.
In the land of Black-eyed Susans, the $60,000 Edward P. Evans Stakes came up roses.  Rose Brier romped in the 1 1/16 mile turf test for older horses.  He was so fast that they were cooling him off in the Pimlico paddock even before he stepped on the racetrack.  (It's a common prerace practice, but I thought it to be a good line.)
The veteran was unfazed in the post parade when the horse in front of him reared and ran off.  He was chilling after taking the lead at Pimlico's quarter pole.
Rose Brier, who was a four-year-old when Colonial Downs closed in 2013, never raced in Virginia despite making 28 starts on the turf.  He's now won four of his last five.
In the White Oak Farm Stakes, named after Carolyn and Samuel Rogers' Leesburg farm, nine-year-old Two Notch Road — who did run at Colonial Downs — showed that even horses are only as old as they think.
It would be difficult to tell trainer Glenn Thompson that offering Virginia-bred races in Maryland is a bad idea; his star pupil now has won three of them.
After Julien Pimental found a clear path to the wire shortly after straightening in the lane, there was little need for direction to get the veteran to the wire.
"He's a nine-year-old with a two-year-old brain," said Thompson.  "I had to step in for the groom and give him a break in the paddock.  He's thrown me on my butt so many times."
In 2010, Two Notch Road ran as a three-year-old in the Colonial Turf Cup and Virginia Derby against the great Paddy O Prado, who is now siring three year olds.
This fall Thompson will be sure to give Two Notch Road a chance to tie Bop's mark of three Punch Line Stakes wins.  Bop won all three at Colonial Downs.  If successful, Two Notch Road would have won all three at Laurel.
While Two Notch Road may have had one of the more nostalgic wins on the day, perhaps the most meaningful came in the $60,000 Nellie Mae Cox Stakes.  Cox was the breeder of Showing Up, who won $1 million Colonial Turf Cup on June 24, 2006 — nearly ten years to the day prior in one of better moments at the now-closed track.
Saturday it was Queen Caroline, bred by longtime Virginia breeders Morgan's Ford Farm (Wayne and Susie Chatfield-Taylor), who starred in the Cox.
On Preakness day, Queen Caroline gave Amy Moore her first-ever win as an owner in capturing a $50,000 Maiden Special Weight race.  Saturday, Queen Caroline doubled up in impressive fashion, sending Moore to the winner's circle for the first time as a stakes winner.
Queen Caroline was Moore's first purchase, for $170,000 at the fall Keeneland yearling sale in 2014.    She literally has Beginner's Luck… because one of her new fillies is actually named Beginner's Luck.  Moore's long-term view is to buy fillies in hopes of breeding what she races. at the Millwood, Virginia farm that she purchased last October.
On the other hand, she's not exactly a beginner in the traditional sense.  She said that her introduction into racing was as an exercise rider for Del Carroll at Delaware Park in the mid-Seventies.
A graduate of the University of Virginia School of Law, Moore worked, as she put it, to earn some money for horses.  She's senior counsel at Covington and Burling, the major Washington,  DC law firm where she specializes in tax, health insurance, benefits and other employment law.
She sees her interest in Virginia racing to be long-term.  So the Virginia-bred races held at Pimlico – and the chance to earn money, and black type, for her filly — have been at least, valuable to her.
How far will Queen Caroline go?  Since switching to the turf at Gulfstream earlier this spring, she ran second twice before posting these two wins.  Queen Caroline is by Blame out of the stakes-winning Forestry mare Queens Plaza.
Moore said that trainer Michael Matz nominated Queen Caroline to the Nellie Mae Cox and then told her he'd done so.  So she'll let Matz choose the spot for the filly's next start.
Queen Caroline wasn't Morgan's Ford's only winning interest on Saturday.  Their homebred grey gelding aptly named Early Grey won at first asking for the Front Royal farm in a Virginia- restricted maiden race that closed the card.  The three-year-old by Flatter, out of Pearls, by Black Tie Affair rallied smartly from sixth under Horacio Karamanos to win going away in the five-furlong event.
In the $30,000 maiden race for fillies that opened the card, Grace Is Ready overcame a poor start to win for trainer Susan Cooney and owner Quest Realty.  Jockey Feargal Lynch delivered the ground-breaking score after six previous setbacks.
On the Maryland side of the card, Debbie's Tude won the All Brandy Stakes and Eyeplayeveryday won the Find Stakes.  Yet, Saturday proved to be a more valuable day for at least some Virginia horsemen, while many other smaller outfits continue to struggle awaiting racing's return south of the Potomac.
The best guests are the ones that know not to stay too long.  Virginia racing is moving in the right direction, but will it be able to move fast enough?