Trevor McCarthy takes Pimlico jockey title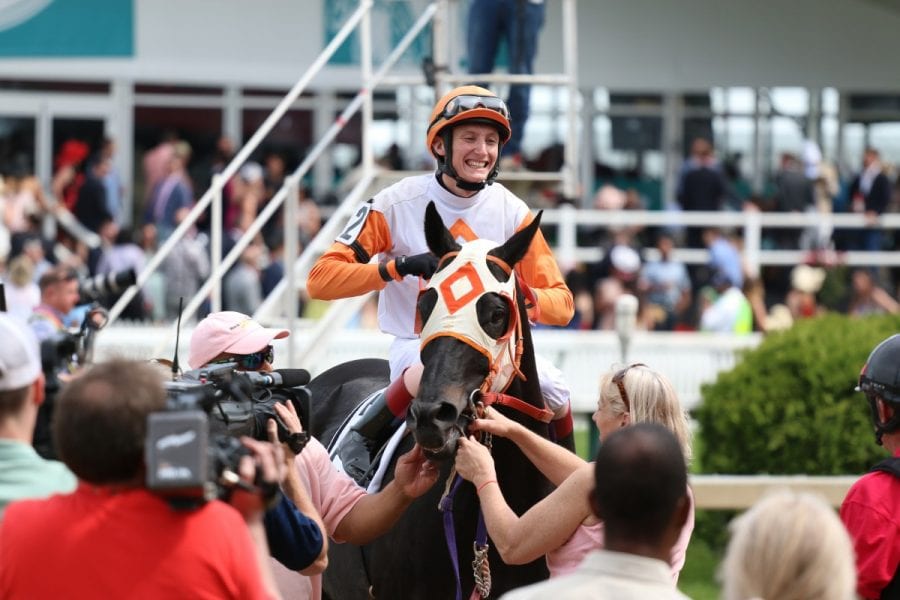 Trevor McCarthy was all smiles after winning the Jim McKay aboard Ben's Cat. Photo by George Adams.
From a Maryland Jockey Club release
Trevor McCarthy made short work of a race that went down to the wire, riding three winners Sunday on closing day of the Preakness Meet at Pimlico to earn his second consecutive meet title in Maryland this year.
Live racing moves from historic Pimlico Race Course to Laurel Park beginning Friday, July 1.
It was the second multi-win day of the weekend for McCarthy, 22, who put himself in contention for the title with three wins on Friday. He missed Saturday's Maryland-Virginia Breeders' Day program to ride Wild About Deb in the $500,000 Ohio Derby.
"It's awesome. It's a great feeling, especially because I missed a lot of days this meet," he said. "I was able to ship out and ride some good horses, and to be able to do both means a lot."
Represented by agent Scott Silver, McCarthy entered Sunday's nine-race program tied with Victor Carrasco at 26 wins, with Feargal Lynch and Jevian Toledo right behind with 25. McCarthy swept the early daily double with Storm Net ($4.40) in the first race and Rafidain ($5.80) in the second, also taking the fifth with Louise the Laser ($4.60) to finish with 29 victories.
Carrasco and Lynch were shut out on Sunday, while Toledo won the seventh race aboard Annawon ($12.40) to tie for second in the standings. Hall of Fame jockey Edgar Prado, riding full-time in Maryland for the first time in 18 years, finished in a three-way tie for fifth with 13 wins.
Kieron Magee, Maryland's leading trainer in 2014 and 2015, clinched his fourth consecutive meet title during Friday's program and finished with 14 winners.
"We have a good colony here, I think. Everybody wants to win and everybody wants to ride a good race. Everybody wants to be on the good horses, hustles hard and works in the mornings. It all came down to the last couple weeks," McCarthy said.
"Victor, Toledo, Feargal, Edgar, I've learned a lot from them and I just want to thank all of them for kind of pushing me to do better and ride better and pay attention to what they're doing," he added. "Especially Edgar, he's come here and I've learned so much just watching him. He's a great role model to look up to and we're privileged to have him here."
Maryland's leading rider in 2014, McCarthy edged Carrasco, 66-60, to win Laurel Park's winter-spring meet that preceded Pimlico. Among his victories were two on legendary Mid-Atlantic gelding Ben's Cat including the Jim McKay Turf Sprint, and Disco Chick in the Skipat Stakes.
"I couldn't have done it without the trainers and owners; my agent Scotty has done a great job. We had an awesome weekend this weekend," he said. "I just want to say thank you to all them, all the grooms, hotwalkers, exercise riders, everybody that really takes part in the barn to get the horses ready and give me the privilege to ride them. When you're riding good horses, you're going to win a lot of races."