Komlo, M & D wave the Maryland flag with two stakes wins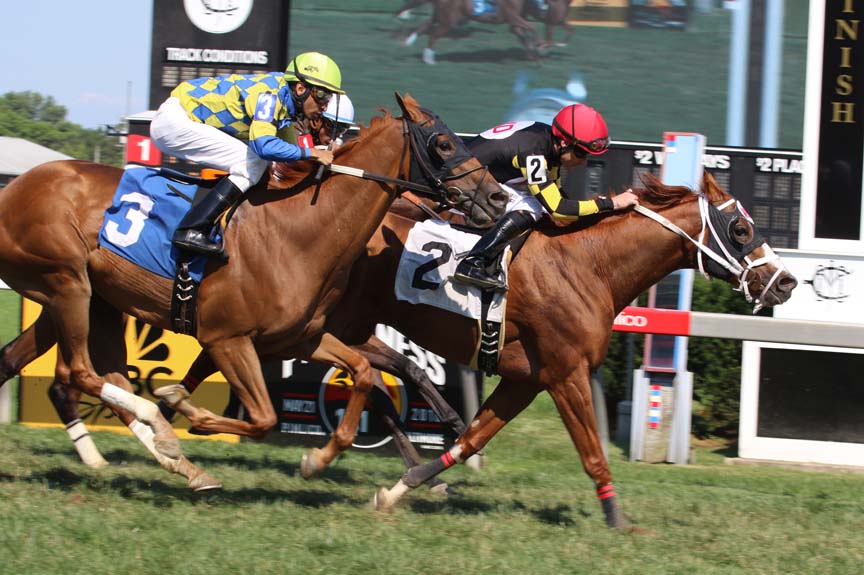 Eyeplayeveryday wins it. Photo by Laurie Asseo.
by Frank Vespe
It was a Maryland flag-waving kind of day for the Komlo and Horning families Saturday at Pimlico.
The day's two Maryland-bred stakes, the Find for the boys and the All Brandy for the girls, both went to runners trained by local veteran Bill Komlo for his son-in-law and daughter, Michael and Debbie Horning, who together constitute M & D Stables.
"It's good for the family," Komlo said. "It's a family-oriented business. I'm happy for my daughter and son-in law."
But it wasn't easy.
The combined margin of the two victories, by Debbie's Tude in the All Brandy and Eyeplayeveryday in the Find, was less than half a length. And in the latter event, the family had to sweat out a lengthy stewards' inquiry that was spiced up by a pair of objections, from the riders of runner-up English Minister and fourth-place finisher Sonny Inspired.
Finally, the decision came down to leave Eyeplayeveryday up, and a whoop went up from the assembled connections.
"We're two-for-two, officially, now," said Komlo.
The Hornings are Maryland through and through — their silks are even in the black, yellow, and red of the Maryland flag — and so to win the Maryland-bred races had additional meaning for them.
"It's amazing," said Michael Horning, gesturing at the second floor box from which he'd watched the All Brandy. "I was the one screaming and yelling."
Making it even better, both horses are homebreds.
Eyeplayeveryday, by Jazil, is out of the Touch Gold mare Gimme the Gold. Though sent off at 8.50-1 in the Find, the second longest shot on the board, he'd shown plenty of talent in his races, including a near-miss second in this event last year. That race went to Phlash Phelps, whom bettors made the 3-10 favorite in this race.
Eyeplayeveryday was on the chase early, stalking longshot Jack's in the Deck from second.
"Our horse likes to be in the battle," Komlo explained. "I told [jockey] Feargal [Lynch], 'When they come at him, he's going to kick it in gear and he's going to go.'"
He kicked in nicely when straightened away for home but drifted out twice in the lane, leading to the objections, and had to survive the frantic late charge of English Minister. Phlash Phelps, who loomed a threat after a bad break, flattened out to be third. Running time for the 1 ⅛ miles on the firm turf was 1:49.61, and the winner paid $19 to win while topping an exacta worth $72.20.
"That race last year, we were coming on," Komlo said. "I said, 'This year, we got a prep race, he should be better.' He showed up."
The first stakes win of his career gives Eyeplayeveryday four wins from 16 starts and pushed his career earnings past $200,000.
"That horse right there has a big heart," Komlo said.
But perhaps no bigger than stablemate Debbie's Tude's.
She had finished fourth and fifth in two earlier tries in this event.  But this time, the daughter of Aptitude-Debbie's Diamond, by Silver Charm, grabbed the lead under jockey Luis Garcia in the first jumps of the 1 ⅛ mile All Brandy, also contested on the turf, and she never looked back.
Garcia tugged the field through moderate early fractions of 24.73 seconds for the opening quarter-mile and 48.81 for the half-mile.
"When I told her to slow it down she relaxed for me," Garcia explained. "I know we were walking for that kind of race."
After lulling the field to sleep, Garcia gave them the slip, spurting four lengths clear before his rivals picked up the pace.
"As soon as I asked her – I said, 'Let me open up now before they come too close' – so I asked, started screaming at her, and she responded right away," the rider explained.
That turned out to be key, because once favorite Ginger N Rye got untracked under Victor Carrasco, she came running, chopping steadily into the lead. There was only a head between the rivals at the wire, but that head was Debbie's Tude's. The clock stopped at 1:49.62, with Northern Smile in third. Just 1 ¼ lengths separated the first five finishers.
Debbie's Tude paid $18.40 to win. The exacta was good for $68.80.
"When that horse came, she put her ears back and dug in again," Garcia said.
That might have something to do with her own 'tude, Michael Horning suggested.
"She's game and she pins her ears," he said.. "She wouldn't let that other horse by her. She gets pretty competitive when she gets in the front."
Maybe she learned that around the barn.
"This is our first foal out of the mare," Horning said. "We bought the mare as a yearling, raced her here. She's named after my wife, Debbie's Diamond, and this is her first foal, Debbie's Tude. I named her that because my wife has a bit of an attitude — people who know her say she has a bit of a 'tude — and she was by Aptitude, and I said it was perfect."
Debbie Horning laughingly confirmed her husband's report.
Three of the six runners in the All Brandy had made their most recent prior start in the Grade 3 Gallorette at Pimlico over Preakness weekend. Two others ran in allowance company.
Debbie's Tude, on the other hand, had run in a modest, $15,000 claiming race — against the boys — and cruised to a nearly-two-length win in her first start of the season..
"We couldn't get a race," Horning said. "We ended up running her against the boys because she needed a race."
She likely won't be seeing the claiming ranks again soon, Horning said. Fortunately, she's still eligible for a second level allowance condition. And next year, it'll likely be off to the breeding shed.
As good a day as it was for the family, Komlo indicated there may be more good things in the future for his barn, and for M & D Stables. You might want to get used to seeing those Maryland flag silks cruising past the Maryland flag in the infield en route to the winner's circle.
"They've got some nice horses now," said Komlo. "I mean, they've got some really nice two-year-olds. I think they'll be heard from this fall."