Page McKenney on recovery trail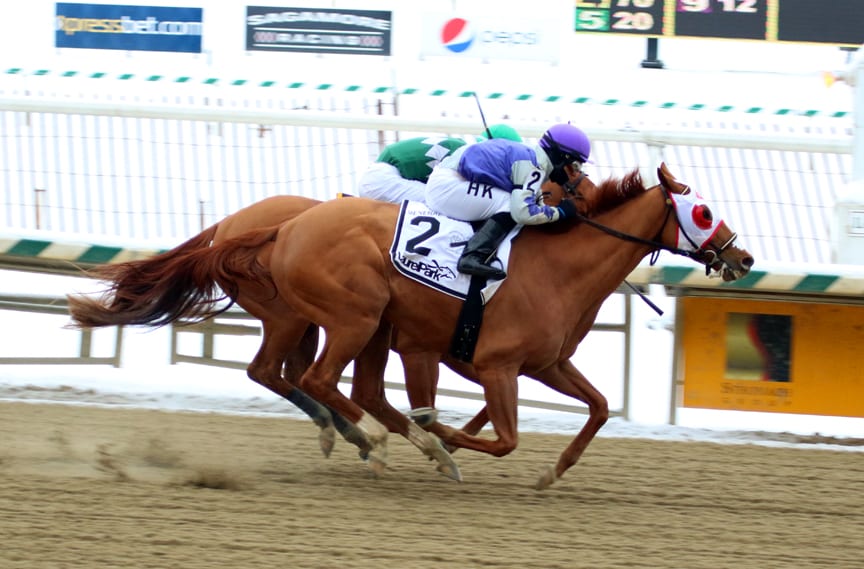 Page McKenney was narrowly best in the Grade 3 General George at Laurel Park. Photo by Laurie Asseo.
From a Maryland Jockey Club release
Adam Staple and Jalin Stable's multiple stakes-winning millionaire Page McKenney remains with trainer Mary Eppler as he continues recovering from a filling in a tendon that cost him a planned start in the Pimlico Special (G3) May 20.
Eppler, based at Pimlico Race Course, said a recent ultrasound done on the 6-year-old gelding have revealed no new or worsening swelling or damage to the area. Slight filling in a tendon was discovered the morning of the Special and, though it was minor, the trainer chose to scratch her stable star.
"We try to be overly cautious with all our horses," she said. "We did an ultrasound and it was exactly the same as the day of the Pimlico Special, which is good because a lot of times it can be worse 10 days or two weeks later. So we started some treatment on it. That'll go another two weeks, and we'll ultrasound it again in a month.
Page McKenney is receiving shock wave therapy on the tendon once every two weeks for a total of three treatments. Eppler has set no timetable for if or when he will resume training.
"He's doing fine. His attitude and his appetite are great. He's going to have a rest for probably a couple months at least, maybe up to a year," she said. "We're just taking our time with him. We'll see what the next ultrasound shows and go from there, decide whether to send him to the farm or keep him at the racetrack. We just don't know yet."
Claimed for $16,000 in July 2013, Page McKenney has 16 wins and $1.4 million in purse earnings from 44 lifetime starts, finishing in the top three 33 times including 24 in a row since May 2014. Nine of his victories have come in stakes, topped by the General George (G3) Feb. 15 at Laurel Park.