Shore Bets: Monmouth Park June 11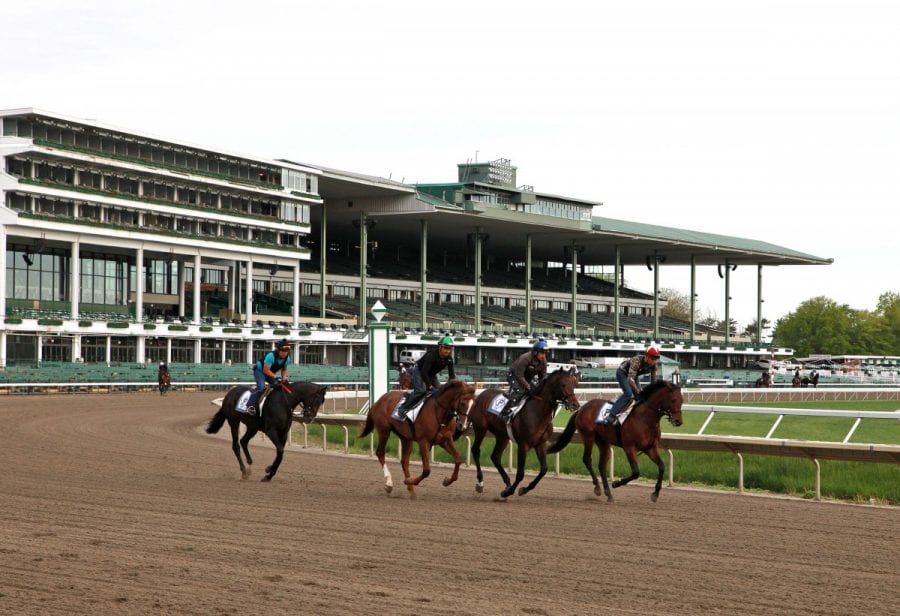 Photo by Bill Denver/Equiphoto.
We are pleased to welcome Shore Bets back for another season of Monmouth Park racing.
by John Piassek
The eyes of the racing world will deservedly be focused on Belmont Park today, but the beat still goes on at Monmouth Park. Twelve races comprise the Saturday program, headlined by the Honey Bee Stakes for grass sprinters.
If you're in the area, be "shore" to come on out and check out "Scarlet Knights Saturday," with plenty of Rutgers University-themed promotions and events.
Race 1: Maiden Claiming $16,000, 3yo and up, 1 Mile
There's not a lot of early speed in this maiden claimer, so you have to give an advantage to anyone who has shown even a lick of early foot, plus has an inside post position. The 1, Tyrrhenian, fits that bill. He's only run one time on the dirt, but it was a more-than-respectable effort, finishing fourth against $25,000 horses at Aqueduct while earning a brisnet figure of 69. That's the best last-out figure in the field, four points better than the rest. His late pace figure was also a strong 79, suggesting that he can stretch out from 6 ½ furlongs to one mile without too much difficulty. Ideally, he'll be pushed out to the early lead, and control it throughout.
The 5, Sixbits, has failed to hit the board in seven career races, but has run a decent 73 in two of his three career dirt races. One of those figures was earned at a mile, so there isn't much question as to if he can get the distance. He disappointed last out when running on an off track, but should go back to his old ways over a fast surface. The 2, Military Citizen, made a 33-point figure improvement last out, when running fourth at the $12,500 level. It's an encouraging sign that he could be ready for a breakthrough.
1- Tyrrhenian
5- Sixbits
2- Military Citizen
Race 2: Claiming $12,500 (n/w2L), 3yo and up, 6 Furlongs
I'll close the back half of the double with the 6, Seventysevenwilow. He broke his maiden easily as out at Tampa Bay Downs, winning by 4 ¼ lengths and earning a figure of 75, the best last-out mark in the field. He retains the mount of Pedro Cotto, who, despite not having a great meet so far, was able to guide this horse home in his maiden victory. Like last time, I expect him to drop over from the outside, rate off the leaders, then roll by for the score.
The 4, Rocket Man Richie, has been fourth in each of his two races at the meet so far, while running a fairly impressive 73 last out. He'll go out to the early lead and hope to take them gate-to-wire. The 2, Warp Nine, broke his maiden at Parx last July, and continues his descent down the class level to this all-time-low claiming price. He's also run in the 70s before, and figures to be on or near the early lead.
6- Seventysevenwilow
4- Rocket Man Richie
2- Warp Nine
Race 3: Allowance Optional Claiming (n/w1x), 3yo and up, 5 ½ Furlongs (Grass)
We go to the grass for the first time today, and we find a Navarro shipper from Gulfstream Park. The 8, Twizzle, was very impressive breaking his maiden back in February, going gate-to-wire while winning by ¾ of a length and earning a figure of 87. He hasn't run since then, but has been working very well coming here, his last-out figure is four points better than anyone else has ever earned, and, of course, he's a Navarro trainee. All of this adds up to a probable low price, but a "shore" victory.
The 2, Mach My Day, is the most likely candidate to upset should Twizzler not fire for whatever reason. He ran an 83 and an 82 in two grass races over the winter, a series that included a closing victory at five furlongs. He's the only one in the race to earn an 80 or above in two straight races recently, so you know that'll contend. He'll also get first-time blinkers. The 1, Liberty St. Outlaw, closed from last to finish fourth at the $25,000 claiming level eight days ago, running a 79. He runs in the high-70s to mid-80s consistently, and while you won't get the 25/1 on him that he was eight days ago, he may wind up flying under the radar at a bit of a price.
8- Twizzle
2- Mach My Day
1- Liberty St. Outlaw
Dirt:
2- Mach My Day
5- All About Diva
7- Foileen
Race 4: Claiming $7,500 (n/w2L), 3yo and up, Fillies and Mares, 6 Furlongs
The 7, Hissy Fit, is the one to beat here. Unlike everyone else in here, she's already won three times (as a three-year-old, she is eligible for this condition no matter how many times she wins). In her last race, at this level, she won by 1 ¾ lengths, running a sparkling 83. She ran a 76 in the race before that, while no one else in here has done better than a 74 in her last two races. Paco jumps off her to go to Belmont for the day, but she'll pick up the more-than-capable services of Orlando Bocachica. Then again, she's so much better than these, it may not matter who's riding her.
The 4, Don't Blame Her, makes her third start off a very long layoff, and ran a 70 and a 74 in those two races at Aqueduct and Belmont. She's the clear-cut second-best horse in the race, and figures to be the early pacesetter. The 1, Gallant Lady, is a wild-card in here; she ran some races in the mid-70s last year, but put in a total non-effort in her season debut last out. She'll hope to find last year's form second off the layoff.
7- Hissy Fit
4- Don't Blame Her
1- Gallant Lady
Race 5: Allowance (n/w1x), 3yo and up, Fillies and Mares, 1 1/16 Miles (Grass)
This is the best betting race on the program: a solid field of ten fillies and mares will do battle here. My selection will be the 8, Jet Majesty. She hasn't run on the grass since May of 2015, but when she did run on it, she was fairly impressive, running in the low-to-mid 80s every time. She also has the most early speed in the race by a longshot, and also has the best average late pace of anyone in the field to boot. Most of her grass races were at sprint distances, so it is unknown if she can stretch out to 1 1/16 miles comfortably. Still, her figures and her early speed make her a dangerous horse.
The 2, Bai Bai Baby, broke her maiden at Gulfstream three races ago, running a figure of 87. She hasn't been able to duplicate it since then, but has run in the 80s in her two races since, and still should be respected. The 5, Hassah, hasn't raced since November, and has only raced twice in the United States. Still, she improved by seven points in her second stateside race, and has been working well at Fair Hill to prepare for her 2016 debut.
8- Jet Majesty
2- Bai Bai Baby
5- Hassah
Dirt:
4- Always On My Mind
11- A Place to Shine
8- Jet Majesty
Race 6: Claiming $12,500 (n/w3L), 3yo and up, 1 Mile
We'll begin the Jersey Shore 6 here, with its ever-building carryover. However, everyone who is playing this wager will be using the 5, How You, in some form. He's coming off a long string of grass races, where he's hit the board in five straight races. Now, he makes just the second dirt start of his career, and he was off the board in his debut over that surface. His big thing, however, is that he's trained by Jorge Navarro and ridden by Jonathan Gonzales, a near-unstoppable team. While there are many statistics that flatter Navarro, the most notable one in this circumstance is that he hits at 31% with horses switching from grass to dirt. It's going to be difficult to beat him, and I'm not that interested in trying.
However, if you want to try it, the 6, Rambling House, is your best option. He's shipping in from California, where he ran three figures in a row in the mid-70s, with a 77 last time out. He was privately purchased out of his last race at Los Alamitos, and is working out well for his eastern debut. If for some reason How You does not take to the dirt well, Rambling House will pick up the pieces.
5- How You
6- Rambling House
3- Moonlight Raid
Race 7: Claiming $12,500 (n/w2L), 3yo and up, NJ-bred, 6 Furlongs
My pick here the 3, Little Hitman. He disappointed in his season debut last time out, running second against open company at 1/1 odds. Here, he's dropping into Jersey-bred company, first off the claim for Kelly Breen, who's 21% with such horses. He also gets a big jockey upgrade to Nik Juarez from Wilmer Garcia, and consistently ran in the upper-70s to low-80s last summer. Making his second race off the layoff, he's bound to improve off the 74 that he ran last time out.
The 5, Mr. Spaceman, hasn't raced on dirt since August, and at all since October. Like Little Hitman, he may not fire first off the layoff, but he ran in the mid-70s throughout last year, and a little bit below that would still be good enough to hit the board. The 2, Shake D'Bone, ran a career-high 71 first off the layoff last time out, and made up a lot of ground late from last, something that's not easy to do in Monmouth sprints.
3- Little Hitman
5- Mr. Spaceman
2- Shake D'Bone
Race 8: Allowance Optional Claiming (n/w2x), 3yo and up, 1 1/8 Miles (Grass)
The late pick 4 begins with this strong allowance field on the grass. My choice among them will be the 5, Infinite Wisdom. He cleared his n/w1x allowance condition last out, taking a field gate-to-wire at Belmont, earning a figure of 90. Two races ago, he got beat by a neck at Gulfstream, running a strong 97. There's no one in the field who projects to be able to run with him early on, so there's a great chance of him getting a cozy early lead and not looking back.
The 2, Tambourin, is one of an always-interesting type: a Graham Motion horse making his first start in the United States. He hasn't raced for almost a year, and was last seen finishing fifth in group 3 competition in France. He had won his first two career races, so as long as he can bounce back first off the layoff, he's going to be tough. The 1, Husband's Folly, was beaten two lengths after a tough six-wide trip last out at Belmont. If he can get a more ground-saving trip here, he's got a great chance of improving off his 86 figure last time out.
5- Infinite Wisdom
2- Tambourin
1- Husband's Folly
Dirt:
1- Husband's Folly
7- Giant Finish
3- Hot to Seek Her
Race 9: Claiming $25,000 (n/w2L), 3yo and up, Fillies and Mares, 6 Furlongs
The 6, Scotland Bay, looks like she towers over the rest of these. She dominated in her first start of the meet, winning against similar horses by 3 ½ lengths and earning a figure of 80. In the race before that, she broke her maiden at Gulfstream, once again winning easily and running an 83. No one else is in nearly that good of form right now, so this race should be yet another cakewalk for her.
The 4, Sola Fide, broke her maiden last out at Penn National after being chased on the lead throughout, and then holding on to win by just a head. She's run in the mid-70s in two of her three career dirt races, so she's definitely at least a strong candidate to finish in the top three. The 1, Natalie La Rose, won her first three races before running a pitiful sixth in her last dirt race at Tampa Bay, after being up near a fast opening quarter. If she can be rated off the early leaders, and not too close to a fast pace, she's another strong exotics candidate.
6- Scotland Bay
4- Sola Fide
1- Natalie La Rose
Race 10: Allowance Optional Claiming (n/w3x), 3yo and up, 6 Furlongs
This race should be featuring a last-out stakes winner. Unfortunately, even though the 5, Delta Bluesman, crossed the finish line first in the Decathlon Stakes on opening day, he was disqualified for interference going up the backstretch. Still, the past performance line shows him winning that race gate-to-wire, earning a dazzling figure of 104. What's notable is his worktab: in his last workout before that big Decathlon run, he went four furlongs in 47 seconds. In his most recent workout prior to this outing, he did the distance in 47.1 seconds. Expect a similar effort to the Decathlon, which would mean victory.
The 2, Eighty Three, just missed in his last race at Parx, finishing second while earning a 101. That was the first time in his career that he's run in the triple digits, even though he ran a 98 three races ago. Both figures make him a contender. The 3, Dad'z Laugh, won the Peeping Tom Stakes at Aqueduct two races ago, and was second after setting a fast pace at the $50,000 level at Belmont last time out. Look for him to go directly to the early lead, and try to go as fast as he can, as far as he can.
5- Delta Bluesman
2- Eighty Three
3- Dad'z Laugh
Race 11: Honey Bee Stakes, 3yo and up, Fillies and Mares, 5 ½ Furlongs (Grass)
Today's feature race drew a field of seven, and the far outside one stands out over the rest. The 7, Joya Real, ran an excellent race last out in The Very One Stakes at Pimlico. She had a far outside post and had to deal with a gigantic field, and was five-wide coming into the stretch. However, she rallied hard late to get second, only beaten by the brilliant filly Lady Shipman. In the race before that, she was fourth in the Lightning City Stakes, all the way back in December at Tampa Bay. Considering The Very One effort was her first race in almost five months, it was borderline heroic. Now, she's coming in here as the fastest horse in the race (she ran figures of 93 and 94 in her last two races), and only has to deal with six other opponents. If she can rate off the leaders, she'll have a clear and more ground-saving path to take over should the leaders tire out.
The 6, Indian Splendor, won gate-to-wire at the n/w1x level last out at Gulfstream, earning a 91. The only time that she ran a higher figure was last spring here at Monmouth, when she ran a 92. The 5, Sunnysammi, also won gate-to-wire last out, as a heavy favorite at Pimlico. Her early pace figures are better than Indian Splendor's, and she's got a post position closer to the rail. She should be able to get to the early lead, but if the two of them wind up burning each other out, it will play right into the lap of Joya Real.
7- Joya Real
6- Indian Splendor
5- Sunnysammi
Dirt:
2- Burn Control
8- Four Inch Heels
1- Forest Funds
Race 12: Claiming $5,000, 3yo and up, Fillies and Mares, 5 ½ Furlongs
We'll close the show with a field of sprinting claimers. My choice among them will be the 6, Kitty Ride. If you toss out her dull race from two starts ago, her figures are much the best: she ran a 79 and a 77 in her last race and three races ago, respectively. She did get caught in the stretch most recently, tiring to finish second, but the Monmouth track is very kind to those loose leaders, and should be able to carry her speed farther here.
The 8, Tina's Note, was second versus similar last time out, running a figure of 70 in her first race off a five-month layoff. Ideally, she'll press Kitty Ride right to the outside of her rival. The 2, Precious Franca, made a mild rally from the back in the same race that Tina's Note is exiting, and will seek to be closer to the pace here.
6- Kitty Ride
8- Tina's Note
2- Precious Franca