Michael McMahon to be new TCA president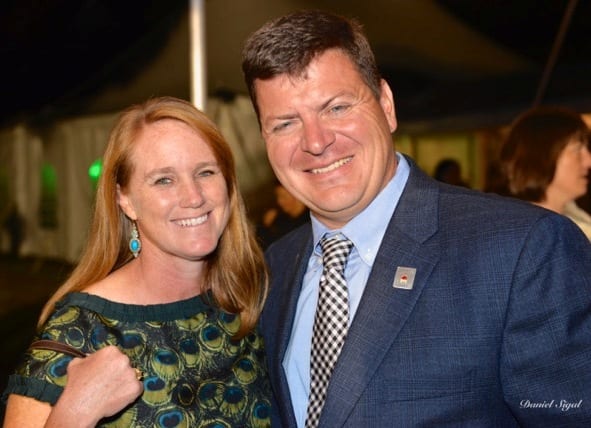 Natanya and Mike McMahon. Photo courtesy of Thoroughbred Charities of America.
From a Thoroughbred Charities of America release
Thoroughbred Charities of America (TCA) announced today that Michael McMahon, co-owner of McMahon and Hill Bloodstock LLC and founder of Bourbon Lane Racing Stable in Midway, Ky. has been elected president of Thoroughbred Charities of America (TCA) effective July 1, 2016. McMahon replaces Dan Rosenberg who is stepping down as president but will remain on the Board of Directors.
The election occurred during the annual TCA Board Meeting held last month in Lexington, Ky. and Kennett Square, Pa.

"Thoroughbred Charities of America has a critical role to play and its founders and current board have entrusted this officer group with a great responsibility," said McMahon. "I remember being at Herb and Ellen [Moelis' Candyland Farm] when the TCA Stallion Season Auction was a regional affair. To see how TCA has grown, and knowing that TCA has overseen the responsible distribution of over $21 million dollars since 1990 is inspirational. We hope to continue the excellent example set by Dan Rosenberg and his board, to continue the TCA's mission for horses and the people who care for them."
"The work of Thoroughbred Charities of America has always been and continues to be very important to me and I am very proud of what we have accomplished over the years since the Moelis' started the organization," said Rosenberg. "I will continue to be actively involved as long as I can, but I have served as President for a long time and believe that change in leadership is healthy for any organization. I am certain that Mike will infuse new energy into TCA and look forward to working with him and the board in the years to come."
TCA's mission is to provide a better life for Thoroughbreds, both during and after their racing careers, by supporting qualified repurposing and retirement organizations and by helping the people who care for them. TCA distributes grants to several categories of Thoroughbred-related nonprofits including rehabilitation, retraining, rehoming and retirement organizations; backstretch and farm employee programs; equine-assisted therapy programs; and research organizations. Since its inception in 1990, TCA has granted over $21 million to more than 200 charities that successfully meet the criteria set forth in its annual grant application. From 2000-2015, more than 95% of TCA's expenditures were allocated to program services including direct grants. TCA is the charitable arm of the Thoroughbred Owners and Breeders Association (TOBA).