Nyquist tops pre-Belmont NTRA poll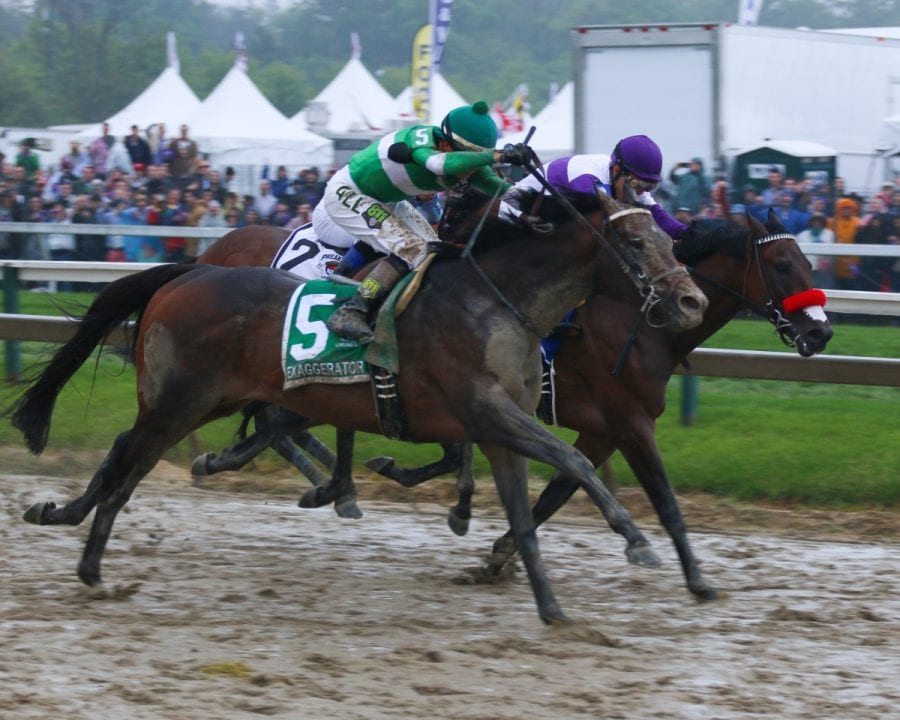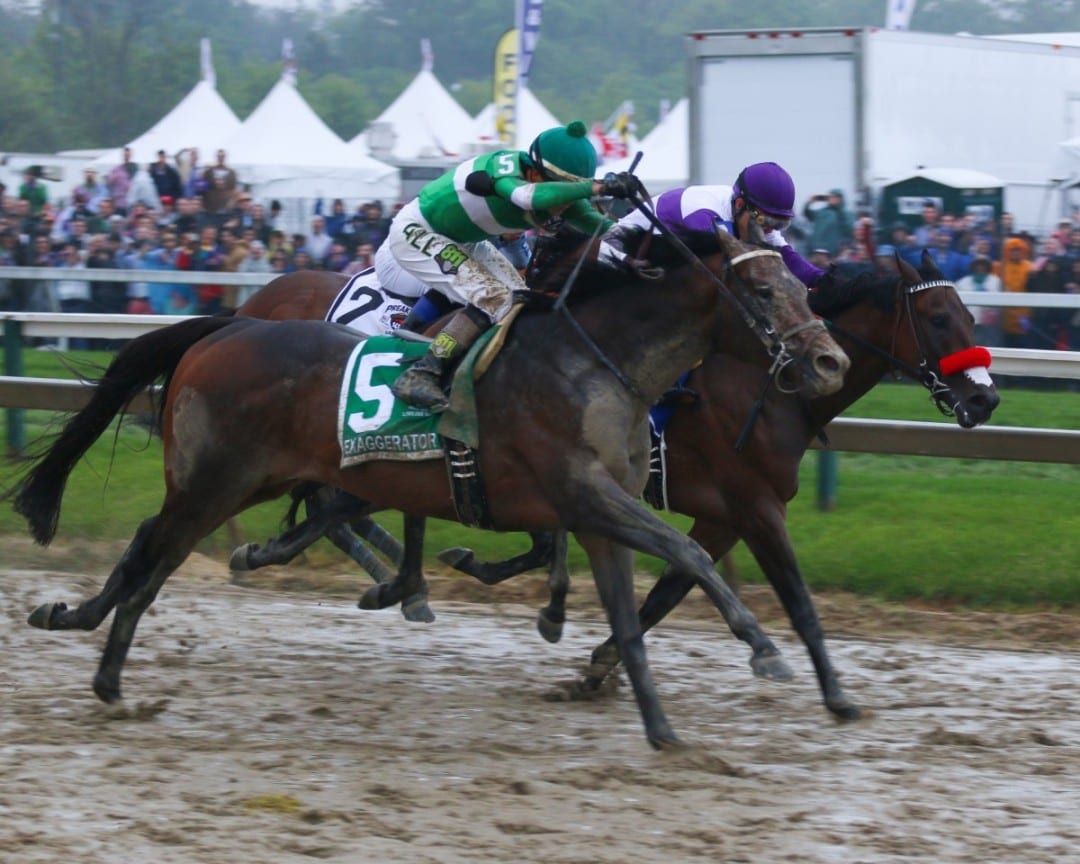 Photo of Exaggerator and Nyquist by George Adams.
From a National Thoroughbred Racing Association release
With five-days left before the running of the 148th Belmont Stakes at Belmont Park this Saturday, June 11, the third and final jewel of the Triple Crown, there is little movement in either direction in the NTRA's second to last three-year-old poll in week fourteen of the National Thoroughbred Racing Association (NTRA) Top Thoroughbred Polls.
Maintaining the number one slot is Kentucky Derby winner Nyquist (33 first-place votes, 392 points). Ranked second is Preakness winner Exaggerator (4 first-place votes, 355 points) who is currently on the grounds at Belmont Park preparing for the Test of Champions.
Rounding out the top-ten are: Gun Runner (274); Songbird (3 first-place votes, 270); Mohaymen (196); Cherry Wine (141); Cathryn Sophia (131); Suddenbreakingnews (119); Destin (66); and Unified (54).
The NTRA Top 3-Year-Old Poll is the sport's most comprehensive survey of experts ranking the generation of Thoroughbreds that includes all Triple Crown contenders. Every week as many as 50 eligible journalists and broadcasters cast votes for their top 10 horses, with points awarded on a 10-9-8-7-6-5-4-3-2-1 basis. The NTRA Top Three-Year-Old Poll concludes Monday, June 13, following the Belmont Stakes, the third jewel of the Triple Crown.
In the Top Thoroughbred Poll, the all-time leading money earner in the U.S., California Chrome, remains on top with 40 first-place votes, 400 points after his smashing 3 3/4-length victory in the $10 million Dubai World Cup (Group 1). With earnings of $12,532,650, California Chrome surpassed 2008 Dubai World Cup winner Curlin, who retired to stud with earnings of $10,501,800.
North American champion turf female Tepin (326) remains second in the rankings for owner Robert Masterson and trainer Mark Casse.
Three-time Eclipse Award Champion, Beholder (304) remains third in the rankings after her 1 ½ victory in Saturday's Vanity Mile (GI) at Santa Anita Park with her regular rider Hall of Famer Gary Stevens, her trainer, Hall of Famer, Richard Mandella and owner, B. Wayne Hughes.
Rounding out the field are: Nyquist (235); Exaggerator (176); Effinex (159); Songbird (148); Hoppertunity (95); Melatonin (80); and Catch A Glimpse (39).
The NTRA Top Thoroughbred Poll concludes Monday, November 7, following the Breeders' Cup World Championships,which will be held at Santa Anita Park in Arcadia, California.
The full results for both NTRA weekly Thoroughbred polls can be found on the NTRA website.
Through June 5
California Chrome
Tepin
Beholder
Nyquist
Exaggerator
Effinex
Songbird
Hoppertunity
Melatonin
Catch a Glimpse
Through June 5
Nyquist
Exaggerator
Gun Runner
Songbird
Mohaymen
Cherry Wine
Cathryn Sophia
Suddenbreakingnews
Destin
Unified