Bill Backer's lasting legacy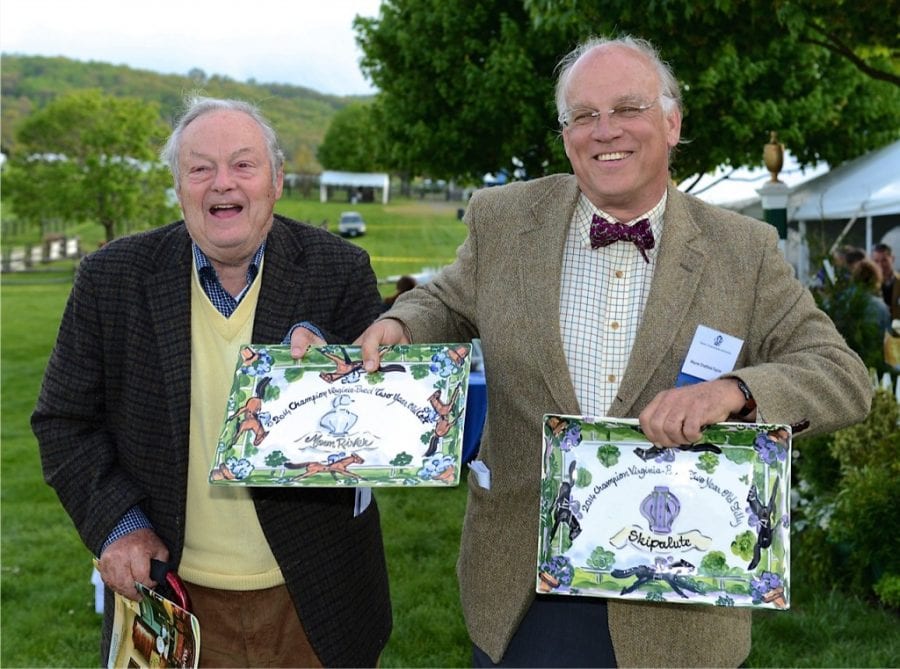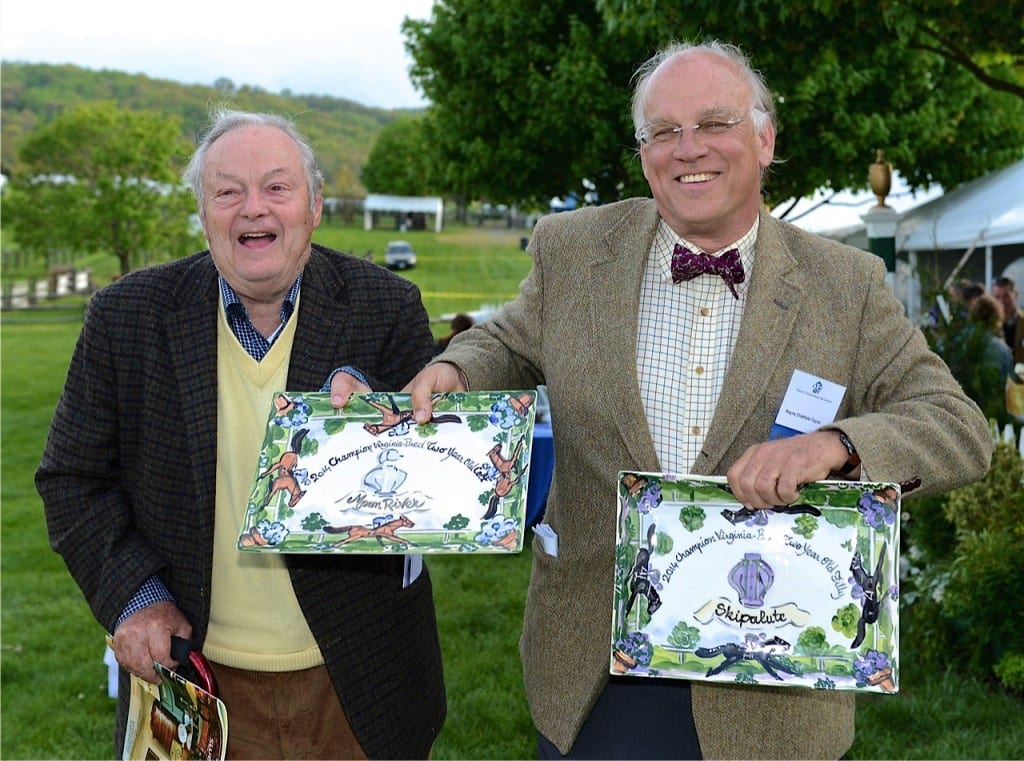 William Backer (left) with Wayne Chatfield-Taylor at the 2015 Virginia Thoroughbred Association awards ceremony. Photo Virginia Thoroughbred Association.
by Nick Hahn
It seems like everybody knew this guy.
Bill Backer died on May 13 at age 89 in Warrenton, Virginia. Advertising exec, horseman, conservationist, he was a man of nine lives, and it may be said that he lived them all simultaneously.
Perhaps best known as the genius behind some of the greatest advertisements in the golden age of television, Backer's work was popular when changing channels was hard and viewers had little choice but to watch them. And we enjoyed them.
"Here's to good friends, tonight is kind of special," for Lowenbrau, "Less Filing, Taste Great" for Miller Lite, "Soup is Good Food" for Campbell's and of course the signature Coca-Cola campaigns of "the Real Thing" and "I'd like to buy the world a Coke" – all came from the mind of Bill Backer.
He found a way into our heads.
"It's a tremendous void that's real hard to replace" said Maryland Racing Commission chairman John McDaniel his longtime friend, whom he met at an Orange County hunt. "We talked about everything, the least of which was racing."
He found a way into our eyes and ears, as well.
"He was at every American Bandstand show writing promos and jingles with its stars, like Jerry Lee Lewis," recalled Virginia Thoroughbred Association chairmen Wayne Chatfield-Taylor about Backer. He said that Backer attracted sponsors to the show through its format in which the studio audience interacted with the product. Without Backer, Chatfield-Taylor claimed, "American Bandstand would have died on the vine."
Backer remained involved in his passions to the end. McDaniel visited Backer in the hospital after the Kentucky Derby, and they recapped the race. A little over a month ago, Backer attended a horsemen's meeting in Virginia on the new initiative at Morven Park. One person in the room that day said that Backer was – by far – the most engaged person in attendance.
One of Backer's big ideas was the integration of the breeding and racing programs across state lines in the mid-Atlantic in order to compete with the larger jurisdictions of Kentucky, New York, California and Florida. McDaniel, another supporter of what he and Backer called the "Delmarva horse," said that's one initiative Backer was unable to bring to fruition – but also a quest he intends to carry on.
"He was talking about it to the end," commented McDaniel. "Bill was a real renaissance guy. He had a broad-based interest in everything, just a genius."
Backer bought his first thoroughbred, named Wink Proof, in 1954.
"I loved the names that he created," McDaniel said, recalling Art Fan, Blind Date, Applause, Moon River and Crab Grass as favorites. "He wouldn't do it the easy way by following directly the sire and dam names. He loved the broodmares. He liked to keep his stock, and if he saw anything promising at all, he would keep it in his breeding stock or place it in a sale with a high reserve."
Backer bred numerous good horses on his Smitten Farm, near The Plains, VA. Some of them, like graded winner Blind Date, went on to run in his colors, while others ended up in the sales ring.
As one way of sorting them out, Backer held a small yearling show each year of 15 or so horses at his Party Barn at Smitten Farm. In attendance were typically representatives of Fasig-Tipton, the sales company, as well as trainers Hamilton Smith, Barclay Tagg, and Jonathan Sheppard, all of whom trained for him.
Later in the year, he would spend August in Saratoga, holding court with friends and acquaintances at his racetrack box or house.
Backer wrote the book, "The Care and Feeding of Ideas," which discusses the ways of supporting and nurturing concepts from generation and removing the impediments that suppress them. Chatfield-Taylor owns it and has read it.
"He could develop so many ways to find a solution for the problem in front of us," said Chatfield-Taylor. "When he saw something that he wanted to do, it would burst into bloom."
Chatfield-Taylor says that Backer would refuse to be in a meeting unless there was somebody in the room with the power to say "yes."
When Backer waded into the campaign against locating a major theme park in northern Virginia, even Disney didn't stand much of a chance.
Backer played a significant role in numerous conservation campaigns that, beyond stopping the Disney theme park, also preserved the rural character of a big swath of Northern Virginia near Middleburg. Those efforts counted the protection of Gilbert Corner, now a nonprofit dedicated to the "preservation and the cultivation of local farmland to provide an efficient central marketplace for the community," and the preservation of the Ashby Gap viewshed among their significant victories.
Chatfield-Taylor recalls getting to know Backer in the initial racetrack hearings after Virginians approved pari-mutuel wagering in 1988. They competed against each other in the "Hay Derby," the blue ribbon for the best hay bales at the State Fair of Virginia. Taylor won once, Backer won many times.
He served in the Navy. He graduated from Yale. He had a television series based on him. He succeeded despite having his father pass away when he was six years old. He once wrote and sang a song for Maryland Governor Martin O'Malley about improving the waters of the Chesapeake Bay. He helped preserve thousands of acres of land. He bred good horses that won important races.
And on Saturday, at Penn National, another Backer-bred runner, Sweet Victory, will go postward as the 5-2 second choice in the $200,000 Penn Oaks. A $285,000 auction purchase by George Bolton, Sweet Victory is by Blame out of another Backer-bred horse, the stakes-placed Came Home mare My Mammy.
"I don't think his legacy stops with his life," praised Chatfield-Taylor.
Maybe so. Maybe everyone is only getting started to know this guy.