All signs positive for Exaggerator after Pimlico jog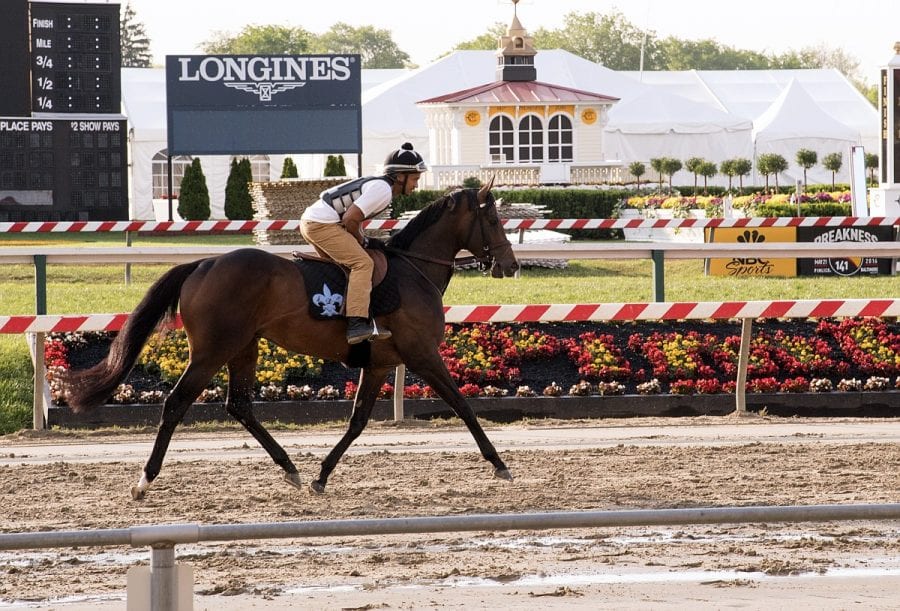 Photo Maryland Jockey Club.
From a Maryland Jockey Club release
Preakness Stakes (G1) winner Exaggerator jogged two miles over the main track at historic Pimlico Race Course Wednesday morning, his second straight day on the track since his 3 ½-length victory in the Middle Jewel of the Triple Crown May 21.
Trainer Keith Desormeaux continues to get all the right signs from the Kentucky Derby (G1) runner-up who turned the tables on previously undefeated Nyquist in the 141st Preakness.
"He's good. He jogged a couple rounds on the track and he looks no worse for wear. He's eating up his feed and his legs are tight and cold," Desormeaux said. "He's just doing all the things we want our horses to do post-race."
Exaggerator has maintained his fitness and energy through five races this year that include a victory in the Santa Anita Derby (G1) April 9 and runner-up finishes behind Nyquist in the Derby and San Vicente (G2).
"I can't quite explain it. They usually are a little down after a race. I think if a horse is fit and right mentally going into a race, they should recover quickly. They're fit athletes," Desormeaux said. "We give them time to recover and as long as they have a good mental constitution, a return to normalcy in 24 to 36 hours is not out of the question. He does it with regularity."
Desormeaux said Exaggerator remains on target for the last and longest leg of the Triple Crown, the 1 ½-mile Belmont Stakes (G1) June 11 at Belmont Park.
"He's going to walk a couple of days, Thursday and Friday, and then we'll gallop him again on Saturday and roll to Belmont on Sunday," he said.
Nyquist suffered his first loss in nine career starts in the Preakness, exiting the race with a fever and elevated white blood cell count that has kept him at Pimlico and scrapped plans to run in the Belmont.
Jack Sisterson, assistant to trainer Doug O'Neill, said the multiple Grade 1 winner and juvenile male champion of 2015 is improving. The only immediate plan is to ship him back to California when he is healthy enough for the cross-country trip.
"He's doing great. We got the blood back yesterday and, as you guys know, with a slightly elevated white count. His temperature just spiked a little bit again. Doug wants to do the right thing by Nyquist and get him 100 percent right before we make a plan moving forward," Sisterson said. "He's great. We're taking the right precaution with the aspect of getting him back right. We'll get him back to California once he's 100 percent. We won't make any major plans as of yet."