Exaggerator returns to the track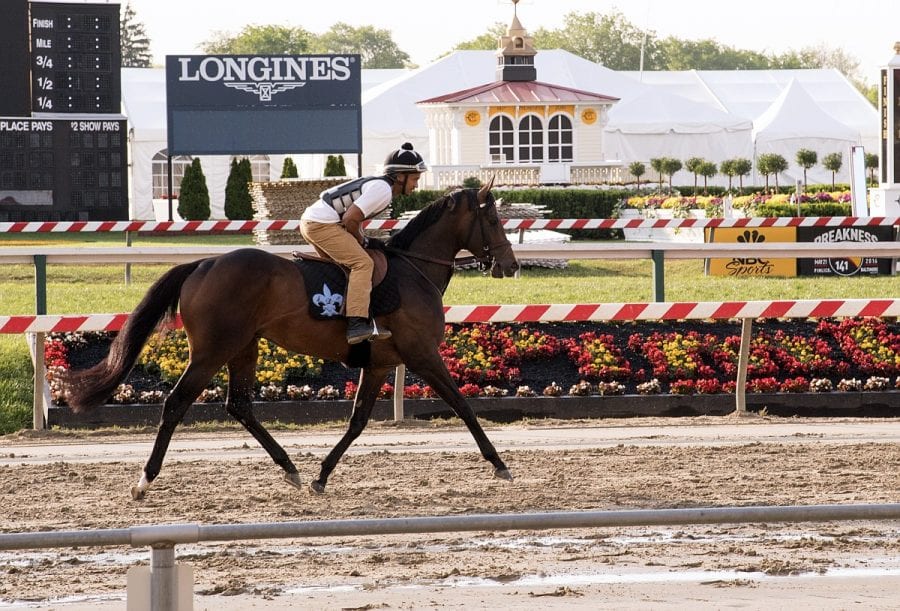 Photo Maryland Jockey Club.
From a Maryland Jockey Club release
Preakness Stakes (G1) winner Exaggerator was playful and happy Tuesday morning as he returned to the track at Pimlico Race Course.
"We're really pleased with him," said assistant trainer Julie Clark. "I was just talking to the groom and even after two races back-to-back it still doesn't look like he's lost any weight…He's doing great. It would be nice to have a little bit of a break from him sometimes because he's always on his toes and squealing around, but it's good to see."
Clark said the pressure of competing in the Triple Crown has been made easier because of Exaggerator.
"It's been pretty easy with this horse," she said. "Often you have a little something, they're not eating or they seem down or there's something to worry about. With him there hasn't been so it takes a lot of pressure off and you can really just enjoy it for a change. So he's made it real easy on everyone."
Clark said Exaggerator will go to the track Wednesday, walk Thursday, return to the track Friday and Saturday and then ship to New York Sunday to prepare for the June 11 Belmont Stakes (G1).
Kentucky Derby (G1) winner Nyquist, third in the Preakness, was "bright-eyed" Tuesday morning and things seemed back to normal after the colt spiked a fever Monday.
"He's doing well this morning and his temperature is back to normal," said assistant trainer Jack Sisterson. "It was back to normal yesterday around lunch time. We monitored it throughout the day to make sure it did not elevate. He ate up last night and is looking bright-eyed this morning. We're just waiting on blood results to make a plan, but he's happy in his stall this morning. We're just anxious to get the blood work."
Sisterson said Nyquist would likely walk tomorrow and, depending on the results of the blood work, return to the track Thursday. "When the blood work comes back then we can make a plan and move forward."