Trainer Gerry Bennett, Delaware Park gear up for '16 meet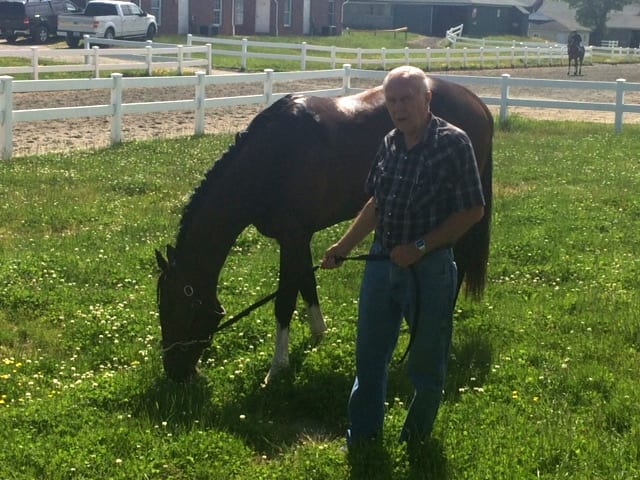 by Doug McCoy
In the past 10 days trainer Gerald Bennett has made three 2,200-mile round trips between  Oldsmar, FL and Stanton, DE, pulling full loads of thoroughbreds in a van behind his black "duelie" pick up, 50 horses in all.
He has set up his barn on the backstretch at Delaware Park. He has moved into new surroundings in an apartment not far from the track. And he's also been at that barn before daylight most mornings, doing what he does best, training horses.
At an age where many fill their days playing golf or doing whatever else "golden agers" do, the 71-year-old Bennett is about as far from retired as one can get. He finished the recently concluded Tampa Bay Downs meeting as leading trainer with 51 wins at the 93-day meeting, marking the second time he has topped the standings.
"The people from Delaware Park were in Florida for some time this winter recruiting horses and they strongly urged me to come here this summer," Bennett explained of his decision to come to Delaware.  "While we didn't have much success here the last time I raced I did like the facilities and the backstretch and felt our horses could compete here so we decided to come."
Delaware's 2016 meet — which will be topped by the July 16 Grade 1 Delaware Handicap — opens this afternoon with a 10-race card topped by a small but accomplished group going postward in a $40,000 allowance test.  Local horsemen have said they are expecting a good meet this year.
Bennett has trained top stars like Beau Genius who earned more than $1,00,000 during a career that saw him win 19 races, including a pair of graded events (the Grade 1 Iselin and Grade 2 Michigan Mile and One-Eighth).  He also conditioned Secret Romeo, who won 22 races and earned more than $800,000.
But it has been claiming and racing hard knocking claiming horses where he has shined. Bennett claimed a horse named Lombardi Time at the Fair Grounds for $10,000, and Lombardi Time went on to be a stakes winner of 25 races. He also haltered a horse named Adorable Racer for $3500 and before he lost the horse through the claim box for $32,000 Adorable Racer had amassed earnings of some $250,000 racing for Bennett.
Like most horsemen, Bennett has had his share of ups and downs during his career. He has gone from having more than 150 horses in his care to training a small string of eight or nine. He has had major owners die unexpectedly.  He has had others walk away owing him upwards of $100,000, while others have had their businesses go belly up and declare bankruptcy, leaving the trainer with no paycheck and a stack of unpaid bills. In 1998 Bennett raced at Delaware for the first time and had a string of just eight horses.
But Gerald Bennett is a survivor in one of the toughest businesses in the world, and that trait has allowed him to win nearly 3.600 races.   
Bennett is known as a stern taskmaster with his runners in his quest for them to attain peak fitness, but he also makes sure his charges are as healthy and happy as he can make them when they go to the track.
"I believe in making them as comfortable and focused as they can be," the trainer explained. "I believe in legal therapeutic medication in small doses for training, and I also use a number of therapies after (the horses train). I spare little expense in giving them the best in terms of feed, supplements, and we use laser and magnetic therapy quite a bit."
Bennett's stable is probably as well balanced as it has been in recent memory. Topping his roster is the crack sprinter Fast Flying Rumor, another shrewd Bennett claim, for $25,000 out of his winning debut. Fast Flying Rumor posted the fastest Beyer speed figure ever earned by a runner at Tampa Bay Downs en route to capturing the Tampa Turf Dash this winter, earning a 108 Beyer rating.  Another Bennett star is Big Silver Hoss, who finished third in Crown Ambassador Stakes last fall at Indiana Grand Race Course. The grey sprinter will race next Wednesday in the $100,000 Sagamore Sired Stakes at that same track, which means that Gerry Bennett will be behind the wheel of his big black Ford pickup once again next Tuesday when Big Silver Hoss makes the 620 mile trip to Indiana.
It's the Bennett way.