Exaggerator takes Desormeaux brothers home, and to new heights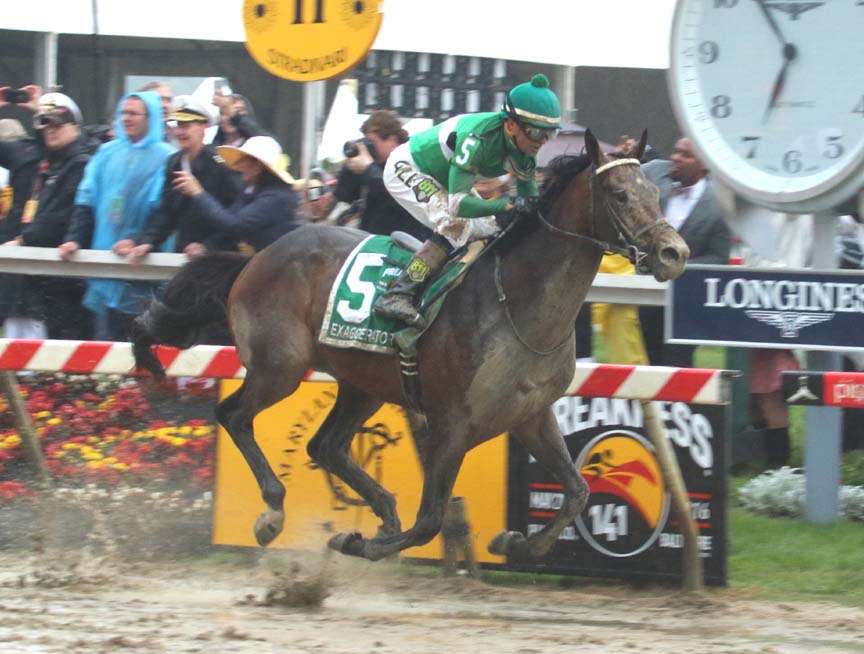 Exaggerator. Photo by Laurie Asseo.
by Frank Vespe 
For the second straight year, the rains came to Old Hilltop.
But this time, the Derby winner left empty-handed.
Previously undefeated Nyquist, the son of Uncle Mo who dazzled in winning the Kentucky Derby, was cooked in a speed duel that set up the Grade 1, $1.5 million Preakness for the closers today at cool, rainy Pimlico.
The most direct beneficiary of the early activity was Exaggerator, the son of Curlin who closed from eighth, some 11 lengths back, to win by a going-away 3 1/2 lengths.  Longshot Cherry Wine, 17-1 at post time, grabbed second, a nose ahead of Nyquist.  Exaggerator paid $7.20 to win and topped an $88.40 exacta.
"I did what I could to get him happy and fresh and strong and I've always said he's always had a great ability to recover and he showed it today," said Keith Desormeaux, who trains the winner.
Exaggerator, the flashy winner of the Grade 1 Santa Anita Derby, had fallen to Nyquist in two previous meetings, including the Kentucky Derby, in which he rallied smartly to be runner-up but was never really a threat to the winner.
But on Saturday, he found a pace scenario to his liking and was able to turn the tables.
Uncle Lino, the Gary Sherlock trainee who had won the California Chrome Stakes, engaged a seemingly uncomfortable Nyquist from the first jumps, and those two motored through an opening quarter mile in a sharp 22.38 seconds, with Awesome Speed pressing them a couple of lengths back.
"I think Nyquist had company all the way around the course," said winning jockey Kent Desormeaux.  "They stayed really wide."
Up the backstretch, Exaggerator inched closer while creeping along the rail.  Meanwhile, Uncle Lino, seemingly about to throw in the towel after a half-mile in 46.56 seconds, battled back to stay within a head of Nyquist, the 7-10 favorite, after three quarters of a mile.
"He was running awfully good for a long way," said Gary Sherlock, the 71-year-old trainer for whom Uncle Lino was the first Preakness starter.
It certainly was a taxing journey for Nyquist.
"I didn't think we could get beat," said Doug O'Neill, the trainer of Nyquist.  "He still ran a great race."
Kent Desormeaux kept an inside course around the far turn, then tipped Exaggerator three wide entering the lane and took command soon after.  Once clear, Desormeaux ducked back to the rail, forcing the tiring Nyquist outside, and drew off.
"These turns, you want to paint the fence," commented Kent Desormeaux, who said that during warmups he had checked the whole course to find the best going.  "We did, they didn't, and not for nothing, but knowledge is power."
The win spoiled Nyquist's Triple Crown bid, leaving him with eight wins from nine starts.  Exaggerator, who Keith Desormeaux said will be pointed to the Belmont Stakes in three weeks, now has won five of 11 starts, four in graded company.  He has earned just shy of $3 million.
The Preakness, run in a sluggish 1:58.31 over a sloppy, sealed main track, the slowest running in decades, capped off a topsy-turvy day in Baltimore.
Two horses died early on the card.  First race winner Homeboykris collapsed and died following the first race of the day.  The Maryland-bred nine-year-old had won the Grade 1 Champagne Stakes in 2009 before running 16th in the next year's Kentucky Derby.  The Roman Ruler gelding, trained by Fran Campitelli, had won three of his five starts prior to today.
Three races later, in the fourth, Pramedya, trained by Arnaud Delacour for Lael Stables, broke through the starting gate before the race, broke down leaving the far turn, and was euthanized on the track.  It was a tragic ending for a talented, four-year-old Harlan's Holiday filly, and a troubling series of coincidences for Roy and Gretchen Jackson, the people behind Lael.  Ten years ago, their Kentucky Derby champion Barbaro also broke through the starting gate before a race at Pimlico — the Preakness in that case — broke down during the race, and ultimately had to be euthanized.
In addition, Uncle Lino, who ran a brave race in the Preakness, forcing the issue with Nyquist for three-quarters of a mile and remaining in contention until the furlong grounds, was vanned off following the race.  Sherlock, his trainer, said that the attending veterinarian determined that he had sustained a minor tendon injury.
Wagering also raised early questions.  A bettor at Laurel Park made what the Maryland Jockey Club said was an $80,000 wager on Stradivari, causing that runner to plummet to odds-on early in the day off an 8-1 morning line.  By post time, he was exactly 8-1.
The bad news did not seem to dampen spirits, however.  The Maryland Jockey Club reported attendance of 135,256, a record-high announced attendance.  And, the company said, wagering on the card was $94,127,434, also a record.
"Most people don't know" [about the dead horses], said Richard Hackerman, the owner of Pimlico Special show horse Warrioroftheroses, sitting in the grandstand Preakness day.  "All of the information I've gotten has been from people watching on TV."
Loren and Gretchen Flossman, Virginia residents attending their first Preakness, certainly were in high spirits during the day.  They were supporting Nyquist but hedging their bets by covering other horses as well.  Why not all 11?
"I ran out of quarters," quipped Loren Flossman.
It was both his and his wife's first Preakness, but it was not the first major flat racing event for Gretchen Flossman.  She said she had previously attended Royal Ascot 20 or so years previously.
"It's different," she said, "but you know what?  The ladies are still drunk at the end of the day and laying on the ground."
Fifteen-year-old Frank Aiello — the author's nephew — wasn't cold and he wasn't wet, because the overhanging roof protected his seat.  He was supporting Nyquist, too, in an exacta box with Exaggerator — an outcome that came within a nose of coming home, and said he was excited to be here.  In fact he had only one complaint.
"Somebody stole one of my French fries," he lamented.  "They didn't even say please."
For the Louisiana native Desormeaux brothers, meanwhile, the Preakness victory represented a triumphant return to the state in which they got their start.
Nearly three decades ago, Kent Desormeaux was the super-hot bug rider who took the 1987 Eclipse Award as top apprentice and two years later won a record 598 races.
For Keith, it was first as an assistant to trainer Charlie Hadry and then, starting in 1990, on his own — "way too soon," in his estimation.
Keith Desormeaux, back at Old Hilltop for the first time since leaving in 1991, wondered where all the barns had gone; many near the stakes barn area had been knocked down in the intervening years.  He said he didn't remember his final race at Pimlico before leaving — though he allowed "the word stake was not involved."
Returning to the place where he started was complicated.
"I haven't really been around much yet," he said midweek.  "But I'm getting a little flood of emotions I haven't figured out yet."
It seemed easier for Kent Desormeaux.
"This is my favorite place in Maryland," he said after the race.  "On the cupola next to the Woodlawn Vase."