10 years since Barbaro, laminitis still a challenging foe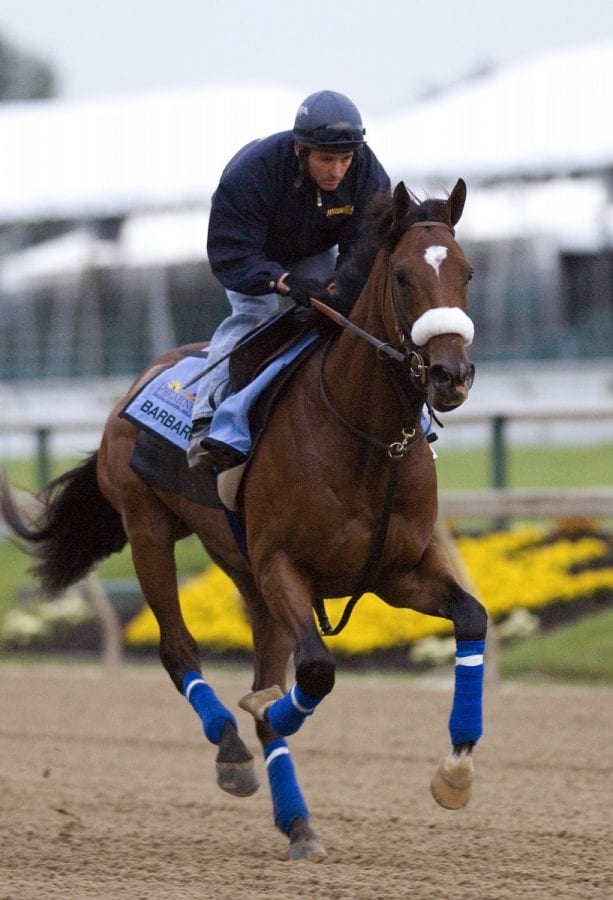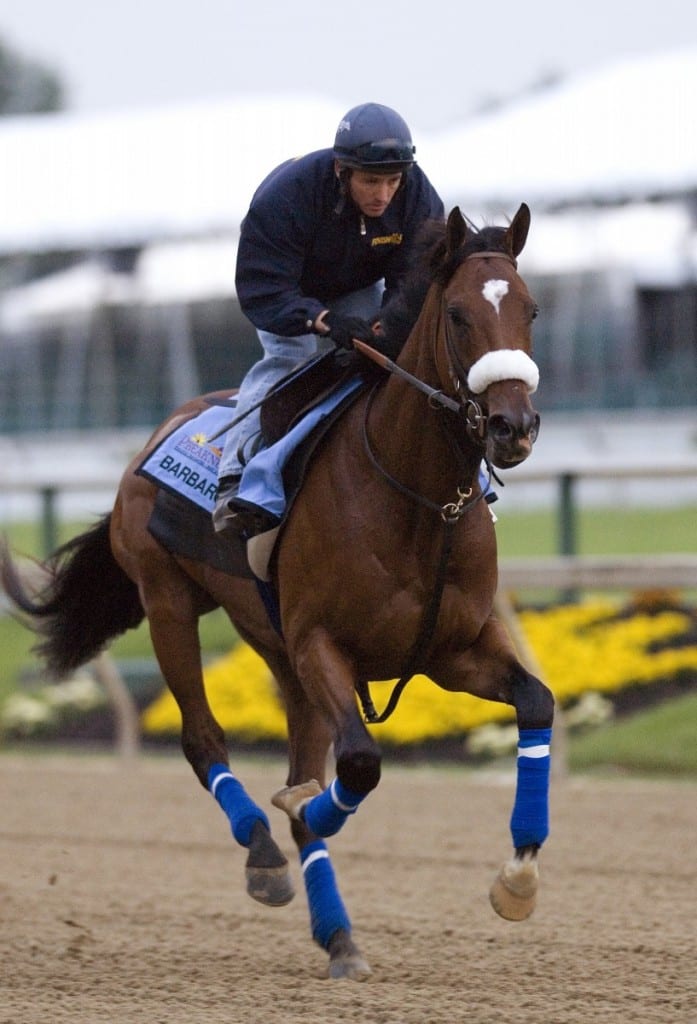 Barbaro in his final gallop before the 2006 Preakness Stakes. Photo by Jim McCue, Maryland Jockey Club.
by Teresa Genaro
Ten years ago this week, the racing world watched in horror as shortly after the start of the Preakness Stakes, jockey Edgar Prado pulled Barbaro up with a catastrophic injury to his right hind leg. Stricken with a shattered leg that in almost any other case would have led to immediate euthanasia, Barbaro was transported 90 minutes north to the New Bolton Center veterinary hospital of the University of Pennsylvania, which is where he resided through eight months of treatment, first for the injured leg, then for laminitis. Despite the extraordinary measures taken to save him, Barbaro was euthanized in late January 2007.
A decade later, laminitis is still a dreaded diagnosis. Though its causes can be identified, the disease is difficult to prevent, and its progress is a challenge to thwart. There are success stories—Paynter in 2012, Lady Eli last year—but in 2014 Intense Holiday, a graded stakes winner who was 12th in the Kentucky Derby that year, succumbed to the disease, as did the multiple graded stakes winner Vicar's in Trouble earlier this year.
A decade after Barbaro, is the outlook any better now for horses with laminitis than it was then? The answer, said several veterinarians, is, "It depends."
That afternoon at Pimlico represented the beginning of an education for millions of racing fans about the causes and dangers of laminitis. Barbaro was an equine celebrity, an undefeated Kentucky Derby winner whose margin of victory was the biggest in 60 years, and his story had already captured the country's imagination. His trainer Michael Matz was an Olympic equestrian who had saved children from the burning fuselage of a plane crash, and his horse was the first since Needles in 1956 to win the Derby off a layoff of more than a month. Off Barbaro's commanding Kentucky Derby win, Triple Crown talk began.
So when, after breaking through the starting gate before the Preakness, Barbaro was pulled up before the field had reached the first turn, in full view of the crowded apron and grandstand, millions of racing fans, at home and at Pimlico, let out a collective gasp. Through the next eight months, they awaited updates from Dr. Dean Richardson, New Bolton's chief of surgery and the man who put Barbaro's leg back together with 27 screws. They thrilled to photos of Barbaro grazing, and they mourned when the horse's discomfort grew unmanageable, leading to the decision by owners Roy and Gretchen Jackson to end his suffering.
Though it was laminitis that felled Secretariat in 1989, several generations of racing fans had had little exposure to the disease. In 2006, the internet, a 24-hour news cycle, blogs, and nascent social media provided those fans with unprecedented access to information, and before the summer of 2006 was over, laminitis had become a household word.
Laminitis, or the inflammation of the laminae (the tissue that connects a horse's coffin bone to its hoof), most commonly results from one of three causes, said Dr. Nathaniel A. White II, Professor Emeritus of Equine Surgery at the Marion duPont Scott Medical Equine Center at Virginia Tech, listing metabolic disease; shock such as colic or a retained placenta; and excessive support on the good leg after catastrophic injury of the opposite limb as the main conditions that will lead a horse to become laminitic.
The latter two, he said, are generally the ones with the poorest prognosis and are often fatal. While the disease itself won't kill the horse, it will progress to a point at which the coffin bone begins to separate from the hoof, causing a degree of pain and instability that is usually determined to be intolerable. It is also nearly impossible to reverse the disease at that point.
"Once that separation happens," said White, "it's difficult to save them."
Among the challenges of treating the disease, he explained, is its unpredictable nature. Researchers and veterinarians can identify the factors that lead to laminitis; more elusive is what exactly triggers the laminitic reaction. He cited a study in which in which horses were given carbohydrates in an attempt to reproduce a case of laminitis (a study whose methods, he hastened to add, would rarely be duplicated today, given the potential for horses to experience severe pain) in order to learn about its causes.
"After administering excessive carbohydrates, about 20% of the horses didn't develop laminitis," he said. "It appears that some horses might be pre-disposed to laminitis, but the trigger point is missing right now."
Said New Bolton's Richardson, "We can see horses literally stand on three legs for months and not develop laminitis. Other horses go lame and have catastrophic laminitis within 72 hours. We have no reason to explain it."
"There are things about the mechanics that we still just don't understand," he went on. "We think there's something about certain pain pathways that trigger other pathways, and that that differs from horse to horse."
"It's the bane of my existence as a surgeon," said Dr. Patty Hogan of New Jersey's Hogan Equine. "You can save horses from life-threatening orthopedic problems, only to have them founder. It's heartbreaking for the clients and the horse."
"It's so painful and so unpredictable," she continued. "We still haven't figured it out."
Among the advances since 2006, said Dr. Cage Cruise, an equine podiatrist at Fraley Equine Podiatry in Lexington, Kentucky, are stem cell therapy and the variety of shoes that veterinarians can use to make horses comfortable as they recover from the disease.
"There have been a lot of small developments," he said. "New shoeing material, thermoplastics, different types of glue for glue-on shoes, and so many options for hoof boots. There are about 10 different brands out there to treat acute and chronic laminitis, with different levels of heel elevation. Before, we had boots to keep the horse comfortable and shoes to treat the mechanics, and now we can do both at the same time."
"Vets and farriers have gotten better at deciding what kind of supports horses need," Virginia Tech's White agreed. "If you can get good foot support on the good limb for a horse with a non-weight bearing injury, you can take some pressure off the laminae."
Cruise also pointed to improved testing that allows for earlier detection of insulin dysregulation, a metabolic condition that can lead to laminitis, which allows vets to diagnose horses with the condition at a younger age, and thus lead to earlier treatment and possibly prevent the onset of hoof problems.
Though some advances have been made in decreasing a horse's foot pain with medication, White cautioned that that approach could have dire consequences.
"If you take away the pain, the horse doesn't feel his feet and that could lead to more coffin bone rotation," he explained, referring to the separation of the horse's coffin bone within the hoof capsule.
Barbaro suffered from supporting limb laminitis, caused when he was unable to bear weight evenly on all four of his feet as a result of his injury, and while Richardson is encouraged by the progress made since he treated his most famous patient, he cautions that "eureka" moments and big breakthroughs are unlikely.
"Science is incremental," he said. "Progress is made in small bits of information coming together over time."
Still, he can find reasons to be optimistic, emphasizing that the major way to prevent laminitis in his area of practice is in the management of the original injury.
"We're able to fix fractures more successfully, and we can manage pain more successfully," he said, citing as an example the "judicious use" of the sling made famous by Barbaro, which allows horses to take weight off their feet. "Things like that are a lot more advanced now than they were ten years ago."
He is also confident that research will, before too long, lead to further progress in the way that limbs are supported during recovery from an injury.
And while the high-profile cases of horses recovering from laminitis are encouraging, both Richardson and Fraley's Cruise caution against extrapolating too much from them.
"People see one big horse recover, and another die, and it can be confusing," said Cruise. "Really, the biggest deciding factor in a horse's prognosis is the grade of laminitis. With breakthroughs in treatment, the chances for some horses are better than they were ten years ago. But if the coffin bone displaces and horses develop chronic laminitis, they're at risk for the rest of their lives."
"The larger the horse, the bigger the problem with the feet," said Richardson. "There's no doubt that size, body type, and body condition are really important."
Also significant, said Dr. James Belknap, of The Ohio State University's Department of Veterinary Clinical Sciences, is the type of laminitis from which a horse suffers. He characterized supporting limb laminitis as the most devastating and difficult to treat, because the disease can be slow to occur, then progress rapidly. Successful treatment is further compromised by the extended period usually necessary while the injured limb heals. Veterinarians can't, for instance, keep the injured limb in an ice boot for several weeks.
Easier to treat, he said, is sepsis-related laminitis, of the sort that Paynter developed following a bout with colitis and an infection.
"It's the only type of laminitis with a proven prophylactic therapy, digital hypothermia/cryotherapy," Belknap wrote in an e-mail, noting that the period of treatment is much shorter than that for supporting limb laminitis.
As the result of a grant from the Grayson-Jockey Club Research Foundation, Belknap has been researching the use of digital hypothermia/cryotherapy (a process by which extreme cold is used to destroy abnormal cells) with Chris Pollitt and Andrew van Eps at the University of Queensland in Australia.
"We haven't cured the disease," he wrote, "But we have greatly decreased its incidence."
In the wake of Barbaro's injury, money poured in from the public to support laminitis research, which both Richardson and Belknap identified as the single biggest development in the study of the disease over the last 10 years. In 2007, the New Bolton Center established the Barbaro Fund (now called the Barbaro Fund for Excellence) to support equine care and the Laminitis Research Fund to study the disease, along with treatment and cures of horses suffering from it.; nearly $4.6 million has been donated to the two funds in the last decade.
In 2010, the National Thoroughbred Racing Association established the Barbaro Fund for Equine Health and Safety Research, raising $575,000.  Since 1999, The Grayson-Jockey Research Foundation has funded 17 laminitis studies, including some of Richardson's and Belknap's research, and has devoted nearly $1.3 million to researching the disease since in the last decade.
Still, White observed, funding laminitis studies can be a challenge because the research has so little application beyond the equine world, and virtually none for humans.
"There's no similar disease in humans where similar research can be done, unless you can somehow couch it as a vascular problem," he said. "It's hard to get research money, and hard to get the research done."
Each veterinarian expressed a combination of optimism and frustration, able to identify both progress and challenges in dealing with the disease, taking heart from advancements while advising caution about celebrating achievement.
Virginia Tech's White put it succinctly.
"As soon as you call yourself a laminitis expert," he said, "you'll be sorry. You'll be challenged by the next case."