Trainer Robin Graham hoping for big Black-Eyed Susan day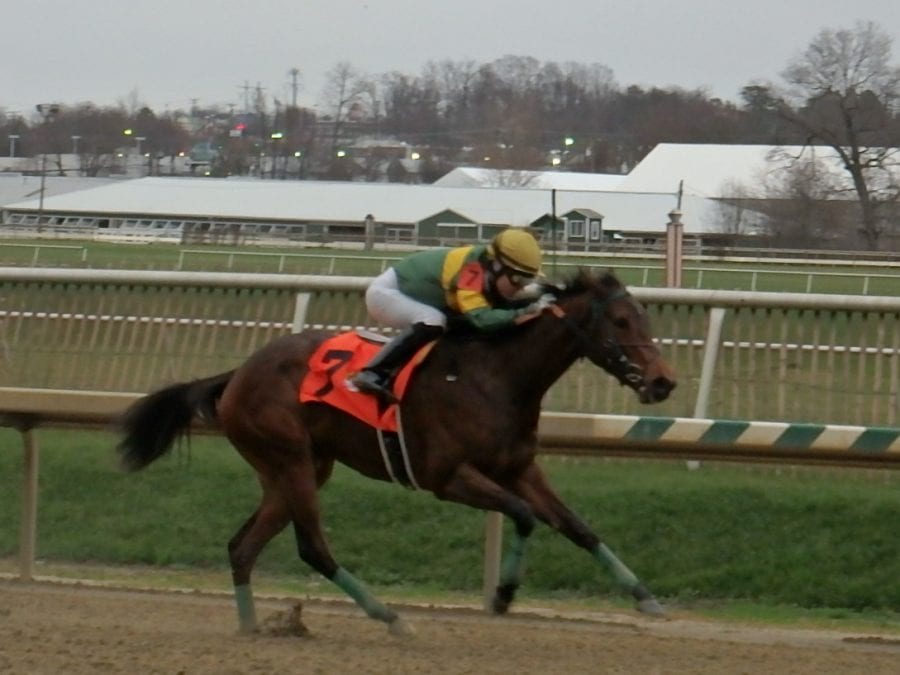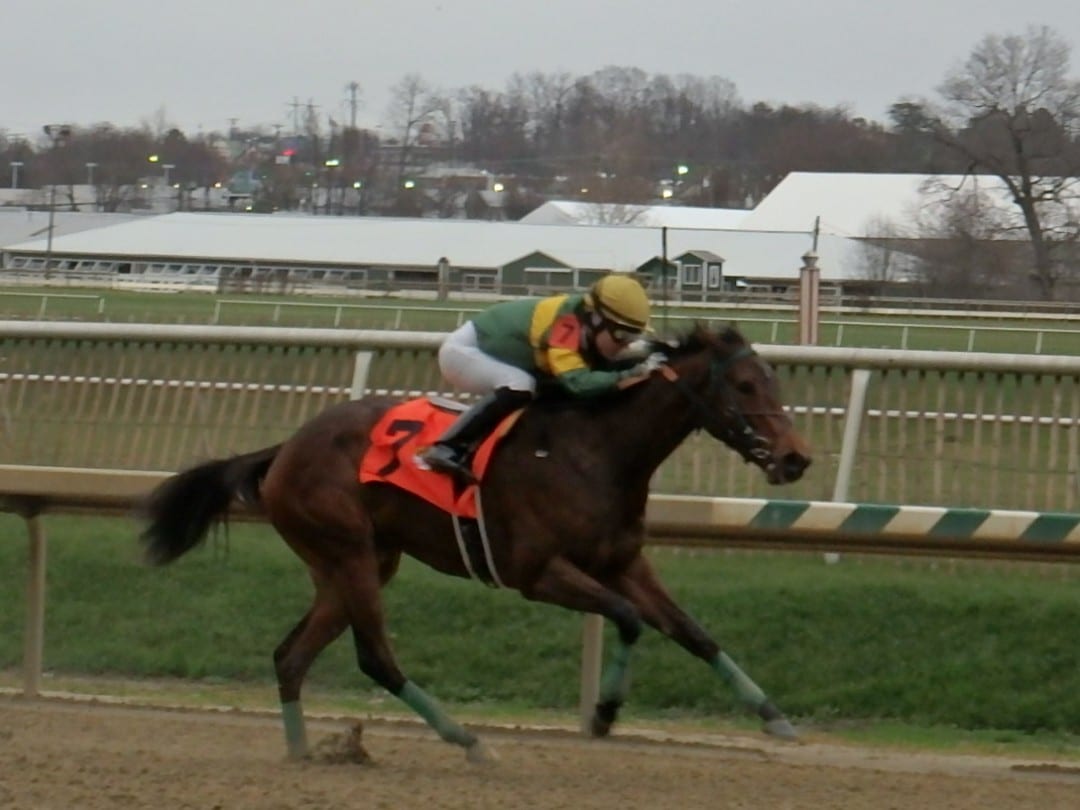 Look Who's Talking. Photo by The Racing Biz.
From a Maryland Jockey Club release
Maryland-based trainer Robin Graham has loved horses ever since she was a little girl growing up in Baltimore County. At 13, she even volunteered to care for her neighbor's two horses for free, just to be around them.
Most trainers like to be around the horses, and still do. But when you ask Graham, 59, why she likes the training life, she gives a different answer from most.
"Mostly," she says, "I like developing young horses that have been problems for people. I've been around horses since 1973, caring for them, galloping them, training them."
She might add studying them and learning to communicate with them.
"I've just always liked that part," she says.
Over the years, she has earned a reputation for her communication skills with her horses. One owner said she has "a God-given affinity" for it. She talks to them, scolds them and praises them. And they run for her.
Over the years, there have been a lot of good horses. Her best was probably Lady Sabelia, winner of the Barbara Fritchie Handicap (G2) and a multiple stakes winner, who was retired in April. But there have been many others like Mr O'Brien, winner of the 2004 Grade 2 Dixie, and Maryland Horse of the Year Gin Talking.
Friday, on Black-Eyed Susan Day, she will send two more good ones to post.
Jack's in the Deck will run in the 11th edition of the $100,000 Jim McKay Turf Sprint. Look Who's Talking will go in the $100,000 Hilltop Stakes.
Graham is eager to see how each does.
Jacks in the Deck will be a long shot. Though he pulled off a major upset last October in the Maryland Million Sprint beating the fabled four-time Maryland-bred Horse of the Year Ben's Cat, Jack's in the Deck has not won since.
"Jack's is going to be a very long shot Friday," Graham says. "He was beaten in his last race, but not by much. He's doing fine and if everything goes his way he can beat these horses."
But the 7-year-old is at a position in his life where Graham is pressed to find him good races.
"He broke his maiden in the Futurity Stakes (G2) at Belmont Park at two and has met all the conditions," she said. "There aren't many choices for him now. I don't want to run him in a claiming race and risk someone claiming him and running him into the ground. When he's done racing, I'll take him home and retire him. But for now he's still good, so why not let him run on Preakness weekend. He's pretty consistent. He's just one of those horses you can't tell what direction to go with him. He's been a sprinter his whole life. We never took the time to stretch him out. Now he might like to do that."
In Look Who's Talking, Graham has a horse whose family she is long familiar.
The filly's grandmother was Gin Talking. Gin Talking was sent to Graham after a very successful 2-year-old season that had left her a nervous wreck.
Graham worked her magic, talking to the horse, calming her, restoring her confidence. Then she sent her back to the race track where Gin Talking won three consecutive stakes, including one against male competitors in the Broad Brush Stakes at Laurel Park. All of it earned her Maryland-bred Horse of the Year in 2000.
Now, with Look Who's Talking, Graham is about to find out if her perspective on the filly's future is correct.
"She won the Juvenile Filly race at Laurel," Graham said, referring to the December 2015 race that's run on dirt. "And I expect her to do better on the grass. This will be my first real opportunity to see her go long on the grass. I think she'll fit best there. We'll see."
Graham says the race, light on speed, is setting up well for Look Who's Talking.
The Maryland native says it also makes her happy to see Maryland's horsemen compete on this star-studded racing weekend.
"You don't just want the out of town guys to come in and win everything," she says. "And I like to run our horses on Preakness Day. Everyone knows about the Preakness, even if they don't know anything else about horseracing. The owners get to participate in something fun and they can tell their friends they ran this weekend."