Nyquist: "Greatness" in a plain brown wrapper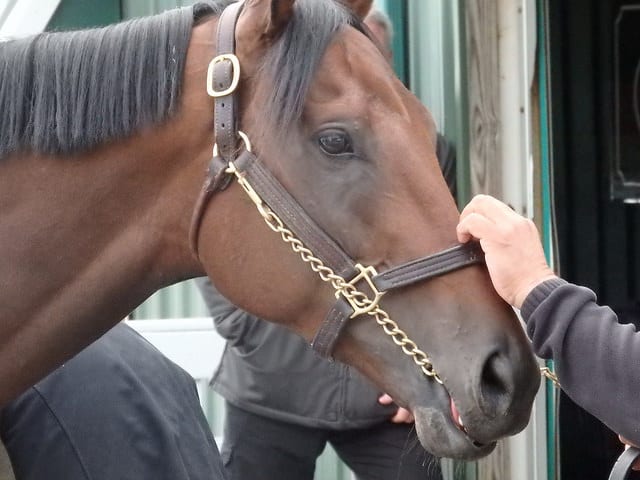 Nyquist. Photo by The Racing Biz.
by Frank Vespe
The look on Doug O'Neill's face bordered on reverence.
Team O'Neill was gathered on the balcony of the Pimlico pressbox high above the track's racing strip Sunday morning. Down below, Nyquist, the undefeated two-year-old champion who had just eight days earlier added the Grade 1 Kentucky Derby to his burgeoning resume, galloped.
"You see him?" one member of Team O'Neill asked another.
"Every beautiful stride," came the response.
As the three-year-old son of Uncle Mo began to slow, a couple of team members — lifelong racetrackers all — clapped for him.
Hundreds of yards away, Nyquist couldn't have heard them and likely wouldn't have known what they were doing had he been able to. But none of that mattered; the champ was in the house.
Which you wouldn't necessarily know if you saw him, say, walking the shedrow.
"One of the primary things we've found in our research is that Mother Nature conceals her leadership," said Kerry Thomas, founder of THT Bloodstock, which calls itself "the only company in the world that specializes in analyzing the mind of the racehorse as it relates to class, distance aptitude, performance and breeding."
That's Nyquist: an unassuming colt clad only in the plainest of plain brown wrappers, who, by the way, has ended every race of his career to date in the same spot: in front. Leadership – concealed.
At a glance, he's eminently forgettable. Without any markings – no blaze on his face, no socks, no nothing – he's another brown horse in a sea of them.
But spend a little time around him, and you begin to pick up what other horses must sense about him: a calmness, and a presence not often found in the equine world.
"He's a special horse," agreed O'Neill. "When you get here in the morning, and you walk down the shedrow and you're able to look in his eye, you know you're right alongside greatness."
While many horses convey a kind of jittery skittishness in their interactions with humans, always ready to flee, Nyquist seems more to be surveying the situation calmly to determine the best course of action.
"The higher you get on the herd dynamic totem pole, the less non-purposeful motion you have," said Thomas. "It's all purposeful motion."
Thomas devoted years to the study of herds, learning how horses interacted with each other and how those interactions revealed to the astute observer which horses were herd leaders and which filled other roles. That study has since become a business, analyzing Thoroughbreds, advising buyers and breeders, and helping trainers and owners.
That study also led THT Bloodstock to give Nyquist the highest "herd dynamic ranking" in the Kentucky Derby.
"Nyquist definitely has that elite herd dynamic presence," Thomas said. "He controls space and influences the environment without being influenced by the environment."
That ability was on full display in the Kentucky Derby. Even with horses near him, Nyquist always seemed to be running in a kind of bubble. He ceded the lead to Danzing Candy early but easily kept that rival in his sights. And when Gun Runner moved up inside of him and then took the lead, the race was still under Nyquist's control.
"As things unfold around you and you're not affected by that, you become a predator of opportunity," said Thomas.
When jockey Mario Gutierrez asked Nyquist for run, he seized the lead back from Gun Runner with the greatest of ease.
That calm assurance has also been on display each day at Pimlico, where Nyquist placidly watches the hordes of reporters and cameramen gathered 'round, paying no mind at all to the giant trucks lumbering around the parking lot or the sirens crying off in the distance.
"It's such a huge asset to have a horse that walks on the track, walks off the track, and in between does what he does," O'Neill said. "He rests a lot in the stall; our main guy here, Marvin, who stays the night with him, says he's even lying down and sleeping three or four hours a night, which is incredible for a horse with this much energy and this much stuff going on. He knows when to rest, and when he's out there and [exercise rider] Jonny [Garcia] calls on him, he gives everything he's got every time."
Thomas gives a lot of the credit for Nyquist's preternatural presence to "the way Doug O'Neill nurtured him along.
"He didn't try to make the horse what the horse was not," he added.
Thomas pointed to the steady but incremental increases in distance in Nyquist's races as one piece of evidence. After debuting at five furlongs, in June at Santa Anita, O'Neill gradually increased the challenges in front of his star pupil: the 6 ½ furlong Best Pal, the 7-furlong Del Mar Futurity, and then a pair of 1 1/16 mile races, the FrontRunner and the Breeders' Cup Juvenile.
"The distance became less of an issue because he was able to develop his psychological confidence and strength," Thomas said.
He might also have pointed the steady routine that Nyquist has maintained, also on display these two weeks at Pimlico: jog a couple miles one day, gallop a mile the next. That's the routine that O'Neill began with Nyquist as a juvenile.
"With the babies, you've got to really go easy on them as you move forward," O'Neill explained. "He could (gallop) on a daily basis, but when he performs the way he has, why do it?"
But O'Neill disclaims any great credit for what his charge has accomplished.
"A horse like Nyquist, you could probably train him 100 different ways and he's still gonna win," O'Neill said. "He's just that good."
He is, indeed, even though, to look at him, you'd never guess. But that goes back to Mother Nature's greatest trick, Thomas pointed out.
"What you don't notice or doesn't seem special," he said. "That's what is special."