McCarthy, Magee claim Laurel Park titles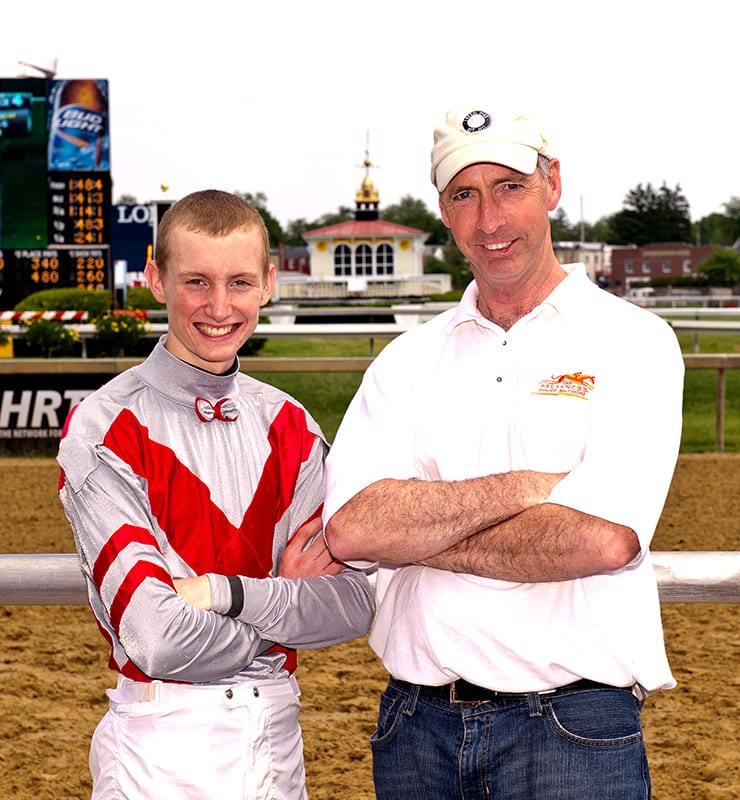 Trevor McCarthy and Kieron Magee. Photo by Jim McCue, Maryland Jockey Club.
From a Maryland Jockey Club release
Jockey Trevor McCarthy and trainer Kieron Magee were crowned champions as Laurel Park concluded its 54-day winter-spring meet Sunday afternoon.
The race for the riding title came down to the final day before McCarthy put an exclamation point on his third Laurel championship with a riding triple aboard Another Badge ($3.80) in the fourth race, Desert Princess ($6.20) in the fifth and Pool Winner ($3.20) in the eighth.
McCarthy finished with 66 wins, six more than Victor Carrasco, who had closed to within one midway through Saturday's card before McCarthy won with five of his last 12 mounts to pull away.
"It feels good that I'm blessed and fortunate enough to have all the trainers and owners and everybody give me a lot of confidence to ride all these good horses," McCarthy said. "When you ride good horses, you win races. It's a big team and they put a lot of effort in, and for them to have the confidence to put me up is huge. My agent, Scott Silver, did a great job and congratulations to Victor Carrasco, too. He's a great friend and a great rider, and he really pushes me to do better and ride harder and smarter."
It was the fourth overall riding title for McCarthy, Maryland's leading jockey in 2014 who missed time last year with injuries. Among his highlights this year were stakes victories in the Frank Whiteley, Miracle Wood and Henry S. Clark, and a thrilling open allowance triumph aboard legend Ben's Cat in the multi-millionaire gelding's 10-year-old debut May 1.
"I rode some really good horses. It's been a nice winter/spring," he said. "I get these huge opportunities to ride good horses for some good people and without them I wouldn't be the rider I am."
Leading trainer in Maryland the past two years, Magee had one winner over the final weekend to finish with 29 victories, five more than runner-up Claudio Gonzalez. It was the third straight Laurel meet title for Magee, following his summer and fall championships in 2015.
"It's always fun to win a title and it's been a lot of fun," Magee said. "We've had some ups and downs but it's always fun to get a title. When I started this with my wife I never thought it would happen so to win is cool, very cool."
Magee is hoping to carry the momentum over to the Preakness Meet at Pimlico, which opens its 28-day stand Thursday at historic Pimlico Race Course. He finished second last year with 21 wins, three behind Jamie Ness.
"I love Pimlico. That's my home," Magee said. "Pimlico is what means more to me so aim high for Pimlico, right?"
On April 9, Laurel hosted the Weber City Miss Stakes and Federico Tesio Stakes, designated for the first time this year as 'Win and You're In' races for the Black-Eyed Susan (G2) and Preakness Stakes (G1), respectively, May 20 and 21 at Pimlico.
Other meet highlights included multiple stakes wins from millionaire Page McKenney in the General George (G3) and Native Dancer Stakes and Sonny Inspired in the Fire Plug and Ben's Cat Stakes; Dancing House's upset of favored Lady Sabelia in the Barbara Fritchie (G2); and record-setting performances on the grass by Seeking Treasure in the Dahlia Stakes and Rose Brier in the Henry S. Clark Stakes.
The Preakness Meet at Pimlico runs through June 26 before returning to Laurel Park July 1.