Virginian Jill Byrne finds home at the racetrack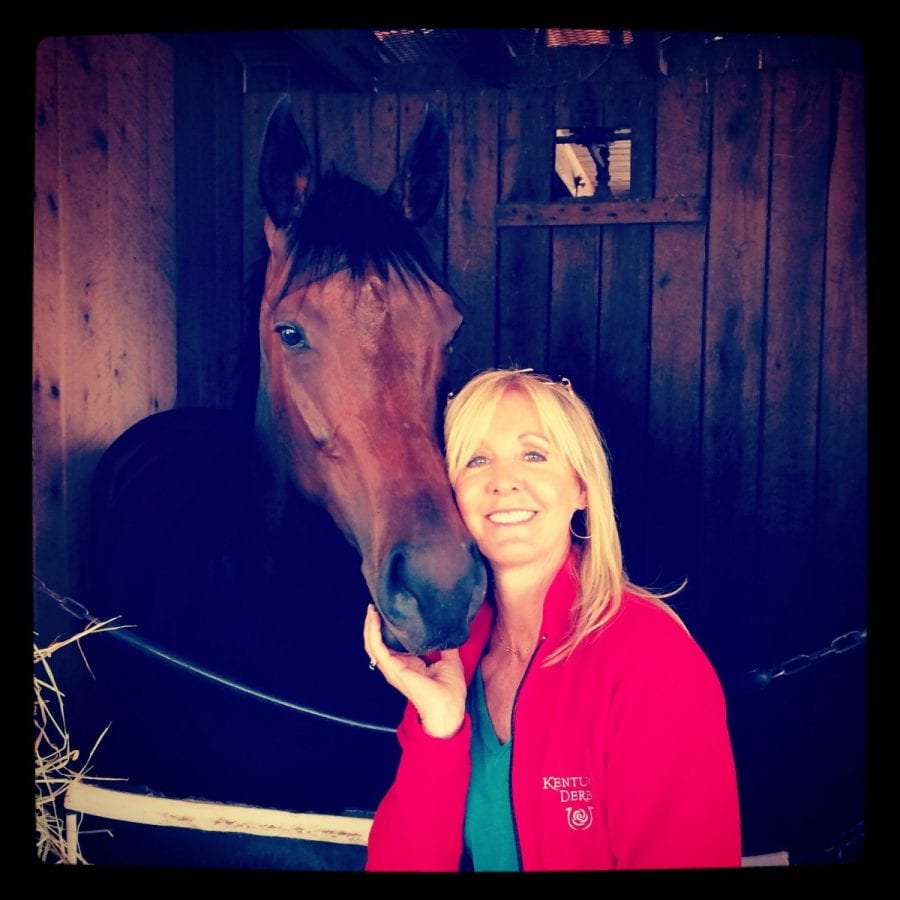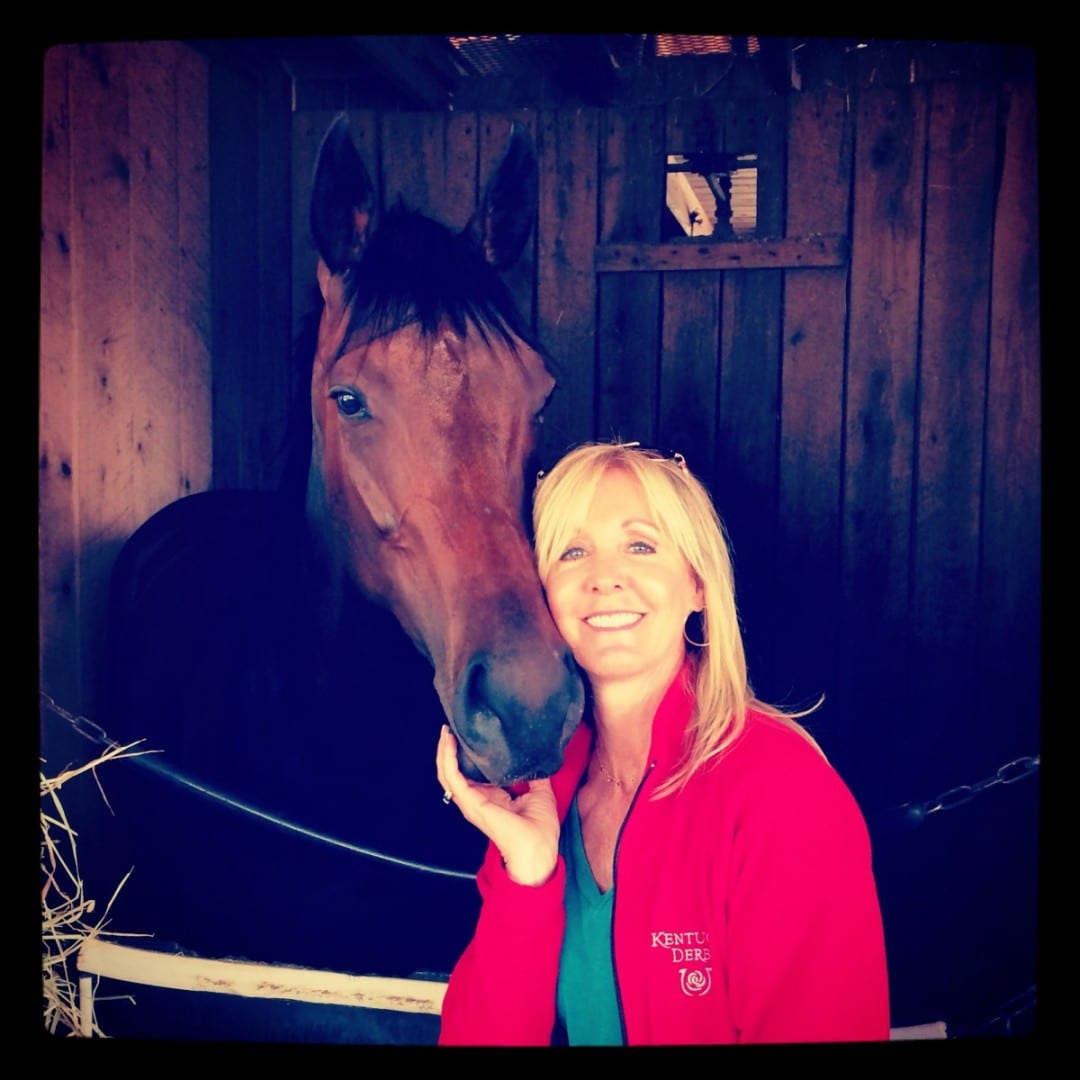 Jill Byrne and friend. Photo courtesy of Jill Byrne.
by Teresa Genaro
She's as closely associated with Churchill Downs as the twin spires, but though she's been a proud resident of the bluegrass for decades, Jill Byrne is a product of Virginia, her childhood spent at one of the Mid-Atlantic's premier racing facilities, the pedigree of which might even challenge that of the historic track in Louisville where she now spends most of her time.
The long-time face of Churchill Downs simulcast race analysis, Byrne moved several years ago from her position in front of the camera to one behind it, overseeing a staff of 25 that this week swells to double that, producing everything from live and archived video of morning workouts to simulcasting shows to programming for the Big Board that towers over the Churchill infield.

Byrne cut her equestrian teeth at Montpelier, the James Madison estate in Virginia that had been purchased by Marion duPont Scott, for whom Byrne's father Peter Howe trained horses, both at the estate's impressive training facilities and at Belmont Park and Saratoga. She remembers coming home from school and meeting her mother at the manor house to visit with Mrs. Scott.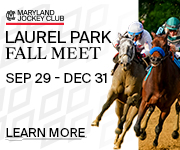 "She would have her servants bring in tea and homemade ice cream on fresh linen on a silver tray," Byrne remembered, speaking from her Churchill Downs office last week. "We'd sit there until we'd get the nod from my mother, and then my sister and I would run through the house and outside, playing hide and seek in the bushes."
It was at Montpelier, at age 12, that she got on her first racehorse. Beginning on the lead ponies for her father's training sets, she graduated to galloping, then to schooling steeplechase horses by the time she hit her mid-teens.
She spent summers with her family at Saratoga; attending boarding school in Dobbs Ferry, NY enabled her to spend her weekends at Belmont Park. Boarding school is also where Byrne became a New York Rangers' fan and met the rock star-like Rangers of the 1980s, players like Ron Duguay and Ron Greschner and Don Maloney.
"We had a tennis coach whose family owned the Felt Forum," she explained, talking about the smaller theater nestled into Madison Square Garden. "He'd take me and my roommate to games, and I got to be a huge fan. After the games, we'd hang out with the Rangers and their model girlfriends."
Following high school graduation, Byrne headed back south to earn a bachelor's degree in history at the University of Virginia. But it didn't take long for her to get back to the racetrack.
"After UVA, I couldn't get back to Belmont fast enough," she said. "I always knew that I wanted to be at the racetrack. That was my home."
She stayed in New York through the late 1980s, working for her father and for Scotty Schulhofer and with her then-husband, trainer Pat Byrne, whom she'd met at Belmont. Along with their daughter Devon, they left New York for Kentucky in the early '90s, a move that changed the course of Byrne's career in the racing industry.
In 1997, when her husband was training the two-year-old Favorite Trick to an undefeated campaign and Horse of the Year honors, Byrne met Jeff Lifson. Now executive vice president of West Point Thoroughbreds, Lifson worked then for Louisville television station WHAS and was covering Favorite Trick's undefeated season. (One of the races the horse won that year was the WHAS-11 Stakes.)
A couple of years later, Lifson was back at Churchill, this time working for TVG's "The Works" pre-Kentucky Derby program.
"He asked my opinion of the horses that were training, and at that point, there weren't a lot of horse people working at TVG," Byrne recalled. "He asked if I wanted to go on the air to talk about the horses, and one thing led to another. I worked for them from 2002 to 2007, covering Churchill and Keeneland for TVG."
She joined Churchill Downs as a full-time race analyst and director of on-air communication in 2009, shifting her responsibilities last year when she became director of programming.
She's carved out a few minutes for a phone interview after having spent her morning on the backstretch, talking to trainers about their horses before moving back to the frontside to supervise the production of the workout videos for the Derby and Oaks horses. As she talks on her office phone, her cell phone rings constantly, and she interrupts an interview to answer what seems to be an urgent question about fibers and cables. The woman whose previous work vocabulary focused on conformation and pace scenarios and class jumps now consults with engineers as a Churchill control room is being constructed from the ground up.
"I know way too many technical terms," she said with a laugh.
Not that she's really complaining.
"I knew that I didn't always want to be 'the talent,'" she said, using the industry term for the people in front of the camera. "When I worked for TVG, I was always the one in the truck, asking questions and talking to producers."
She will still occasionally jump on the air during a paddock conversation, offering an opinion on a race or a horse, but she admits that she doesn't miss the daily grind of handicapping every race card.
"I love being out in the paddock and talking about the races, especially the 2-year-olds and the big fans," she said. "I love talking to fans and owners and trainers and jockeys, but it was overwhelming, the amount of time and investment it took to handicap 10 or 12 races every night."
Her hands are too full these days to spend much time handicapping, but she's followed the Derby trail this year for Churchill, traveling to Fair Grounds and Santa Anita for preps, and though she's no longer poring over past performances, she's still got her eye on the contenders, and she still has an opinion on the big race, now just days away.
"I've liked Mor Spirit for a long time," she said. "And Gun Runner. Mohaymen is training really well at Churchill Downs and you can forgive one race."
And then, pulling together her two great sporting passions, even if the horse is named for a Red Wings player and not one of her beloved Rangers, she added, "You've gotta love Nyquist, speaking of ice hockey. That's a horse that doesn't know how to lose."
Not unlike Byrne herself, who has found success in the show ring and on the backstretch, in the paddock and in front of the camera, and now at the helm of a team that is largely responsible for what viewers on- and off-track will see at Churchill this week.
"It was baptism by fire," she said of the transition to her new role. "But I love a challenge, and I loved learning about the behind-the-scenes part of production and broadcasting, especially when they have to do with horse racing, the Kentucky Derby, and Churchill Downs."