Trainer Marcus Vitali in Maryland limbo – for now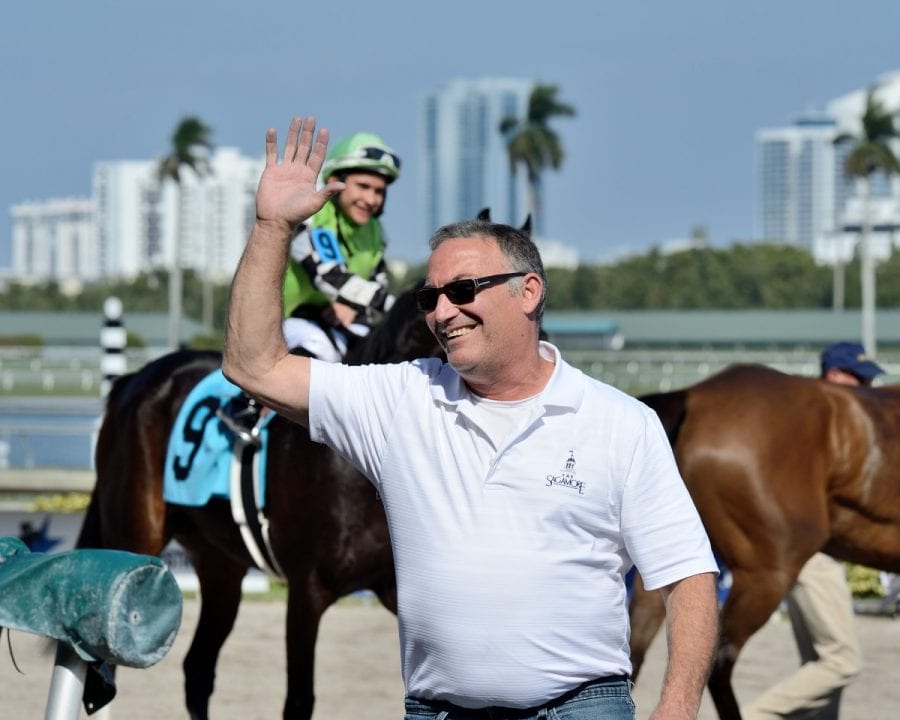 Marcus Vitali. Photo by Lauren King.
by Frank Vespe
Trainer Marcus Vitali, whose decision to base a string of horses at Laurel Park was trumpeted by that racetrack, now finds himself in limbo — until later today, at least.
Track officials said this morning that they expect to make a determination by the end of the day as to whether they will accept future entries from Vitali.  Laurel Park does not take entries on Saturday but does draw for next Friday's card on Sunday.
Vitali has one horse slated to run at Laurel this afternoon and four more on Sunday.  Those entries will be permitted to run.
The Vitali case flared up when the Paulick Report opined (here) that his presence at Laurel demonstrates "how badly the current structure for regulating medication policies in horse racing is broken."
The article outlined that Vitali has received 24 medication positives since 2011, including nine last year and two so far in 2016.  Facing a suspension on the most recent seven alleged violations between October 2015 and January of this year, Vitali, reportedly on the advice of his attorney, surrendered his Florida license.  As a result, the pending cases against him were dismissed, as long as he does not apply for reinstatement; other states are therefore not notified of those pending positives.
Reportedly, the pending positives Vitali received are among a spate of dozens that Florida horsemen received — to their surprise — as a result of changes to Florida's rules that took effect in January.  According to the Daily Racing Form, those rules replaced far more lenient regulations previously in place in the Sunshine State and are modeled on the Racing Medication and Testing Consortium's national uniform medication program.
Among those rules are stricter guidelines on "stacking," or the use of multiple non-steroidal anti-inflammatory drugs.  Under the rules, the NSAIDs flunixin, ketoprofen, and phenylbutazone are permitted up to certain thresholds.  But when two or more are used in concert, the accepted thresholds are dramatically reduced.
The Form article reported a group of 10 Tampa Bay-based trainers had retained counsel and planned to appeal the rulings against them, and at least one trainer told the publication that he had never been made aware of the new rules.  On March 26, the Florida Horsemen's Benevolent and Protective Association placed a notice about stacking on its website because "there have been reports of positive drug tests being called recently" in cases where amount of the drug fell under the primary threshold but was above the allowable threshold for stacked medications.
Regardless of the final disposition of Vitali's most recent cases, he has accrued numerous other positives in recent years.  Early last year, he accepted a consent order that included a 10-day suspension and $3,350 fine for offenses that included eight positives in six different cases, though as part of the order, he neither admitted nor denied responsibility for the positives.  That had been the first ruling against him since 2013.
Maryland — among the earliest adopters of the national uniform medication program — has in recent years cultivated an increasingly "clean racing" image.