Opinion: Congress and "crazy stuff"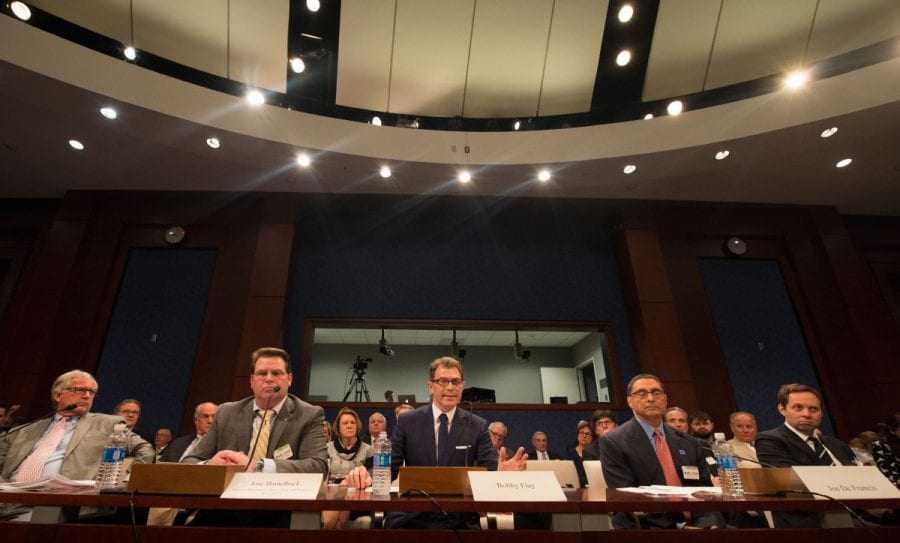 Pictured from left: Craig Fravel, Eric Hamelback, Bobby Flay, Joe De Francis, Chauncey Morris.
by Frank Vespe
"I saw all kinds of crazy stuff," said Rep. Ted Yoho (R-FL) during Thursday's hearing of the Congressional Horse Caucus.
Yoho, a veterinarian by trade, wasn't referring to the hearing, however, which if nothing else demonstrated that a bunch of people who agree with each other tend to, you know, agree with each other.
The hearing, called by Caucus co-chairs Rep. Andy Barr (R-KY) and Rep. Paul Tonko (D-NY), was intended to "discuss a path forward for the Thoroughbred Horseracing Integrity Act of 2015," according to a release.
And so the path forward appeared to involve gathering the bill's supporters to agree how important it is.
"We need a different kind of oversight," said celebrity chef and horse owner Bobby Flay, a member of the board of directors of Breeders' Cup Ltd., which has been an outspoken proponent of the bill. "One big oversight."
The Thoroughbred Horseracing Integrity Act, HR 3084, certainly would provide "one big oversight." It would create a "Thoroughbred Horseracing Anti-Doping Authority" with the charge to take over regulation of medication and testing in racing, mete out whatever punishments it deems appropriate, and to charge racing interests for whatever it costs.
The bill provides "a path to success" for racing's efforts at medication control, added Craig Fravel, Breeders' Cup President and CEO.
"If we try and leave [medication regulation] to the states, it will never, ever happen," declared Joe De Francis, former owner of the Maryland Jockey Club. "We are fiddling while Rome burns."
And speaking of Rome, or at least of foreign countries, Kentucky Thoroughbred Association/Kentucky Thoroughbred Owners and Breeders executive director Chauncey Morris noted, "I think that the leading racing countries around the world… have vertically integrated racing associations and/or racing authorities that are quasi-governmental."
Morris' organization likewise supports the Coalition for Horse Racing Integrity, the industry umbrella group supporting HR 3084.
All of which made for a lot of nodding and me-toos and left National Horsemen's Benevolent and Protective Association executive director Eric J. Hamelback, the lone bill opponent on the panel, in the uncomfortable role of skunk-at-the-garden-party.
"As you see, when states adopt the model rules through the ARCI system, you don't see these problems," he told the panel. "I think most definitely uniformity can be achieved" without federal intervention.
Hamelback's organization, which represents horsemen's groups around the country, has been among the most vocal opponents of HR 3084.
That there is opposition in the industry – and fairly considerable opposition at that – is one problem that the bill faces. Congress generally is loath to step in to solve intra-industry squabbles, which the fight over medication regulation to a large extent is.
"There's no piece of legislation ever that's perfect," suggested Rep. Gregory Meeks (D-NY). "For the good of the sport, why can't we all get together?"
Perhaps we can, but it's unlikely to be around this bill. For one thing, many in the industry fear federal regulation for all the same reasons that many Americans do.
For another, many rank-and-file horsemen see the bill as a stalking horse for prohibiting raceday Lasix. Fravel, whose organization unsuccessfully experimented with Lasix-free juvenile races, struck a philosophical note – "If we happen to lose on the Lasix issue down the road, I guess that's the price we pay for a good system," he said – but after hearing Flay describe the medication as performance-enhancing and De Francis describe America's permissiveness on Lasix as "literally a joke" to international horsemen, it's unlikely horsemen favoring Lasix will feel comforted by yesterday's hearing.
And there's another matter. A Congressional Research Service analysis requested by Rep. joe Pitts (R-PA), who has introduced competing legislation, suggests that HR 3084 may raise "constitutional concerns." "A strong argument can be made" that the Thoroughbred Horseracing Integrity Act delegates "the kinds of regulatory and enforcement powers that would implicate these concerns," the analysis says.
HR 3084 is one of a handful of racing-related bills currently pending in Congress. Pitts has a competing bill, HR 2641, and two other bills would simply repeal the Interstate Horseracing Act, which would have the effect of ending interstate wagering on racing – a truly disastrous outcome for the sport.
And then, of course, there is the Association of Racing Commissioners International's ongoing series of "town hall meetings" to seek consensus within the industry on how best to regulate medication.
All of which is to say that horse racing is doing what horse racing often does: proceeding in many different, and often opposing, directions at once. Crazy stuff, indeed.
[su_box title="
HORSE CAUCUS HEARING DATA
" style="glass"]
WHAT: Congressional Horse Caucus hearing on "Integrity in horse racing, strategies to eliminate doping in the sport of kings."
WHO: Caucus co-chairs Rep. Andy Barr (R-KY) and Rep. Paul Tonko (D-NY) plus other members of the caucus; panelists Craig Fravel (Breeders' Cup), Eric Hamelback (National HBPA), Bobby Flay (Breeders' Cup), Joe De Francis (former owner of the Maryland Jockey Club), and Chauncey Morris (Kentucky Thoroughbred Association).
WHEN: April 28, 2016
MAIN FOCUS: HR 3084, The Thoroughbred Horseracing Integrity Act of 2015.
[/su_box]