For Emily Daignault-Salvaggio, saving horses and changing mindsets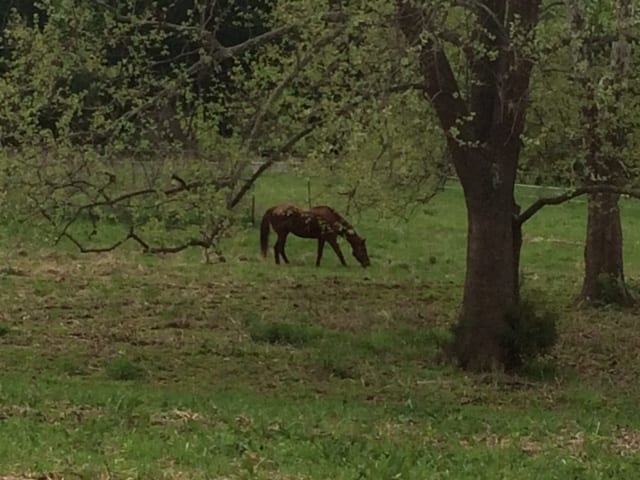 L'Animaux in his new home. Photo by Eileen Rectenwald Foster.
by Teresa Genaro
In early March, Emily Daignault-Salvaggio logged onto Facebook and saw that her friend Bev Strauss, the co-founder and president of Mid-Atlantic Horse Rescue, had tagged her in a post.
When she clicked on it, her heart sank.
Staring at her from the screen was a familiar face, a chestnut horse that she had, months earlier, worked to find a home for, posting the retired Thoroughbred on her Horses Looking for Homes page. She'd been unsuccessful, and now L'Animaux, a seven-year-old gelding by Leroidesanimaux, was at the New Holland auction in Pennsylvania, likely headed to a kill buyer and then to a slaughterhouse.
Daignault-Salvaggio knows her OTTBs. Growing up in Maryland, she attended Oldfields School in Glencoe (disclosure: the author started teaching at Oldfields the year after Daignault-Salvaggio graduated), a boarding school known for its equine program. She rode show horses then headed to the track, galloping in California for John Shirreffs and Richard Mandella, riding The Tin Man among other Mandella charges. Closer to home, she was the regular exercise rider for Scrappy T, second in the 2005 Preakness, and rode for Michael Matz, Bruce Jackson, and Doug Fouts.
Now, she works in one of the offices at the New Bolton Center in Kennett Square, Pennsylvania, but she continues riding for pleasure. She and Gin Joint won the field hunter division of the Thoroughbred Makeover in Kentucky last year, and she owns a handful of OTTBs and a racehorse. She also, in whatever spare time she has, works with trainers at Parx to help find homes for their horses whose racing days are done.
That's how she got hooked up with trainer Tom Fuchs, who last fall asked her to take some pictures of four horses he had who needed new homes. They were on a farm in New Jersey, so she headed there to check them out.
"He had four nice horses—I was tempted to take one of them myself—but for the love of anything, we couldn't get any of them moved," she said.
She posted them on her Facebook page, she bumped them to the top of the stream, but nothing. Later in the year, she saw them posted at CANTER Mid-Atlantic and at Delaware Park, and then she lost sight of them.
Until Strauss's Facebook post.
Gail Hirt of Beyond the Roses mobilized her prodigious resources, and within hours, around $750 had been raised, enough to bail L'Animaux and get him in quarantine.
That's when Eileen Rectendwald Foster stepped in.
"I didn't know a thing about him," she said, remembering when she saw him on Hirt's Facebook page. "Nothing except that he was beautiful and had a wonderful eye."
She already had five retired horses, including a couple of Thoroughbreds, but she didn't hesitate to step forward to adopt Animal, as she calls him, as enough money had been raised to ship him to her Columbia, Missouri farm.
Now, he lives in a paddock with Under Like Thunder, another retired racehorse.
"They're buddies," said Foster. "Wherever there's one, there's the other. It's almost like they know what the other one went through."
Animal was thin when he got to her, and she'd heard rumors that he'd been aggressive and a little lame. She has seen little evidence of either.
"Every once in a while he looks like he's a little bit off, but not all the time," she said. "Sometimes he just looks so smooth. And there have been no aggression issues at all. He comes running to the fence when it's time to bring him in. We're handling him a lot and he's super chill."
She's hoping that with a little chiropractic work and a little more weight, he'll become a pleasure horse, like some of his stablemates, and she's grateful to Hirt for giving her the chance to bring him home.
"Gail is awesome," she said. "She does so much to get these guys out of situations like that."
How exactly Animal ended up at New Holland is unclear, as it so often is in these cases. Fuchs thought he'd found a good home for his horse, only to be shocked when Daignault-Salvaggio told him what had happened.
"I know what it felt like to see a face that I've pet behind the walls of a kill pen," she wrote on her Facebook page. "To know the sound of pain in an owner's voice who thought he'd sold his animal to a safe home."
She'll probably never know who brought Animal to New Holland, and she's OK with that.
"I've gotten some criticism for not going after the person who had him, but I just don't feel like that's the deal," she said. "The horse is my concern. We can't stop humans from hurting dogs, kids, cats. We can't do anything about the fact that the person who had him for a while is an idiot. All I can do is try to improve his life."
She wondered, at first, if she should hold herself responsible.
"Tom called me many times, asked how to improve our chances and I struggled to find the answers," she wrote. "Should I have used a different picture? Would the video have been better from a different angle? Should we have pulled his mane on the spot? All of this I wondered as the months dragged on."
She also questions the people who looked at his adoption page and turned away, perhaps because of a reported minor breathing issue, perhaps because of his looks.
"BECAUSE someone was worried about a disclosed breathing 'being an issue' they ran from a sound horse. EVEN THOUGH the chances that it would be an issue for 80% of the sport horse world is low.
"BECAUSE he only had white on his face as a star and not a blaze and flashy white socks, someone kept looking because they want to have the horse that is the 'fancy' or 'prettier' horse.
"BECAUSE you thought Bridgeton was too far to drive, this horse and the 3 others with him, had to wait months to find homes, and this one's home turned out not to be a safe one."
In a lengthy post (which you can read in full here), she went on, challenging prospective adopters and buyers of off-track Thoroughbreds:
"You all DO NOT NEED horses that are perfect on vettings. You NEED horses that will do the job you ask of them…Horses with tie backs, roarers, old bows, chips, sesamoid fractures, curbs, suspensories, healed fractures and more have all managed to come back with proper care and likely KICKED YOUR ASS at the local rinky dink horse show on your perfectly vetted horse.
"Can you talk to a vet and see what kinds of past injuries may actually work for a horse for your task? Could you consider a less flashy horse? Could you volunteer at a local horse rescue so you see what the work they do is like?"
Daignault-Salvaggio makes no money off the horses she works with off the track. She posts them, she connects buyer and seller, and she bids them farewell, glad that they're off to a safe and happy home. She'll keep doing it, but she knows that in order for horses to find homes, the mindset of the people looking for an OTTB needs to change.
"Today 1 horse was 'saved' but not by me," she concluded. "By himself. By whatever he did that allowed that kill buyer to buy him and think that he would make him a profit 5 days later. He was a better judge of which horse to buy than any of the rest of us. He bought a horse for the task he had. He's now making money and magically the horse won't be dog food. But that guy's lot is burgeoning full of other horses….We as a group today helped 1 horse get out. So I am asking you all, what will you do to help more horses never to get there?"