Trainer Larry Jones among top Delaware Park returnees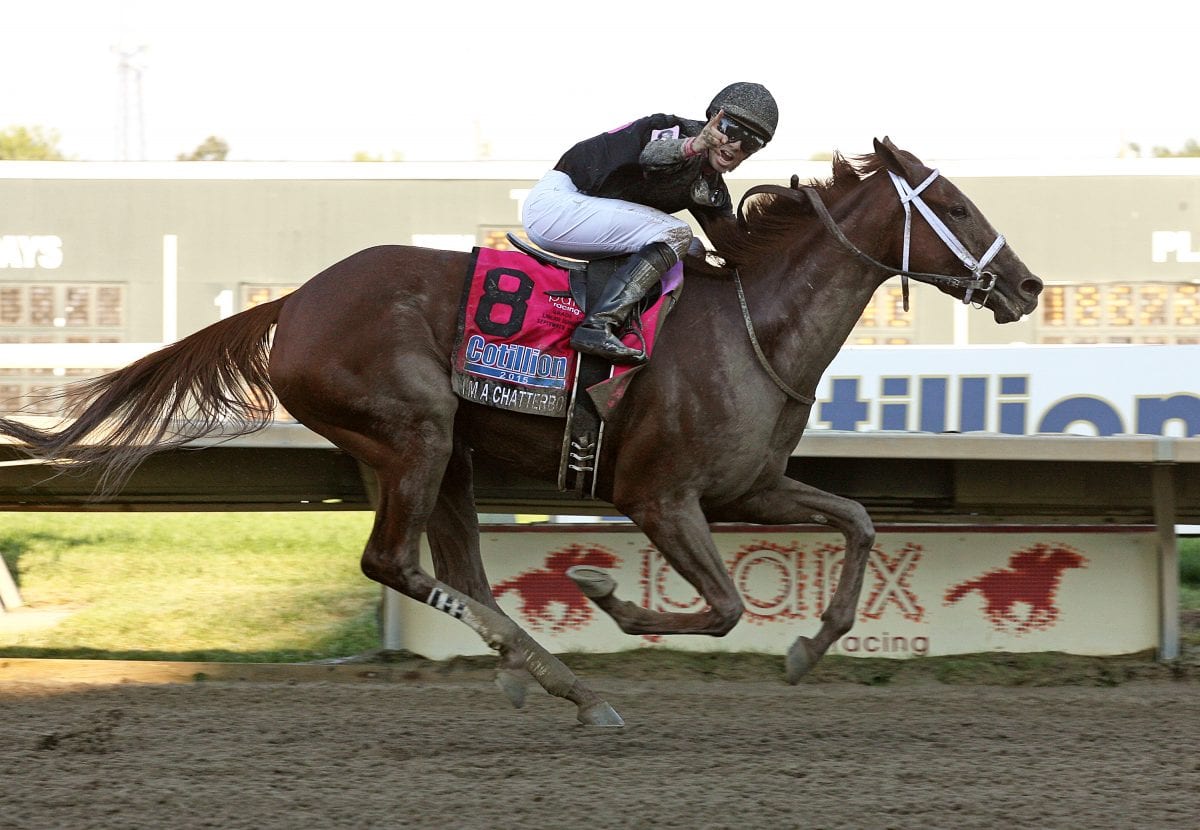 I'm a Chatterbox. . Photo By Barbara Weidl/EQUI-PHOTO
From a Delaware Park release
Legendary trainer J. Larry Jones will return to Delaware Park during the 79th season of live racing, beginning on Saturday, May 21.
Jones has been among the most successful trainers at Delaware Park over the last 15 years.  Among the 32 2-year-olds who have broken their maidens at Delaware Park and gone on to win graded races, Jones has trained 11, including the ill-fated Eight Belles, Friesan Fire, Hard Spun, Havre de Grace, Joyful Victory, Mark Valeski, Mr. Bowling and Old Fashioned.
In 2005, Jones won the Delaware Handicap with Island Sand.  The next year, he moved his entire operation to Delaware Park and since then has developed filly and mare superstars like Believe You Can, Eight Belles, Lovely Maria, Proud Spell and Havre de Grace at the historic Stanton-oval.
These days, Jones has been preparing full-force for the upcoming live racing season.
"We had a good winter," said trainer J. Larry Jones. "We did not come out of the Fair Grounds with a Derby or Oaks horse, but we came out with some pretty nice horses. We ran a couple of seconds in stake races with Midnight On Oconee, so we will be focusing her on the Delaware Oaks. We also got I'm a Chatterbox coming back and one of her major objectives this season is the Delaware Handicap."
Jones also commented on the range of horses he will be debuting and returning.
"We are coming in with a barn full of horses. I have 60 stalls and we are going to have a nice mix," he said. "We are going to be bringing in a nice bunch of 2-year-olds, so hopefully they can make splashes like we have had in the past. The 2-year-olds make it exciting because you never know what you have until they start running. We are hoping we get another Hard Spun or Proud Spell."
In 1953, the Delaware Handicap became the first race worth $100,000 or more exclusively for fillies and mares. Ever since, people have said, "With a filly or mare, go to Delaware." Living out that adage, Jones believes Delaware Park is a makes a tremendous impact in the careers of promising young horses.
"I love the facility, especially for young horses," he said. "Delaware has the old fashioned horse paths and the barn area is set up to be horse friendly. It means a lot to some of these young horses and in a lot of cases it can make a difference in development. We have been very blessed. We have had Lovely Maria, Believe You Can, Eight Belles and so many more start brilliant careers at Delaware Park. We have had a lot of success bringing young horses to Delaware. It has been working for us, so we are going to stay at it."
Others making preparations for the 2016 season at Delaware Park include Jamie Ness, H. Graham Motion; Tim Ritchey, Randy Allen, Randy Nunley, Sam Cronk, Michael Gorham, Anthony Pecoraro, Louis Albertrani, John Rigaterri, Jonathan Sheppard, Bill Sienkewicz, Thomas Proctor, Mark Reid, Tim Ice, Bobby Raymond, Harold Wyner, Baltazar Galvan, Ron Potts, Arnaud Delacour, Scott Lake, Ronald Alfano, Keith Nations, Kelly Rubley, George Leonard III, Gerald Bennett and Scott Lake.
Opening day at Delaware Park is May 21.  Delaware Park's premier races, the Delaware Oaks (Gr. III) and the Delaware Handicap (Gr. I), will be held on July 9th and July 16th, respectively.