Metaboss to make long-awaited return at Laurel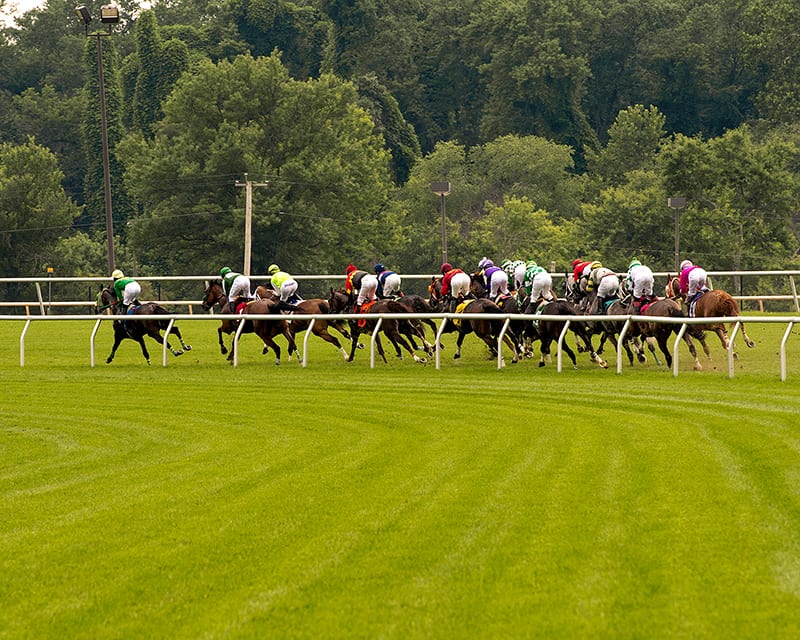 Photo by Jim McCue, Maryland Jockey Club.
From a Maryland Jockey Club release
A carefully crafted plan to bring Grade 3 winner Metaboss back to the races will culminate late Friday afternoon at Laurel Park, when the 4-year-old colt launches his comeback in a one-mile optional claiming allowance over the Kelso Turf Course.
It will be the first race in 13 months for the chestnut son of multiple Grade 1 winner Street Boss, since finishing sixth as the favorite in the Spiral Stakes (G3) last March. Winner of the 2015 El Camino Real Derby (G3) at Golden Gate in his previous start, he was injured training for the American Turf Stakes (G2) at Churchill Downs and ultimately needed surgery to remove an ankle chip.
Owned by a partnership headed by California-based bloodstock agent Mersad Metanovic, who purchased Metaboss as a weanling for $10,000, he has been prepping for his comeback since November at trainer Michael Dickinson's Tapeta Farm in North East, Md.
He will break from post six in a field of 16 that includes five also-eligibles. Horacio Karamanos is named to ride at 120 pounds, four less than co-highweights Mutasaawy, John Jones and I'm the Lucky One.
Metanovic, 44, and another partner, Nevada-based Daniel Preiss, are among the ownership group that will be represented at Laurel.
"It's been a long journey back. There's a lot of good people along the way that helped him get back," Metanovic said. "It's been a nice journey, very enjoyable. These guys have done a great job of bringing him back."
Previously based in California with trainer Jeff Bonde, Metaboss made the first five starts of his career there capped by a dramatic late run on the outside to capture the 1 1/8-mile El Camino Real by 2 ½ lengths, six weeks after breaking his maiden over the Santa Anita turf.
A disappointing effort in the Spiral, his second straight try over a synthetic surface, had his connections looking at a return to the grass before he was injured. He remained in Kentucky with veterinarian Dr. Phil Hammock before being moved to WinStar Farm.
"I put a lot of time in between the things that we did. We got everything ready in a timely fashion," Metanovic said. "This was planned very carefully. Just like when I ran him, all the races that he had I hand-picked every race. Besides my wife and my girls, my next biggest joy is that horse. To spend 10 grand and have a horse like him in my possession is amazing. Amazing."
Though the plan was always to bring Metaboss back to the races, it wasn't until Dickinson announced last August that he planned to return to training after nine years away that Metanovic knew how the horse would get there.
"He was always going to come back; it was just a matter of finding the right fit for him. The right fit for him was in a place like Michael has," he said. "Michael treats every horse like an individual, not like a factory where most trainers train every horse the same. If anybody is going to bring a horse back off an injury, he's the man. He is a lot of fun to deal with. He does things differently, definitely."
Dickinson, 66, gained renown for Da Hoss' victory in the 1998 Breeders' Cup Mile (G1), which came with only one start since winning the same race two years earlier. Metaboss will be just his second starter of the year; he won with filly Tide Is High on April 2 at Laurel.
"To win off a layoff you have to have the best horse in the race. It's that simple, really. If you've got the best horse, you've got a chance," Dickinson said. "He's a lovely horse. He's very competitive. He's got great character. We had to nurse him to begin with but recently he's been training very well and he's doing great. He's not 100 percent peak fit, but he's fit enough to win on Friday."
The 1 1/16-mile Dixie Stakes (G2) on grass, to be run for the 115th time on Preakness Day, May 21, at Pimlico Race Course, could be a potential stakes return for Metaboss, though the decision will be entirely up to Dickinson.
"I told Michael, I will not pressure him where to run the horse because I respect him too much as a trainer and what he's done for this horse," Metanovic said. "Believe me, I would love to be there but it's all up to Michael and how he thinks the horse is progressing and how the horse is coming into the race. We've just got to be smart about it. There's a lot of big races that we're looking forward to for the whole year."
Metaboss shows eight works at Tapeta Farm for his comeback, five of them over one of the three turf courses on the grounds and three on the all-weather surface. On Monday, he was timed in 1:01.60 for five furlongs on the grass.
"To be honest with you we're happy to have him back running. He is 100 percent healthy. I don't know if Michael tightened up the screws as much as he would have liked but this race will give him a really good solid foundation for the future. The horse should give a good account of himself," Metanovic said. "Just based on class we feel that he'll run very well and we feel that we've got a good horse. Talking with Michael, he's done everything right leading into this. I'd be lying if we don't expect a good race but we'd like for him to show off his turn of foot. He'll probably sit somewhere covered up behind somebody and when it's time to roll you'll see something pretty fascinating."
Despite an eye-catching victory at Golden Gate, Metanovic doesn't feel Metaboss is compromised or limited by his late-running style.
"The funny part about it is, people say he needs pace to run at. Not really. He does not need pace to run at, at all," he said. "He can run. That's who he is. It doesn't matter what's in front, the horse is very, very talented and he can run. You'll get a good idea watching him on Friday."