Monmouth Park set for exchange wagering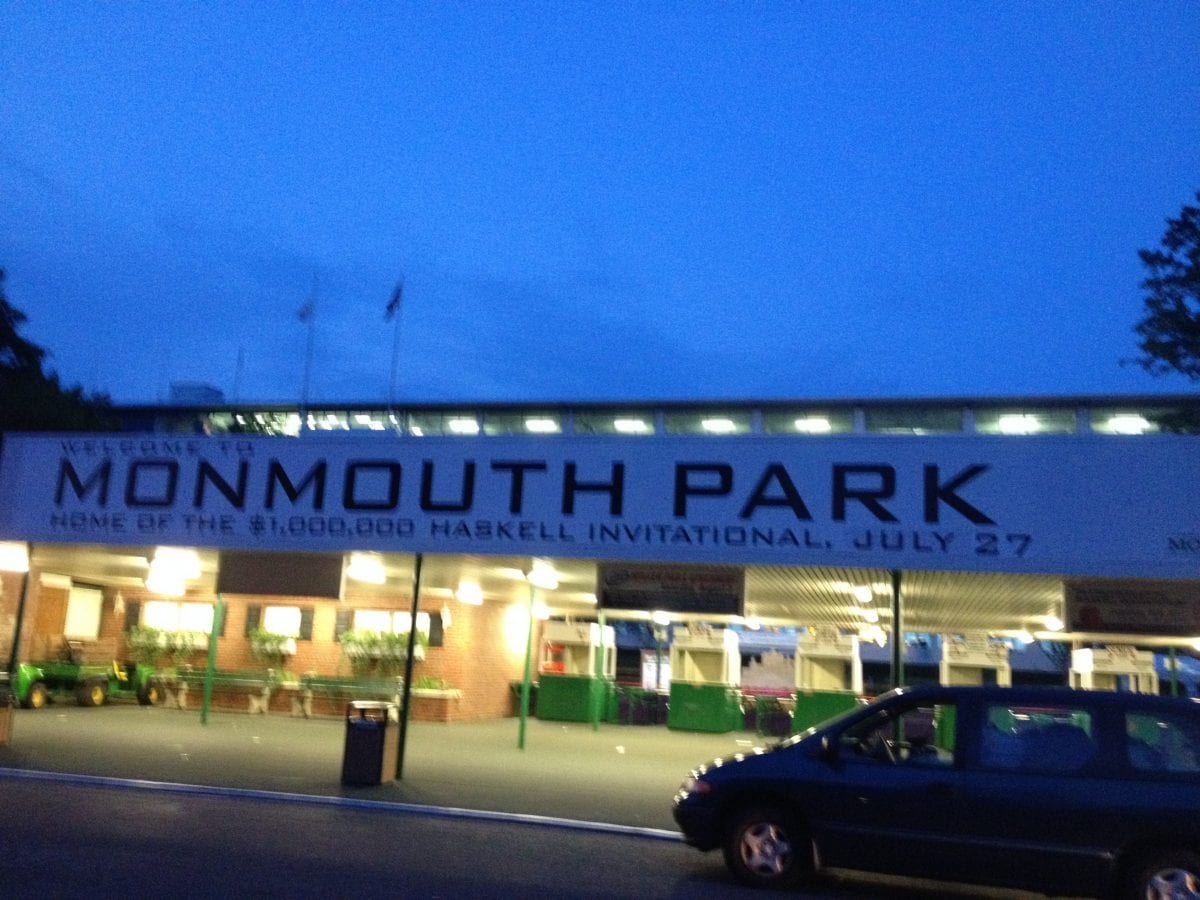 by Jim Hague
New Jersey is all set to introduce exchange wagering at Monmouth Park a few days in advance of Monmouth's opening day for live racing next month.
According to officials from both Betfair US, the operator of the world's largest exchange wagering business, and Darby Development, which runs Monmouth Park, the unique fixed odds, head-to-head form of pari-mutuel wagering will make its United States debut at Monmouth May 10, four days before the opener of Monmouth's summer meet.
The announcement was made last week at an instructional and informational press conference held at the Meadowlands Race Track.
New Jersey will be the first state in the United States to offer exchange wagering. The form of wagering is extremely popular in other parts of the world, especially in Great Britain.
"We're proud to be involved to bring exchange wagering to the United States," said Dennis Drazin, the president and CEO of Darby Development. "We've been a leader in trying to get this done here. It was signed into law in New Jersey in 2011. We're confident that exchange wagering with appeal to a younger demographic and will bring more people to the track."
Betfair US will be the one accepting the wagering, with Monmouth Park set to receive an undisclosed amount per wager as the operator. Only residents of New Jersey will be able to partake in the exchange wagering, either online (www.4njbets.com or www.TVG.com) or directly at Monmouth Park. All other bettors will be blocked through a security system.
"This is definitely the next big step forward for us," said Kip Levin, the CEO of Betfair US, which also owns the popular television racing network TVG. "We started discussions soon after we bought TVG in 2009."
Drazin estimated the current demographic of the average horse bettor at Monmouth Park to be around 60 years old. Eventually, that fan base will disappear.
"But the average customer in exchange wagering is in their 30s, the Wall Streeters, the fast-paced crowd," Drazin said. "We have been actively engaged in trying to bring new ways for our customers to be entertained. This has an in-race betting feature with more action. It's quicker. We want the fan who wants to have a fun, different experience. We want to offer our customers other opportunities besides the traditional pari-mutuel bet. This is a new form of entertainment."
It's a form of wagering that is geared toward the technologically savvy, like the stock traders who are glued to their tablets and smart phones, making one transaction after another.
Betfair is gambling that the new form of wagering will take hold at Monmouth Park and will encourage other race tracks around the country to do the same. In exchange wagering, bets are matched between players who want to wager on a certain horse and outcome and those who are willing to take on the bet at a certain price.
The major difference that also comes in exchange wagering is that a bettor can make wagers after the race has gone off and during the race itself.
"Say a bettor bets on a horse and that horse gets off to a slow start," Drazin said. "Well, then, the bettor has the chance to change his mind and bet on another one."
It also allows the bettor to seek better odds on the horse of his or her choice, going up directly against someone who might be willing to take on the odds. Exchange wagering also offers a "Cash Out" option, which will allow the bettor to opt out of a wager before the race is complete, to prevent a significant loss or secure a profit.
"If you can play while a race is going on, your attention is much more focused on what's going on during the race," Drazin said. "With the typical player, you make a bet and it's over. You wait for the result and that's it. If you're betting as the race is going on, there's excitement the whole way. I think people will be intrigued by this form and want to try it."
For now, exchange wagering will be limited.  A Betfair simluator (http://us.betfair.com/hr-simulator) allows only win wagering for bettors who wish to back a horse, but it also allows players to "lay" (bet against) a runner.  Betting on races with exchange wagering will not close until the first horse crosses the finish line. In conventional wagering, all wagers are closed once the bell sounds to start a race.
"Our experience in the UK and other markets has proven that exchange wagering is an attractive prospect for consumers and it can bring new customers, increase engagement and bring new revenue to horse racing," Levin said.
Betfair controls and manages the pools and then takes a 12 percent commission on winning wagers and in turn will offer a portion of that to the tracks that carry the exchange wagering.
There has been some concern that the exchange wagering will cut into the traditional forms of horse betting, but until there is data to prove that, the belief is speculative. So the launch is set.
The net result of all of this, Darby Development hopes, is more overall revenue for Monmouth Park. In turn, that could lead to better purses for the owners and could lead to more race dates at Monmouth.
"You could see us going from three days a week to four," Drazin said. "It's possible."
When Darby Development took over operations of Monmouth Park from the New Jersey Sports and Exposition Authority (NJSEA) four years ago, the number of race days was shaved down and the race week was cut to just weekends.
"As time goes on, I think this is going to catch fire and the entire country will look at overall wagering in a new way," Drazin said. "I think we can grow our handle over all and there will be a younger generation that will be exposed to a wagering format that is more exciting."
Legislation for exchange wagering has already been passed in California. Race tracks there are taking a "wait-and-see" approach to see how exchange wagering works in New Jersey. For now Betfair has centered its interests in the Garden State.
"We've been focused on New Jersey," Levin said. "It is a great launch place. Because we operate 4njbets.com, we can truly look at the data and get a precise feel for the impact on the business in New Jersey. I think we can then take this to rest of the industry. This is going to make for a great test case. We are hopeful we will get there in California shortly and that other states will take a look at what's happening here and want to be involved as well."