Rose Brier blazes to track record in Clark win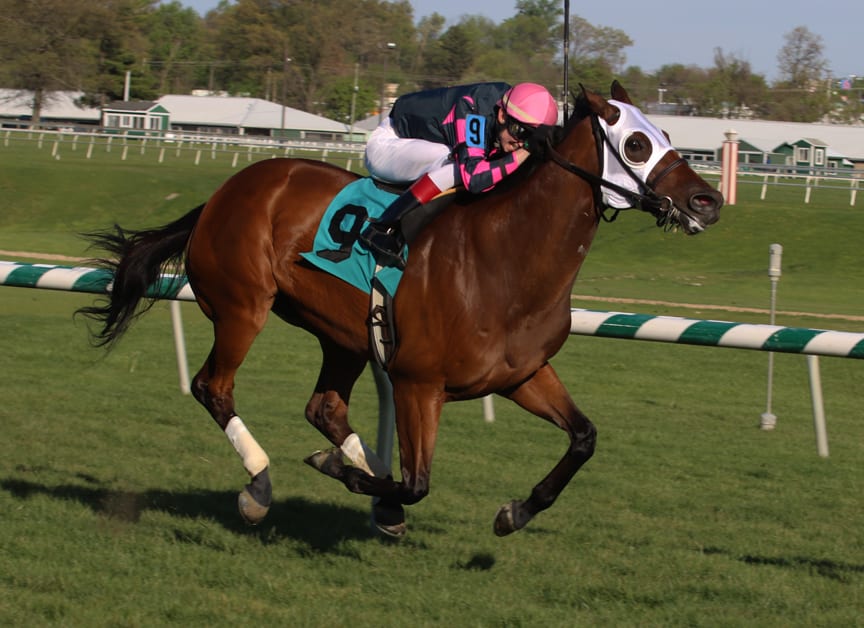 Rose Brier. Photo by Laurie Asseo.
From a Maryland Jockey Club release
Panic Stable's Rose Brier made a record-setting return to Laurel Park on Saturday, leading from start to finish and holding off a late bid from Golden Sabre for a 1 ¼-length win the $75,000 Henry S. Clark Stakes.
Trained by Jane Cibelli with meet-leading rider Trevor McCarthy aboard, Rose Brier remained undefeated in three lifetime starts on the Laurel turf, all in stakes, after running one mile in 1:33.11 over a course labeled good.
The winning time broke the Kelso Turf Course record of 1:33.3 set by Saint Pierre on Sept. 7, 2012. Last Saturday, Seeking Treasure broke the Bowling Green course record in the $75,000 Dahlia Stakes, also at a mile.
It was the second straight front-running victory for Rose Brier ($7.20), coming off a half-length win going 1 1/16 miles March 29 at Gulfstream Park in his 7-year-old debut. He closed 2015 with a two-length triumph Sept. 26 in the Bert Allen Stakes at Laurel, his second straight win in that race, both also with McCarthy.
"The older he gets it seems like the sharper he gets and the better he gets," McCarthy said. "Today, he just jumped out of the gate and was like, 'Hey, let's go. I'm ready.' I let him do his thing and he relaxed out there real nice."
Rose Brier broke sharply and went straight to the front, with 2015 Maryland-bred turf champion Phlash Phelps on his right flank through a quarter-mile in 23.96 seconds, a half in 46.93 and six furlongs in 1:10.06.
The two turned for home together and Rose Brier had something left to pull away from Phlash Phelps in the final sixteenth and turn back Golden Sabre's dramatic run along the rail for his third straight victory.
"It was a pretty quick pace and the course was fast. I was a bit nervous with him on the front but, me and him, we get along great. He's a cool horse. He's just great and does everything right. He's starting to be one of my favorite horses. I just want to thank Jane and the whole crew, everybody. They do such a good job with him and I'm just so delighted that I get to ride him every time."
Edge of Reality, Special Envoy, Call First and Dynamic Strike completed the order of finish. Cage Fighter, the narrow 2-1 favorite, was pulled up in upper stretch after encountering problems with both front shoes, according to the state veterinarian. Mister Brightside, Golden Glint and Blacktype were scratched.
"The horse was coming off a little bit of a layoff and broke sharp down at Gulfstream and ran a huge race," said Cibelli's assistant, Mark Hartman. "He broke sharp again today. He's been showing a little speed, which is kind of unusual for him but I guess maybe he's changed his style of running. We were expecting him to run big, we really were. He's been training really, really well."