With strong hand, Casey hoping for "lucky" Saturday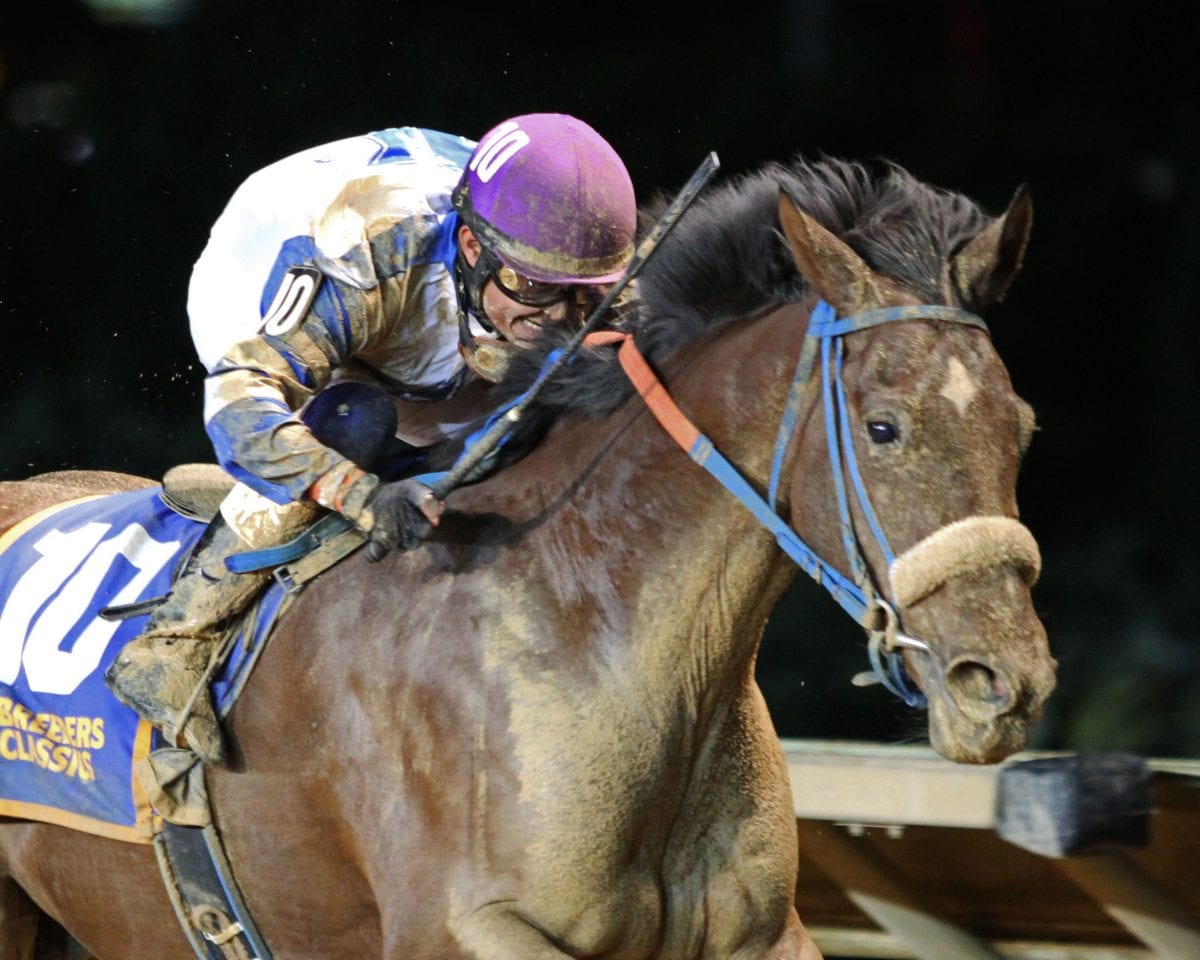 Charitable Annuity. Photo by Coady Photography.
by Ted Black
It is not uncommon to see longtime, prominent owner, trainer and breeder James W. Casey have an impact on state-bred allowance and stakes races at Charles Town, or to see him thrive at the West Virginia Breeders Classics.
But this Saturday the perennial fixture at the Jefferson County oval is hoping to garner a portion of the limelight not just on the undercard but also perhaps even in the featured Grade 2, $1.25 million Charles Town Classic.
As part of a bevy of Casey runners Saturday, the veteran conditioner will send out the winners of the last two editions of the $500,000 West Virginia Breeders Classic, fan favorite Russell Road and 2015 champ Charitable Annuity.
In fact, Casey will saddle Charitable Annuity in the big race, the Charles Town Classic. A four-year-old Charitable Man gelding trained by Casey for owner Mark Russell of Russell Road fame, Charitable Annuity drew post two in the field of 10 horses slated to go postward in the Classic at 6:05 p.m. Saturday, the penultimate race on the program. Regular pilot Antonio Lopez will be in the irons.
"He definitely loves the distance," Casey said of Charitable Annuity's affinity for the one-mile and one-eighth distance. "His first two starts this year were both at seven furlongs, and those races were just too short for him. But he's been training great since then. I liked his latest race. I know Mark was a little disappointed with him, but I thought he ran well at the end. The company is a lot tougher this weekend, but the distance should be just right for him."
Charitable Annuity owns a spotless two-for-two ledger at the nine-furlong trip, having captured both the $500,000 West Virginia Breeders Classic and the A Huevo Stakes in his final two outings last fall.
Unraced at age two, Charitable Annuity won seven of 10 starts and earned nearly $360,000 last year, ending his sophomore campaign with sharp scores against state-bred foes in the WVBC and the A Huevo in almost identical clockings of 1:52.06 and 1:52.03, respectively. His first two starts this year were in open allowance events at seven furlongs, where his late rallies could only net him fourth- and third-place finishes, respectively. Saturday's appearance in the Classic will be his first against open stakes foes, let alone graded stakes company. Oddly enough, it will actually occur exactly four years to the day that he was foaled.
"It's the toughest test that he's faced, but if we can work out a trip and get lucky, then I can see him finishing fourth or fifth," Casey said. "It will cost Mark $5,000 to run him and he will get at least $10,000 for finishing seventh through 10th, so he will make a few bucks on the deal. But I've always been high on this horse. I know he loves the distance and he has had a couple of races under his belt this year, so he should be ready for his best effort. It's definitely a lot better group than he's ever faced before."
Three of the entrants in the Charles Town Classic exit the Grade I, $1 million Santa Anita Handicap. Hard Aces finished second in the Big 'Cap at 22-1, while Imperative took fourth as the 4-1 third choice, and Donworth was a troubled seventh as the 5-2 second choice.
Effinex and Melatonin, who were third and first in the Big 'Cap, finished one-two in the Grade 2, $750,000 Oaklawn Handicap last Saturday on the Arkansas Derby undercard. Imperative won the 2014 edition of the Charles Town Classic then was second in the event last year when Moreno prevailed in stakes and track record time of 1:48.81 for the nine furlongs.
Several races before sending out Charitable Annuity, Casey will saddle Russell Road for his 10-year-old debut in the $50,000 Confucius Stakes for state-bred older runners at seven furlongs. Russell Road won the Confucius Say in his seasonal debut one year ago, but he only won once in four subsequent starts and has not raced since a disappointing ninth-place finish in the West Virginia Breeders Classic.
Casey admitted that the Wheaton gelding will have an even more limited campaign this season. Russell Road has won 30 of 58 starts and banked over $1.964 million, and a second straight win in the Confucius Say would push his career bankroll to the brink of $2 million. He has won the West Virginia Breeders Classic three times – in 2009, 2011, and 2014, joining Saturday's race namesake Confucius Say as the only three-time winners of the event — among his 23 stakes victories.
"He's really been doing good," Casey said. "I can't think of too many horses his age that would run in a stakes race, but he's not just another horse. He's really quite remarkable. He's a sound horse, always has been. But for a 10-year-old to run against horses that much younger than him is like a 60-year-old man running against 25- and 30-year-olds. At some point time is going to catch up with him. He's only going to run three times this year. He'll probably come back for the Frank Gall [on August 20] and then the Breeders Classics. But that's going to be it for him this year."
Russell Road made only five starts last year and only six the year before that. Three times during his career he has made nine starts, including 2013 when he won three times and was second on five occasions. He also made nine starts in both 2009 and 2010 at ages three and four, respectively, when he collected a total of 10 wins in those campaigns. Russell Road finished second in his career debut at age two in 2008, but he won five straight races to conclude his freshman campaign and he has been a fixture in state-bred stakes and on Breeders Classics night each year since then.
One race earlier, Casey will saddle Candy Man's Girl for the Original Gold Stakes, a seven-furlong stakes for state-bred fillies and mares. Like the Confucius Say, designated a "Win & You're In" race for the Onion Juice on Breeders Classics night this fall, the Original Gold is a "Win & You're In" race for the Cavada on the WVBC card.
Candy Man's Girl, a daughter of Charitable Man, won her seasonal debut earlier this month and sports seven wins in 12 lifetime starts. She will be pointed for the Cavada this fall even if she tastes defeat this weekend, Casey said. Casey will also send out a pair of horses, Return to Denis and Groom Scholarship in Saturday's opener, a two-turn allowance for state-bred fillies and mares.
"It's going to be a busy day on Saturday," Casey said. "We'll hope that we have some luck on Saturday. All of the horses are doing good. It's going to be a good day of racing and maybe we'll get lucky and have some success."