DQ gives A P Majetstic win — and Toledo one strange day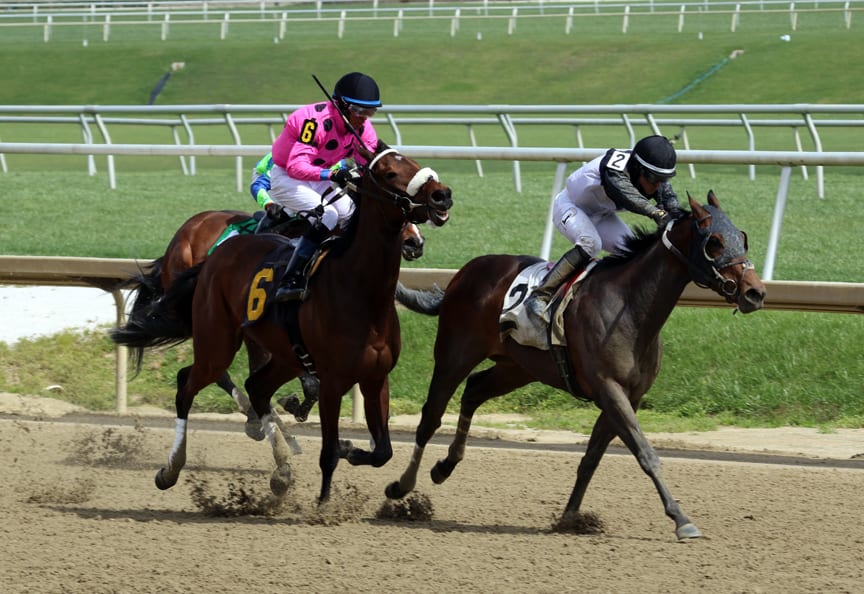 A P Majetstic steadies off In the Navy Now's heels. Photo by Laurie Asseo.
by Frank Vespe

Jevian Toledo had never had a day quite like today.
When the journeyman rider, among the top pilots at Laurel Park, and his mount, In the Navy Now, were taken down from first to second in today's $100,000 Weber City Miss Stakes for three-year-old fillies at Laurel Park, he had completed one unusual double.
In the first of two stakes on the day, the Federico Tesio Stakes, Toledo's mount, Awesome Speed, finished second but was placed first via disqualification.  And the in the Weber City Miss, In the Navy Now finished first but was placed second via disqualification.
Call it the Toledo double.
"I was never really put down in a stakes before," Toledo said following the Weber City Miss.  "I guess everything happens the first time in life."
In the Tesio, Toledo said he thought his horse was best.
"My horse [Awesome Speed] had a little hesitation when he [Governor Malibu] came over," he said.  "I thought we would win."
Two races later, he found himself on the opposite side of the equation.
Toledo and In the Navy Now, a Mike Trombetta-trained daughter of Midshipman who went off the favorite, dawdled off a sluggish early pace set by Alto Belle through the opening quarters, the latter setting a moderate tempo of 49.35 seconds for the half-mile and 1:14.67 for three quarters in the 1 1/16 mile test.
In the Navy Now was able to slip through along the rail to assume command in the stretch, leading by 1 1/2 lengths leaving the furlong grounds, with A P Majetstic — the other Trombetta trainee in the race — in hot pursuit.
But, under left-handed encouragement, In the Navy Now drifted out multiple times, eventually impeding A P Majetstic.  It was a matter of debate among observers whether the stewards would take In the Navy Now down, as she did finish about a length in front.  Toledo, for one, thought he should have stayed up.
"I know I was coming over," said Toledo.  "I think I never hit him. I came over, but I never touched him."
For A P Majetstic and rider Victor Carrasco, it was an unexpected turn of events for a horse that had finished behind two of today's rivals in her last race and was generally dismissed by bettors.  At 11.70-1, she was the second longest shot on the board and paid $25.40 to win.  It was another couple lengths back to Its a Journey in third.  Running time for the about 1 1/16 mile distance was 1:47.51.
The win earned A P Majetstic a spot in the Grade 2 Black-Eyed Susan Stakes at Pimlico next month.  It also gave her two wins from seven career starts and pushed her earnings past $100,000.
And, while the racing week's not over — Toledo has an evening ride at Penn National and a half-dozen Sunday mounts at Laurel — the put up-taken down sequence put a strange cap on what for the Laurel Park riding colony has been a trying week.  Twenty-one year-old jockey Fray Martinez, who rode at Laurel in 2014 and 2015 and was close friends with many of the local riders, passed away earlier this week after losing his battle with leukemia.
"He is always in my mind," Toledo said of Martinez, pausing to collect his thoughts.  "He was like my brother.  I still can't believe what happened with him, but that's… God decides."