Awesome Speed put up in Tesio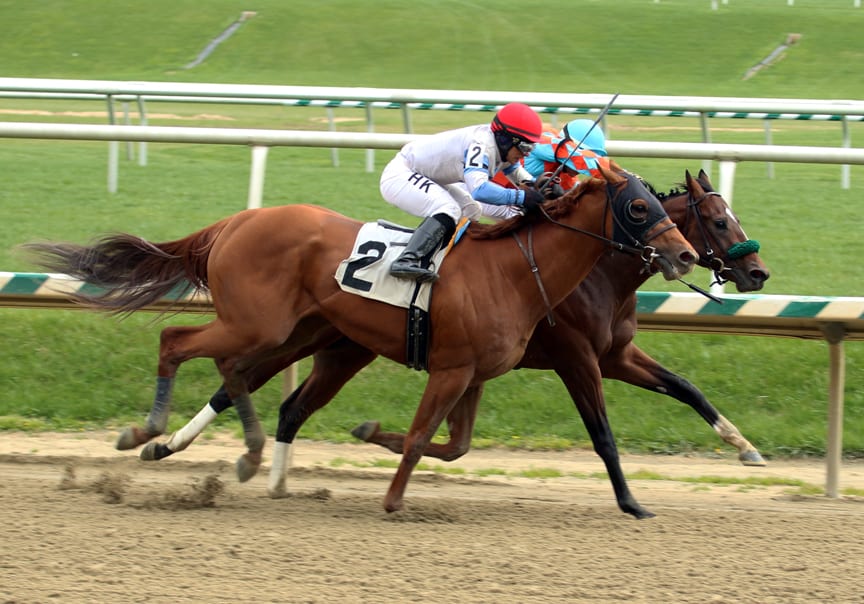 Photo by Laurie Asseo.
by Frank Vespe

In a race with an automatic Preakness berth on the line, Awesome Speed and Governor Malibu put on a show worthy of a Grade 1 berth.
The sophomores hooked up near the head of the lane and battled heads apart all the way through the lane in today's 35th Federico Tesio Stakes at Laurel Park.  In a head-bobbing finish, it was Governor Malibu's nose that hit the wire first.
But, after an inquiry and an objection by Awesome Speed's rider, Jevian Toledo, the stewards overturned the result, placed Awesome Speed first and relegated Governor Malibu to second.
According to steward Russell Derdarion, the decision, though time-consuming, was fairly straightforward.  As Governor Malibu seemed to be gaining a slight advantage on the outside, rider Horacio Karamanos hit him right-handed, causing the horse to veer inward a couple of paths and bump with his rival.  When the horses bumped, Awesome Speed switched leads, likely costing himself.
"It threw him off, and the horse got beat an inch," said Derdarian.
Awesome Speed, a son of Awesome Again, had it all his own way in the nine-furlong, $100,000 test.  Sent right to the lead by Toledo, the two-time stake winner was able to dole out glacial early fractions with only token pressure from Never Gone South: a half-mile in 50.93 seconds and three-quarters in 1:15.79.
Rounding the far turn, Karamanos put Governor Malibu, a son of Malibu Moon trained by Christophe Clement, under a ride while three wide.  While Never Gone South fell away — he finished seventh, and last — Governor Malibu, making his first start outside of his native New York, and Awesome Speed hooked up.
It was another 3 1/4 lengths back to longshot third-place finisher I Came to Party.  Running time for the 1/8 miles was 1:53.31.
Awesome Speed, trained by Alan Goldberg, paid $3.40 as the 7-10 post time favorite and topped an exacta worht $8.60.  Marengo Road was scratched after spiking a fever.