Amherst Street's long road back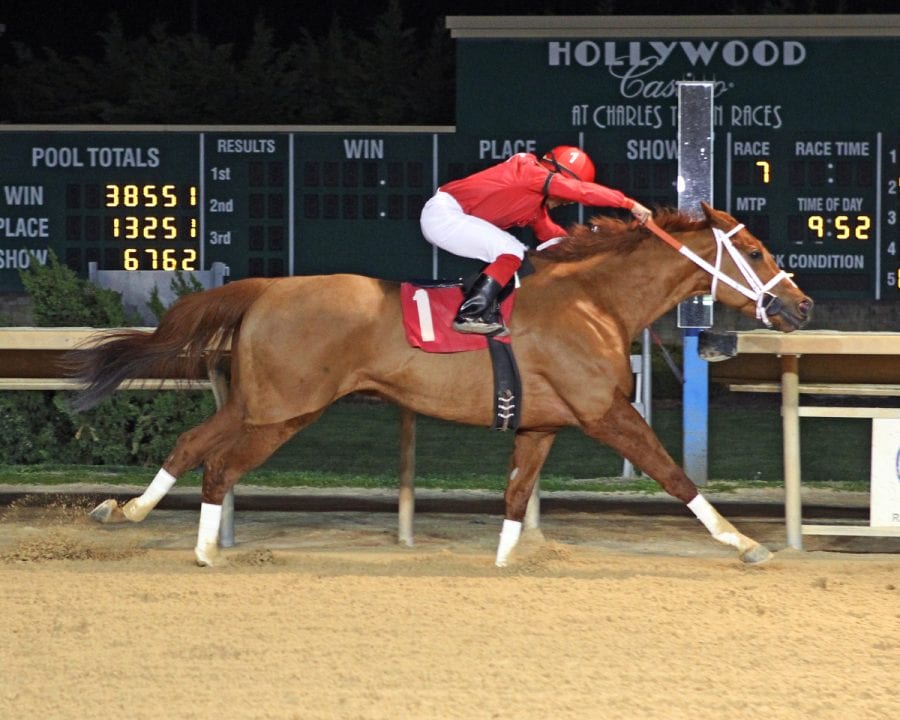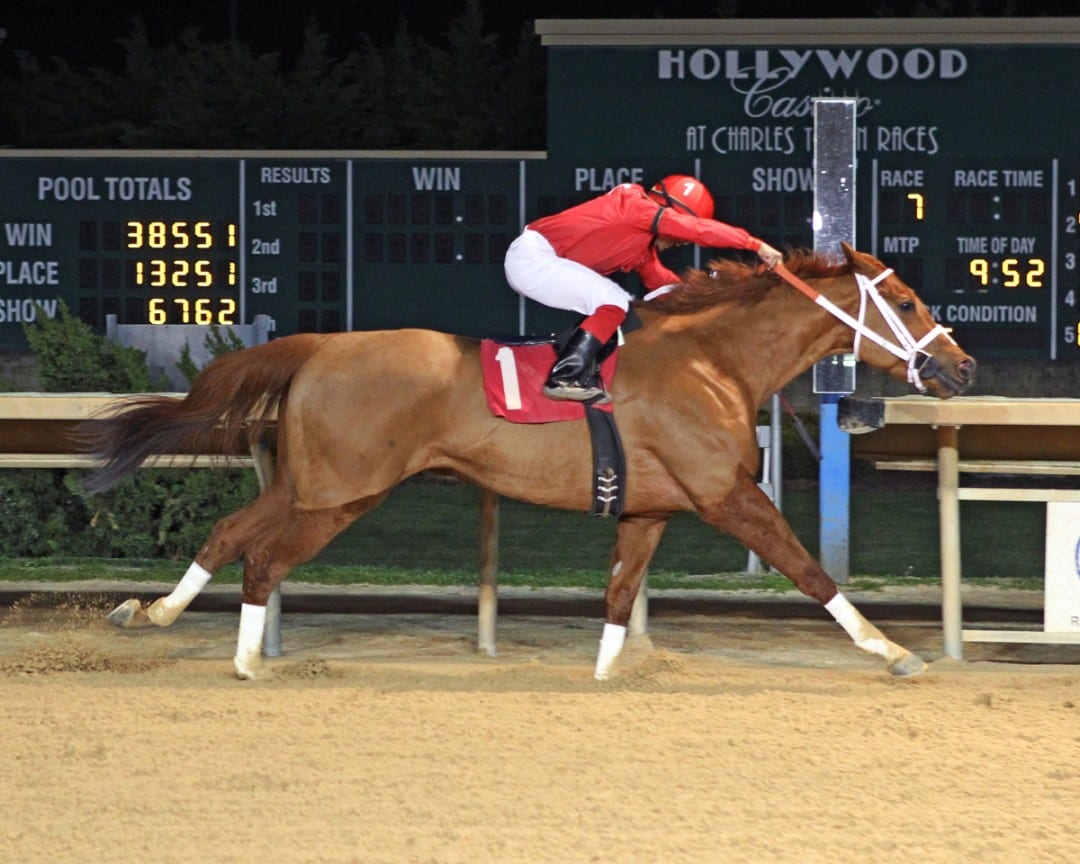 Photo by Coady Photography.
by Ted Black
Amherst Street has been Charles Town's mystery horse.
A four-time stake winner as a two-year-old, Amherst Street then essentially dropped off the face of the racing earth. The Javier Contreras trainee made one start as a sophomore, in June 2014, and then disappeared from view.
That long vacation, prompted by a prolonged bleeding issue, finally ended March 23, when Amherst Street — what else? — won an allowance test at Charles Town.
A five-year-old Luftikus gelding out of the Wild Rush mare, Romantic Twist, Amherst Street has now won all seven of his lifetime outings and banked over $240,000 along the way. He won five times at age two when he appeared destined for stardom among local state-breds after winning four straight stakes to end his juvenile campaign. , But a bleeding issue that arose at the end of his freshman campaign limited him to one start at age three, and then another bleeding issue forced him to take a much longer vacation.
"When he won his last start [the West Virginia Futurity] as a two-year-old, he bled through the Lasix a little," Contreras recalled. "We gave him some time off and then brought him back in the spring of his three-year-old season. He still wasn't right then, so we gave him a little more time, and then he seemed fine going into the Coin Collector. When he won that race, he really bled through the Lasix, so we had to give him some time off again."
Amherst Street was bred by James W. Casey, who then sold him privately to Phyllis Susini, who passed away last winter. The horse was taken out of training for the latter portion of his three-year-old season after the Coin Collector and appeared on target for a start that winter. But after several workouts in which he still showed some signs of blood in his lungs, Amherst Street was again given a vacation, this one extending through his entire four-year-old campaign. He nearly made one start last year, but again, Contreras opted for the cautious approach when he did not scope clean.
"After he won the Coin Collector, I knew we had to give him more time off," Contreras said. "We thought we had him right for a start in December [of 2014], but he just didn't seem like 100 percent at the time, so we stopped with him again. He trained well last summer, but again he kept showing traces [of blood] in his lungs after those workouts, so we gave him more time off until we thought we had the problem solved. He continued to mature and fill out, and then after some more gallops it seemed we had it figured out."
After nearly 20 months away, Amherst Street showed up in the Charles Town workouts tab on February 6 after getting six furlongs in 1:16 flat. He came back two weeks later and worked five furlongs in 1:05. Contreras had the gelding scoped after each move and was relieved to see the results: there were no longer any traces of blood in his lungs. After those two works and a clean bill of health, Contreras realized that he could finally enter Amherst Street for his first official start in 21 months when he opted for a local, seven-furlong allowance.
Fittingly, Amherst Street would have to face one of the top state-bred runners of last year, Charitable Annuity, another talented Casey homebred who ended his sophomore campaign in 2015 by taking the $500,000 West Virginia Breeders Classic and then the $50,000 A Huevo. Additionally, while the March 23 allowance represented Amherst Street's first start in nearly two years, it was actually the second start of the season for Charitable Annuity, who had been a nondescript fourth in his four-year-old debut in early March.
When the gate opened in that two-turn allowance affair, Amherst Street displayed his usual early zip and few signs of being idle for an extended period of time. He gained command easily passing the finish line the first time, maintained a clear lead under confident handling from J.D. Acosta, opened a three-length lead at the head of the lane and held sway to score by nearly two lengths in 1:26 flat. More importantly, the Luftikus gelding did not show any signs of bleeding through the Lasix after the race.
"It was such a relief," Contreras said. "He not only came back good, he came back to the winner's circle clean. He hasn't shown any signs of bleeding since then. He will have one or two more workouts this month to get ready for the Confucius Say [on April 23, same day as the Charles Town Classic] and then we will find a few more state-bred races for him and keep him fresh and fit for the summer and fall."
While many trainers would seem spoiled to have a talented state-bred runner in their barn of Amherst Street's ability, Contreras is also poised to unveil Hidden Canyon for his seasonal debut. Another West Virginia-bred purchased privately, this one from John McKee, Hidden Canyon has looked superb in two-turn sprints throughout his career at Charles Town and last year he stretch his speed far enough to run second to Charitable Annuity in the West Virginia Breeders Classic at one-mile and one-eighth.
"He's about 40-60 days away from his first start," Contreras said of Hidden Canyon. "I thought he needed some time off after last year. He's also come back really good. He will get a few starts this summer, but the Classic is definitely the goal again for him. He's got plenty of speed, so now I have more time to give him a little more foundation so he can get the added distance."