Cathryn Sophia, Page McKenney remain atop Top Midlantic-bred polls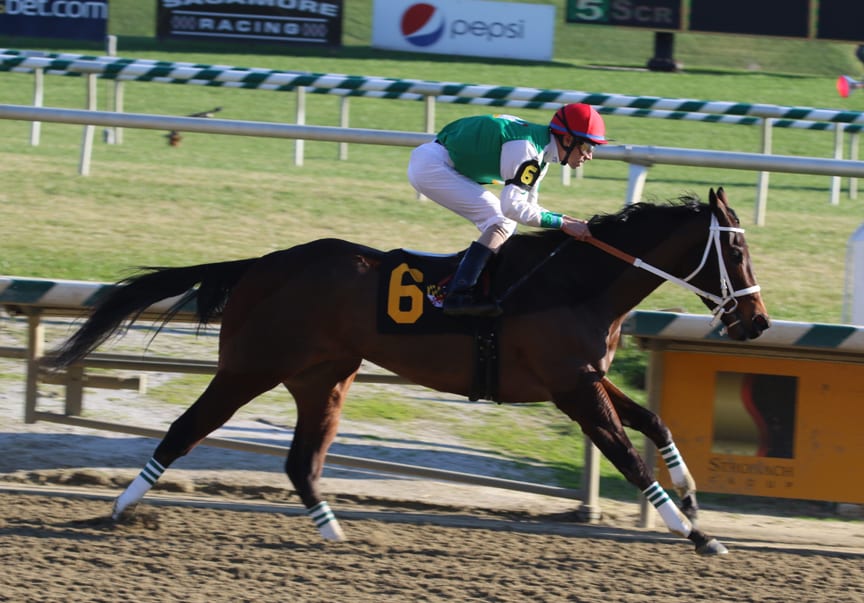 (Photo of Cathryn Sophia by Laurie Asseo.)
Staff report
Nothing voters in the Mid-Atlantic Thoroughbred/The Racing Biz Top Midlantic-bred Poll saw in March swayed their impressions of who the best horses bred in the region are.
As a result, Maryland-bred filly Cathryn Sophia was the near-unanimous choice atop the three-year-old division, and Pennsylvania-bred Page McKenney was unanimous as the older horse leader.
This was the second 2016 edition of the monthly Top Midlantic-bred Poll.
Cathryn Sophia, a daughter of Street Boss bred in Maryland by Robert Manfuso, is two-for-two this season and has won all four of her starts overall.  Both of her 2016 victories have come in Grade 2 company, and she is scheduled to make her next start in the Grade 1 Ashland at Keeneland.  She received 13 of 14 first place votes.
New to the three-year-old poll this week was Pennsylvania-bred Tom's Ready.  The More Than Ready colt, bred by Blackstone Farm LLC, has a pair of graded placing so far this season, having run second in the Grade 3 LeComte at the Fairgrounds and, more recently, in the Grade 2 Louisiana Derby.  The Dallas Stewart trainee has a win and four seconds from nine career starts.
Tom's Ready's ascension into the top five knocked speedy filly Lucy N Ethel into the "others receiving votes" category.
Among older horses, Page McKenney garnered every first-place vote.
The six-year-old Eavesdropper gelding was idle in March, though not by choice.  His scheduled start in the mid-month Harrison Johnson Memorial Stakes was scrapped when the race did not attract enough runners to fill.  The Mary Eppler trainee, bred in Pennsylvania by Dr. James Bryant and Linda Davis, has won both of his 2016 starts, running his winning streak to four straight stakes races.  Most recently, he lodged the first graded stakes win of his career, rallying to win the Grade 3 General George at Laurel Park by a head.  He previously had won the Native Dancer over the strip in early January and has won 16 of 43 starts in his career with more than $1.1 million in earnings.
New to the older horse poll this week was Candida H.  The four-year-old Maryland-bred Lemon Drop Kid filly checked in in a tie for fourth after winning an allowance test in March.  The Michael Trombetta trainee has two wins this season, including a score in the Conniver Stakes at Laurel Park in January, and has been in the money two other times.  She was bred by her owners, Fitzhugh LLC.
Candida H. displaced Long On Value, who dropped to the "others receiving votes" category.
Five of the top 10 horses were bred in Pennsylvania.  Three were bred in Maryland, with one bred in Virginia and one in New Jersey.  The list includes seven males and three females.
The monthly Mid-Atlantic Thoroughbred is the only publication devoted to Thoroughbred breeding and racing in the Mid-Atlantic region. The Racing Biz, an online publication, is the independent voice for mid-Atlantic racing and breeding.
The poll is restricted to horses that have run in 2016 and were bred in Pennsylvania, Maryland, Virginia, West Virginia, New Jersey, Delaware, and the Carolinas.
THREE YEAR-OLDS
Cathryn Sophia (MD) — 69 points

Mor Spirit (PA) — 56
Tom's Ready (PA) — 34
Sunny Ridge (NJ) — 21
Morning Fire (PA) — 17
Others receiving votes: Concord Fast, Lucy N Ethel, Giant Run

OLDER HORSES
Page McKenney (PA) — 70
Valid (VA) — 54
Sonny Inspired (MD) — 44
Candida H. (MD) — 11
Finest City (PA) — 11
Others receiving votes: Love Came to Town, Long On Value, Candida H., Brenda's Way, All Call, Any Court Inastorm, Green Gratto, Kobel
IN ACTION THIS WEEKEND
Valid — Even-money favorite in the Grade 3 Skip Away at Gulfstream Park on Saturday
Long On Value — 3-1 second choice in G3 Appletone Stakes on Saturday at Gulfstream
Participating Voters: Ted Black (freelance writer), Michael Campbell (Thoroughbred Breeders' Association of New Jersey), Joe Clancy (Mid-Atlantic Thoroughbred), Cindy Deubler (Mid-Atlantic Thoroughbred), Linda Dougherty (freelance), Debbie Easter (Virginia Thoroughbred Association), Anne Frederick (Maryland Horse Breeders Association), Rich Glazier (Delaware Park), Cricket Goodall (Maryland Horse Breeders Association), Jim Hague (freelance), Nick Hahn (freelance), Carol Holden (West Virginia Breeders Classics), Tom LaMarra (The Blood-Horse), Jeff Nations (freelance), Kate Painter (West Virginia Thoroughbred Breeders Association), Vinnie Perrone (freelance), Frank Petramalo (Virginia Horsemen's Benevolent and Protective Association), Gary Quill (The Racing Biz), David Richardson (Maryland Thoroughbred Horsemen's Association), Brian Sanfratello (Pennsylvania Horse Breeders Association), John Scheinman (freelance), Sal Sinatra (Maryland Jockey Club), Dan Tordjman (freelance), Frank Vespe (The Racing Biz), Bill Watson (freelance), Lydia Williams (freelance), Bobby Zen (freelance).
Note — Not all participating voters will vote in every poll.